Electric Power Plants: Demonstrating specific expertise in project logistics
Feb 21, 2017: The Bolloré Logistics network is demonstrating its expertise in the commissioning and decommissioning of temporary electric power plants in various countries. These plants, which are set up in record time and used for various amounts of time, from a few months to three years, aim to alleviate chronic power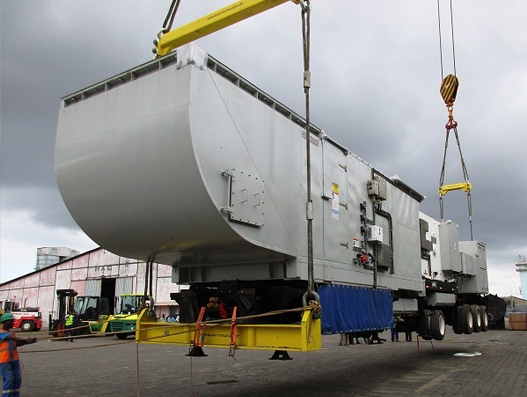 Feb 21, 2017: The Bolloré Logistics network is demonstrating its expertise in the commissioning and decommissioning of temporary electric power plants in various countries. These plants, which are set up in record time and used for various amounts of time, from a few months to three years, aim to alleviate chronic power supply shortages, in particular in developing countries and remote areas.
Since 2015, Bolloré Logistics has supervised several international transport assignments for all components of several power plants for APR Energy.
In 2015 and 2016, several turbines required for the operation of a 50-MW plant were transported on specially-chartered ships. The rest of the equipment was transported by air.
Three operations have stood out; the shipment of a turbine used in Tasmania to the United States, international transportation and ground logistics operations for the shipment of a turbine and its accessories from Batam in Indonesia to Cotonou in Benin, and lastly the same type of operation between Slovenia and Argentina.
The most surprising aspect is the speed required to conduct this type of operation. "We only have six weeks between decision-making and the arrival of the turbine and other where can i buy accutane necessary equipment on the site,"said Xavier Cys, project manager, Bolloré Logistics, Houston.
"The dense coverage of our network in the developing countries affected by these projects is a great advantage in terms of responsiveness, in addition to our teams' expertise in chartering aircraft and ships," Xavier's added.
APR Energy was also able to assess Bolloré Logistics local expertise in industrial project logistics when the Abomey Calavi power station was delivered to Benin. "30 people were brought to work on site," said Jérôme Binois, who leads the Bolloré Logistics teams in Benin.
He further explains, "We supervised the unloading operations for these two 113-ton turbines at Cotonou port, using on-board cranes and cranes installed on the docks. A preliminary study of the road was conducted and measures were taken to transport a secure wide load between the port and the power station site, using 20 trucks brought in for the task."
The Group is able to bolster its position with the main market players through the coordination of teams located on all continents and the specific expertise used by the Bolloré Logistics teams in the areas of electricity and renewable energy.