EFW secures second A330-300P2F conversion contract from DHL Express
<p style="text-align: justify;">Jun 20, 2017: <a title="DHL Express" href="http://www.dhl.com/en.html" target="_blank">DHL Express</a> has ordered an additional four firm and 10 optional A330-300 passenger-to-freighter (P2F) conversions from <a title="Elbe Flugzeugwerke" href="https://www.elbeflugzeugwerke.com/en/freighter-conversion/" target="_blank">Elbe Flugzeugwerke</a> (EFW), Germany-based aviation company.</p> <p style="text-align: justify;">EFW is a joint venture between ST Aerospace and Airbus.</p> <p style="text-align: justify;">This follows the launch contract for […]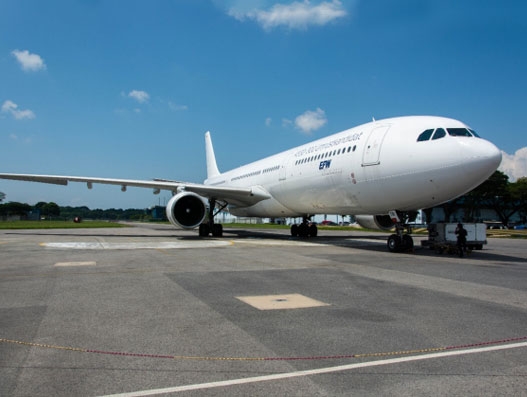 Jun 20, 2017: DHL Express has ordered an additional four firm and 10 optional A330-300 passenger-to-freighter (P2F) conversions from Elbe Flugzeugwerke (EFW), Germany-based aviation company.
EFW is a joint venture between ST Aerospace and Airbus.
This follows the launch contract for four similar A330-300P2F conversions that was also awarded by DHL Express in July last year. The first aircraft under the launch contract is currently undergoing conversion at EFW's Dresden-based facilities, and is on track to be redelivered by the end of 2017.
Lim Serh Ghee, president of ST Aerospace, said, "This second contract from DHL Express underscores the right decision that ST Aerospace, Airbus and EFW had made in 2012 to launch the A330P2F programme."
"We are very proud to further our partnership with our launch customer, DHL Express, with another A330-300P2F contact even before the first redelivery from the first contract has been made," said Dr Andreas Sperl, president and CEO of EFW.
"We believe the A330-300P2F, with its favorable payload and range metrics, will address an important demand segment within the air cargo market that is not currently served by any other aircraft type. It will further strengthen the global air network of DHL Express and help us to achieve even greater efficiencies in our aviation operations," said Geoff Kehr, senior vice president, Global Air Fleet Management of DHL Express.
The A330P2F conversion programme, launched in 2012, is a collaboration between ST Aerospace, Airbus and EFW. ST Aerospace, as the programme and technical lead for the engineering development phase, is responsible for applying for the supplemental type certificates for the freighter conversions, from the European Aviation Safety Agency and the US Federal Aviation Administration. Aircraft OEM Airbus contributes to the programme with OEM data and certification support, while EFW leads the industrialisation phase and marketing for the freighter conversion programme.
The A330P2F programme includes two versions – the A330-200P2F and the larger A330-300P2F. DHL Express is EFW's first customer for the A330-300P2F conversion programme, while a launch contract with Egyptair Cargo was secured in December 2014 for the A330-200P2F conversion programme.
In order to take on the expanded conversion programme for DHL Express, EFW is gradually ramping up its capacity at its facility in Dresden, Germany, with a new single-bay wide-body hangar being recently completed. ST Aerospace's global network of facilities will also be utilised for some of the conversions to ensure on-time redeliveries and to handle increasing demand. Conversion work on the second aircraft is set to begin at ST Aerospace's facility in Paya Lebar, Singapore, and is also scheduled to be redelivered by the end of 2017.