EFW gets EASA's Supplement Type Certificate for A321P2F
Elbe Flugzeugwerke (EFW), joint venture of ST Engineering and Airbus, has received supplemental type certification for its A321 Passenger-to-Freighter (P2F) conversion from the European Union Aviation Safety Agency (EASA). The Supplement Type Certificate (STC) comes one month after the prototype unit, to be redelivered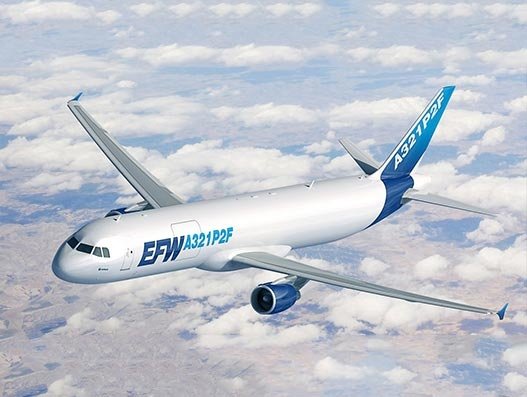 Feb 26, 2020: Elbe Flugzeugwerke (EFW), joint venture of ST Engineering and Airbus, has received supplemental type certification for its A321 Passenger-to-Freighter (P2F) conversion from the European Union Aviation Safety Agency (EASA). The Supplement Type Certificate (STC) comes one month after the prototype unit, to be redelivered to launch customer Vallair, made its maiden flight test on 22 January. As the STC holder EFW is responsible for customer support services as well as the adaption engineering in the serial phase. Within the setup of the joint venture EFW is furthermore taking care of the overall program management, marketing and sales and the subcontracting of conversions to the lines in Singapore, China, the US and Germany.
"EFW is the centre of excellence for Airbus freighter conversions, with more than 20 years of experience and over 200 widebody converted freighters delivered to over 40 customers worldwide," said Mr Andreas Sperl, CEO of EFW. "We are glad to now add an additional member to our Airbus freighter family with the A321P2F, which complements our A330P2F as another best-in-class volumetric freighter. The A321P2F offers other unique advantages such as having the lowest operational cost and fully containerized upper and lower deck, making it an ideal replacement for the ageing Boeing 757 converted freighter."
The programme, launched in 2015, is the result of a collaboration between ST Engineering, Airbus and EFW. ST Engineering is responsible for the engineering development phase, up to obtaining the STC from EASA and U.S. Federal Aviation Administration. Airbus contributes to the programme with Original Equipment Manufacturer (OEM) data and certification support, on board computers development, airframe engineering, flight-physics and flight-testing expertise. This is the exclusive A321P2F programme whereby Airbus contributes with OEM data and certification support.
The A321P2F is a perfect replacement for the older generation of narrowbody freighters. It is the first in its size category to offer containerised loading in both the main deck (up to 14 full container positions) and lower deck (up to 10 container positions). With a generous payload-range capability that can carry up to 27.9 metric tonnes over 2,300 nautical miles, the A321P2F is the best narrowbody freighter aircraft for express domestic and regional operations.
Other P2F solutions marketed by EFW using the Airbus platform include the A330 that comes with two variants – the A330-200 and the larger A330-300. EFW is the only provider in the world offering Airbus freighter conversions through its own STC developed using original OEM engineering data.