FROM MAGAZINE: E-commerce continues to steer freighter demand
The projected world air cargo growth is 4.2 percent with a requirement of 2,650 freighters by 2037, with an outlook of 675 aircraft for China itself. On the other hand, market experts are estimating that the A330-200 and A330-300 conversions and the launch of A321/A320P2F will bring in more muscle for Airbus freighters when at […]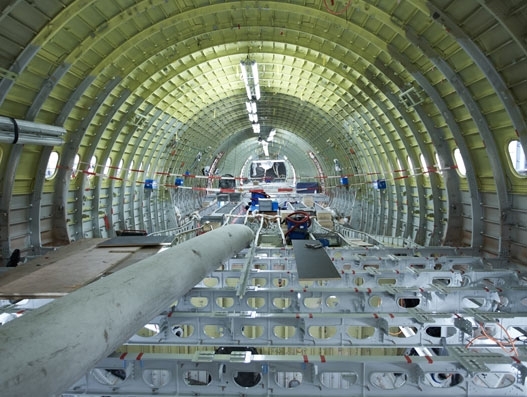 The projected world air cargo growth is 4.2 percent with a requirement of 2,650 freighters by 2037, with an outlook of 675 aircraft for China itself. On the other hand, market experts are estimating that the A330-200 and A330-300 conversions and the launch of A321/A320P2F will bring in more muscle for Airbus freighters when at a time B737 MAX incident is pinching on Boeing's business even with an uncertain B747's future.

Shalini Nair

A hundred aircraft parking space at Amazon's Prime Air Hub at Cincinnati/North Kentucky International Airport by 2026, 249 UPS and over 650 FedEx freighters operated across the globe – display the propelling demand for freighters.
According to a Boeing report presented at Cargo Facts Asia 2019 in April at Shanghai, China, the estimated world air cargo growth is 4.2 percent with a market requirement of 2,650 freighters by 2037. Whereas China's domestic demand itself is projected to contribute 6.3 percent per annum with a requirement of 675 freighters through 2037.
During the first quarter of 2019, approximately 90 B767-300 conversions and 147 production freighters have been delivered by Boeing. The recent demand has been definitely driven by Amazon since it started operations with five 767-200s which has grown to 40 767s, including 28 767-300s till date. Currently, the backlog for 767 production freighters accounts for over 60, with most of these scheduled to be delivered to FedEx (54) and UPS (9).
Commenting on the much-hyped Amazon driving the freighter demand, Frederic Horst, managing director, Cargo Facts Consulting, observed, "Following the initial ramp up, we expect Amazon's widebody freighter fleet growth to be slower. While Amazon related revenue is important for carriers, we feel that the importance of Amazon for the air cargo business is often overstated. In our estimates, Amazon's dedicated flying in the US accounts for less than 2 percent of the US domestic air freight and express market. However, companies such as FedEx, UPS and particularly United States Postal Service (USPS) have strong exposure to Amazon."
The widebody potential is observed for additional 767s or A330s being placed even with Chinese carriers to satisfy intra-Asian requirements. Presently, out of 13 airlines in China, only two airlines operate the medium widebody, i.e. SF Airlines (8 767-300s) and Uni-Top (6 A300-600). The majority of Chinese operators' fleets are narrowbody which is either 737s or 757s.
Wolfgang Schmid, VP sales & marketing Airbus Conversions, EFW, remarks, "A330-300 has incredible volume for a mid-size widebody aircraft outbidding the ageing B767 by more than 22 percent. On the narrowbody side, it is the A321 that is taking over the B757 market even with an upgraded containerised volume of 14 percent with the EFW solution of 14 full-sized containers on the upper deck."
The 767-300F and 767-300BCF have excellent payload and range capabilities, making 767 freighters ideally suited to serve the express cargo market as e-commerce companies continue high-volume growth and require additional lift. About 80 percent of production and converted 767 freighters in-service are performing express operations and over 90 percent of B767 production freighters orders have been from express carriers.
The key aircraft in the narrowbody segment are 737-300, 737-400 and 757-200. There is a transition from 737 classics to NGs, but there has been short-term disruption in this segment due to the grounding of the 737 MAX. Some passenger leases have been extended and this has affected feedstock available for conversion. The backlog in this segment is currently over 140 737 NGs (mainly 800s) and 11 A321. It is expected that once the A321 programmes receive certification this year, the situation will change.
Holding a huge order book, Aeronautical Engineers Inc's (AEI) current commitments are for 111 B737-800SF, 12 B737-400SF, 4 B737-300SF, 10 MD80SF, and 15 CRJ200SF. Robert T Convey, senior vice president-sales & marketing, AEI, cites, "Towards the end of 2018, I was forecasting up to 10 737-800SF conversions in 2019 but with the MAX issues continuing we are likely not to achieve this target. We are however seeing an increase in 737-400 and MD80."
In the last couple of months, Ethiopian Airlines has added 9 B777Fs and 2 B737Fs and now is expecting an additional B777F by the end of May 2019. Additionally, there will be two more B737Fs joining by the end of this year and mid-2020.
Speaking on A321/A320P2F to change the face of the e-commerce industry, Schmid mentions, "The e-commerce business is extremely price sensitive in terms of transport cost. The unique Airbus feature on this narrowbody aircraft allows lower deck container transport due to the larger doors enabling faster, time-saving and less labour intensive operations with full usage of the available volume of the aircraft. In this, speed and volume are optimising operational cost."
In the medium widebody segment, the most operated aircraft are A300-600 and B767-300. A330-200 and A330-300 conversions have started hitting the market in the last few years, but so far only a handful have been delivered. "Over the time, we expect this to change. The emergence of an A330-900F within the next 5 years may allow Airbus to regain its dominance in this segment. We also expect a B787-9F to become available in the next 10 years to replace the B767-300F," Horst remarked.
The dominant aircraft in the large widebody segment are B777, B747, and MD-11. The backlog for B777s is about 55 and for B747-8Fs is about 25 with some letters of intent which could see up to further 40 B747-8Fs being delivered. Horst mentions, "The B777 production freighter will continue to see strong demand and may be replaced with a B777-8F at some point of time during the forecast period. We also expect an A350 freighter variant in the next 10 years. Within the next 5 years, we should also see the first B777-300ER conversions arrive in operators' fleet pending the launch of a programme by IAI for Boeing. The big question mark in this segment is around the B747-8F. At this point of time, we do not assume that any more units will be delivered beyond the current backlog. This will have huge implications for the outsized cargo market. If the programme ceases to exist beyond the current backlog, there will be hardly 130 nose door capable aircraft in 2038 compared to 235 today."
Demand drivers
Fitsum Abadi, MD, Ethiopian Cargo & Logistics Services, states, "Recently, we have commenced three new freighter destinations - Seoul in South Korea, which has consumer goods as major air freight and served with B777F; Libreville in Gabon with mining equipment being major cargo and served with B737F weekly; and Quito in Ecuador which has perishable cargo including flowers, pharmaceutical products, etc. served with B777F."
Horst predicts that about half of the freighters delivered in the next 20 years will replace retired aircraft and the other half will cater for growth. "Most of today's feeder and narrowbody fleet will be gone in 20 years, and even 60 percent of the widebody fleet. Replacement demand will be concentrated mainly around North America and Europe. Additional growth will come particularly from Asia, the Middle East and to a certain level from Africa and Latin America. For the feeder and turboprop segment, there will be growth opportunities in South Asia, South East Asia, and Africa."
B747 – to continue or cease
Later this year, British Airways has decided to retire its 35 B747 to replace with B777X - the latest series of the widebody, twin-engine from B777 family. The four-engined aircraft is seen as inefficient in a market where two-engined aircraft is thriving. At the same time, Qantas also chose B787 Dreamliner, and to an extent A380, to replace the B747. Predictions are even hovering on Boeing ending the production of this original jumbojet.
Russell Tom, regional director, Boeing Commercial Airplanes, Airline Market Analysis - Air Cargo, states, "With the UPS order, 747 production slots are filled for the next several years. Last year at the Farnborough Airshow, Volga Dnepr Group, one of the world's largest operators of 747 freighters, confirmed a purchase of five 747-8Fs." He even suggested that customers looking to increase their fleets in the near-term should consider the 777F to fill their capacity needs as Boeing has nearer-term availability for the same.
The hourly fuel burn on a 777-200F is about 25 percent lower than the 747-8F. It is a great plane for operators, who need high aircraft utilisation and load factors. Many operators generate 10-15 percent of their traffic and a higher share with outsized traffic requiring the nose door.
Conflicts
The continuing trade tension between the US and China is a key risk factor with regards to cargo demand in the short- to medium-term. A number of different countries have aircraft age restrictions including China that prevents the importation of freighter aircraft older than 15 years. Normal conversion age tends to be 15 years or older, and if there is no local feedstock available this can be a limitation.
Commenting on the trade war, Horst noted, "Over the long term, however, we remain positive about the growth of cargo demand and with it the demand for freighters. In the short term, however, a mismatch between supply and demand is a normal feature of the air cargo business."
Another tension pulling down the freighter demand is 737 MAX, which has come under the scanner since a couple of accidents occurred during the recent months. Observing on its declining demand, Convey said, "We are currently seeing the MAX issues putting pressure on the availability of 737-800. As the uncertainty surrounding the MAX's return to service continues, the operators are extending leases on their NG's to endure that they have the lift required to run their business. This has, in turn, renewed interest in the B737-400SFs and MD80SFs which is seeing a resurgence in demand."
As per Cargo Facts Consulting's forecast on the turboprop/regional segment, 421 fleets will be added over the next 20 years. In this segment, the biggest development seen was in 2017 for FedEx with 30 orders and 20 options for production of ATR-72-600F. "In general, we expect the ATR-72 followed by the Dash-8 Q300/Q400 to dominate this segment, with further deliveries of CRJ200s and CRJ700s, if a programme for the latter materialises," Horst says.
There is no doubt A330-300 and A330-200 will represent the mid-size freighter market for a long period of time. The A321 is on the way to get its supplemental type certificate (STC) by this year. "It will be the first Airbus narrowbody freighter and is expected to take over B757F market becoming the new standard. Finally, the A320 freighter, a strong competitor to the B737 freighters will complete the family just after the release of the A321," remarks Schmid.
Observing along similar lines, Horst concludes, "A321 has been positioned more as a 757 replacement, but we believe that it will also compete against a 737-800 and if launched - a 737-900. The A320 falls into the same size category as a 737-400, for which most feedstock is already in the 21-25 year age bracket. Based on the backlog, 2019 will also see more 767s and 777s and also a few A330s. We also expect to see more 757s, 737s, and MD-80s but due to the MAX grounding 737 NG conversions may be slower than expected for the next 1-2 years. We do expect Airbus aircraft to take a larger share across the narrowbody and medium widebody segment going forward.
Currently, Boeing holds an order book of 100 737-800BCF from seven customers, out of which 13 has been delivered as of May 2019. The 767-300BCF has received 47 orders and commitments from nine customers. The programme has delivered 35 767-300BCFs as of January 2019. Tom states that they are also conducting a product development study on the 777-300ER for potential passenger-to-freighter conversion.