Ecommerce boom takes centrestage at China Air Cargo Summit 2019
Nov 20, 2019: The 16th China Air Cargo Summit, held from Nov 12-14 in Hangzhou, deliberated on the trade slowdown, its impact on air cargo and most significantly, the opportunities e-commerce is creating for the industry.
"Coming just a couple of days after Double 11 (Singles Day in China), the figures show a 23-25 percent increase over the previous years demonstrates that e-commerce is one of the significant opportunities for air cargo. Not just for the next 2-20 years, but I think it will be a long-term significant trend in the way consumerism operates," said Glyn Hughes, global head of cargo, IATA during his address.
Calling the industry to respond to the strategies of the e-commerce companies with agile and flexible solutions, Hughes further added, "Regardless of the strategies employed by the e-commerce companies, data is actually critical to enable those efficiencies." 
During the panel discussion, 'How will the new technologies including IoT, AI, VR, robotics, drones, and automation affect future cargo processing and transportation in the future?,' Svilen Rangelov, CEO & co-founder, Dronamics elaborated on the challenges for the use of drones for cargo. 
"There are two main challenges – technological and regulatory. Technological challenge is, without getting into details, small drones tend to use electric power, which means they rely on lithium batteries. The other disadvantage of lithium batteries is that they are very, very heavy. This severely restricts the range of operations. With small drones, you end up with a machine that weighs 20 kilogrammes and can carry one kilogramme. The economics are not very [good]. You have some companies implementing them, especially here in China. The adoption [of drones] hasn't been big because of that. When new technologies for batteries emerge and change that equation, it would dramatically change the landscape. About the other problem is regulation, and luckily we are seeing more and more regulators around the world, including here in China. They are proactive and create drone corridors, first for testing and eventually for licensing and operations. To this day there are no consistent cargo operations drones in the world. I see that changing in the next few years though," elaborated Rangelov.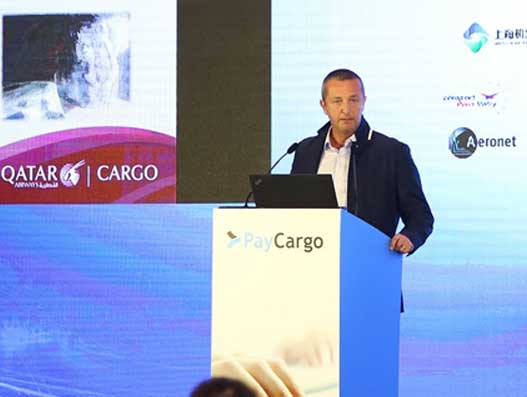 The US-China trade war was the topic of deep discussion at the CEO Roundtable, which facilitated leaders of the industry to put forth their opinions on the issue and its impact on trade. 
Guillaume Halleux of Qatar Airways brought to light a potentially grave issue of lithium batteries as cargo. He presented three scenarios in which his airline had three near-misses that could have proven fatal. "The question is no longer if there will be an accident one day, the question is when and where," he said in a somber tone. 
"The lithium battery market was worth US$ 33 billion in 2018 and is expected to grow more than US$ 73 billion by 2025. Lithium batteries are being transported every day, everywhere and yet our industry is not geared to tackle the risk. The risk is fire, explosion by friction, short circuit and improper packaging," added Halleux. In order to tackle the issue, he called the industry to talk about it, as "there is no shame in it" and urged for better screening of shipments.
The organizer Summit Asia also planned for a visit to the Jcex International Logistics warehouse, training centre of Loong Air and the Hangzhou Airport Economic Zone.