ECOMAL increases the use of Picavi smart glasses at its central warehouse
June 13, 2018: ECOMAL Europe GmbH, that currently uses ten pairs of Picavi smart glasses, will increases the use of pick-by-vision solution from Picavi at its central warehouse from the third quarter of 2018 onwards. This is because the company is extending the field of activities used by the pick-by-vision solution in the past at […]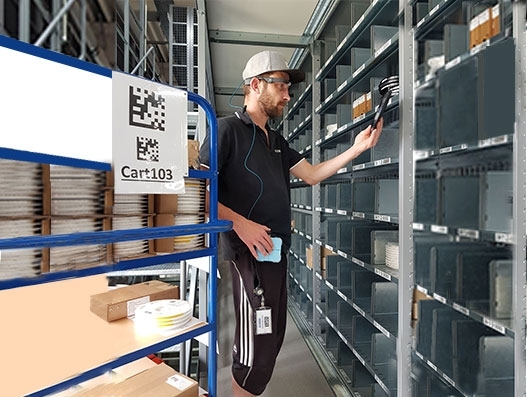 June 13, 2018: ECOMAL Europe GmbH, that currently uses ten pairs of Picavi smart glasses, will increases the use of pick-by-vision solution from Picavi at its central warehouse from the third quarter of 2018 onwards.
This is because the company is extending the field of activities used by the pick-by-vision solution in the past at its logistics centre in Kirchzarten. Up to now, the warehouse specialists have used ten pairs of the glasses for picking outgoing goods – now the glasses will be deployed for incoming goods too. The electronics wholesaler is hoping to achieve a significant reduction in the error rate when putting items into storage by using the Picavi products in this area.
Currently, ten pairs of smart glasses are in use from 7 a.m. until 8 p.m. and enable the warehouse specialists to pick items like resistors, semiconductor diodes or capacitors for dispatch from the warehouse stocks that comprise 2.5 billion components. The recipients of the packages sent from the ECOMAL central warehouse, which is located in the southern Black Forest area, include companies in the automotive sector, the semiconductor industry or those assembling circuit boards.
"We've been able to achieve time savings of at least 20 percent by using the Picavi smart glasses for our multi-order picking system covering different products. As part of the ongoing digitalisation of our warehouse management procedures, we've purchased even more models to switch our incoming goods to the pick-by-vision technology too," says Peter Kraus, Logistics manager at ECOMAL. "We've made one or two mistakes in the past and they've caused a fairly long search process. This will now be a thing of the past when we put items into storage with the Picavi smart glasses; they indicate where the correct warehouse position is on the display and the relevant information is then stored in the warehouse management system."
"ECOMAL is a clear example of how we can continue developing a partnership, which started in one area of a warehouse, into a different one. The strictly visual process controls of the pick-by-vision solution can be used for many activities in internal logistics in order to increase the precision of the work and make time savings when picking items," says Johanna Bellenberg, director of Marketing and Communications at Picavi, underlining the benefits.