Eastern Airways adds modern regional aircraft to its fleet
September 28, 2017: Eastern Airways has introduced a new 72-seat ATR 72-600 aircraft to its fleet, the first of its kind to operate in the regional airline's network. The modern aircraft will operate on the Aberdeen to Scatsta (Shetland Isles) oil contract charter services for the Integrated Aviation Consortium (IAC). This is the first of […]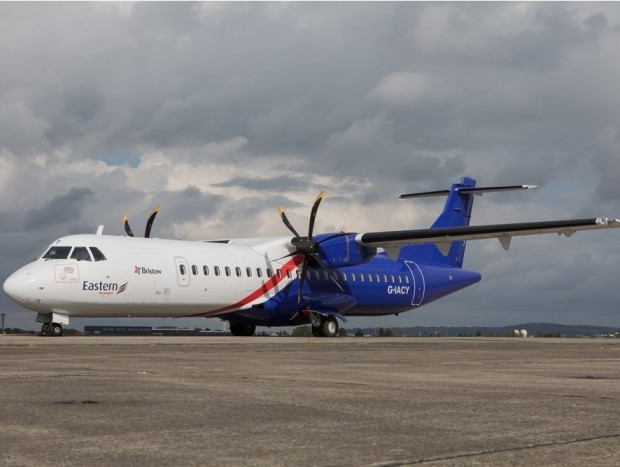 September 28, 2017: Eastern Airways has introduced a new 72-seat ATR 72-600 aircraft to its fleet, the first of its kind to operate in the regional airline's network.
The modern aircraft will operate on the Aberdeen to Scatsta (Shetland Isles) oil contract charter services for the Integrated Aviation Consortium (IAC).
This is the first of two new ATRs being added, reflecting the airline's on-going commitment to the oil and gas UK-based sector.
The aircraft was delivered from the production line in Toulouse, France, earlier this month and will enter service in the coming weeks.
Tony Burgess, Eastern Airways' chief operating officer, said, "These efficient, modern aircraft help us to fulfil a vital role and provide a long-term commitment supporting the oil and gas industry.
Alan Corbett, Bristow's vice president Europe, Africa, Middle East, Asia (EAMEA), said, "This is a significant commitment for Bristow Group which, along with recent construction of a new fixed-wing passenger terminal in Aberdeen, endorses our focus and commitment to service delivery, quality and safety. We are very excited to be launching this new and improved service."
ATR is part of the Airbus group and offers a comfortable cabin environment with a state-of-the-art glass cockpit incorporating the latest technologies. It has twin turbo props using two powerful Pratt and Whitney 172m engines, giving the aircraft a maximum cruise speed of 317mph.
The aircraft serial number is MSN1448 and is being leased from Nordic Aviation Capital (NAC).
Eastern Airways operates two Embraer 170s, three Embraer 145 jets, nine Saab 2000s, and is the largest operator in the world of Jetstream 41 aircraft with 17.