FROM MAGAZINE: E-commerce big fillip for P2F conversions
<p style="text-align: justify; font-weight: bold;">Replacement of ageing airplanes, in addition to the industry's growth requirements, will create a demand for 2,480 freighter deliveries over the next 20 years. Of these, 1,560 will be passenger airplane conversions, reveals Boeing's recently released Current Market Outlook. This just underlines the fact that the market for passenger-to-freighter conversions just […]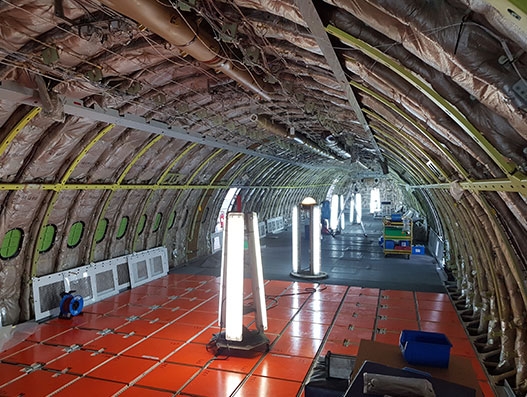 Replacement of ageing airplanes, in addition to the industry's growth requirements, will create a demand for 2,480 freighter deliveries over the next 20 years. Of these, 1,560 will be passenger airplane conversions, reveals Boeing's recently released Current Market Outlook. This just underlines the fact that the market for passenger-to-freighter conversions just got bigger and better.
Surya Kannoth
The market for passenger-to-freighter conversions has been brimming with action of late. Betting big on the burgeoning e-commerce business, freighter conversion programmes particularly in the narrow-body types, is taking centrestage. Indeed, the last few months have been aflutter with announcements from various aircraft conversion houses for narrowbody as well as medium widebody freighters.
"We are seeing continued demand for passenger-to-freighter conversions by the express cargo market. Express companies that continue to see high growth will require additional lift. World air cargo will continue to strengthen as world economic activity and trade improves," affirms Kurt Kraft, vice president - modification and conversion services, Boeing Commercial Airplanes.
"We are now in the fourth year of a narrowbody revolution, and with e-commerce continuing to fundamentally alter global retail consumption, narrowbodies will continue to be the big story in airfreight," said Robert V. Dahl, managing director, ACMG at the release of its 20-year Freighter Forecast for 2017-2036 at the sixth-annual Cargo Facts Asia conference in Shanghai.
The forecast anticipates 1,178 narrowbody freighters by 2036, up from 656 at the end of 2016. By 2036, narrowbodies will account for about 43 per cent of the total freighter fleet of 2,341 aircraft. That compares to about 40 per cent narrowbodies in today's fleet.
"The robust activity in freighter conversion of narrowbody types over the past four years has led to an increase in the quantity of narrowbody freighters in the global fleet," said Dahl. "This increase reverses a trend that began in 2000 through which the narrowbody freighter fleet decreased about 40 per cent over a decade-long period."
B737 – the popular choice for freighter conversions
The B737-700 and -800 aircraft seem to be dominating the narrowbody freighter market and are expected to be the racehorses in the years ahead too. "The market has clearly spoken in favour of the 737-800BCF, and we expect the momentum to continue. We predict that demand for the standard-body will continue to be strong and grow with more than 40 percent of demand coming from Asia. The 737-800BCF is well positioned as a next generation freighter for the future, especially as the older 737 classic feedstock dwindles. We have already received 60 orders and commitments for the 737-800BCF," shares Boeing's Kurt Kraft.
Sealing the stamp of confidence in the 737-800BCF, GE Capital Aviation Services (GECAS) recently announced plans to convert 30 more of its passenger Boeing 737-800s into freighters. With this order, GECAS has more than doubled its current investment into the freighter type, which includes the 25 aircraft GECAS already has on order from Aeronautical Engineers, Inc. (AEI), and Boeing. The aircraft leasing firm has not yet announced where the conversions will take place.
Meanwhile, Israel-based conversion specialist Bedek Aviation Group had revealed earlier this month that it is "up to its neck in work" for passenger-to-freighter conversions, and is to open a conversion centre for Boeing 767-300s in Mexico City, to be run by Mexicana MRO Services as Bedek's sub-contractor.
At the recently concluded Paris Air Show, Bedek inked a partnership deal with Haite Tianjin Aircraft Engineering Co to co-develop a conversion programme for Boeing 737NG passenger aircraft into freighters. Bedek and Tianjin expect that the new partnership will be "up and running quickly" so that the first converted B737-700 aircraft is certified and delivered to their unnamed launch customer.
Yosi Melamed, executive vice president & general manager of Bedek Aviation Group, said in a press note, "The B737NG is the future 'feedstock' of the narrow body freighters and we expect to be one of the first suppliers with an STC and a high-quality solution for the B737-800 that meets the growing market needs."
However, Mike Andrews, director of conversion program, PEMCO believes that -800 is not as cost effective at the current time. "The acquisition cost for the B737-800 is much higher than the -700 and not as cost effective for the time being. We expect the -800 to be of more interest around 2020."
But Boeing's closest competitors Elbe Flugzeugwerke (EFW), the Germany-based MRO and conversion joint venture of Singapore Technologies Aerospace and Airbus, has more to offer and compare. "Let's concentrate on converted 737-800 and 757-200 for example: The 737-800 offers 11+0.5 ULD and the 757-200 15 ULD (88''x125'') positions. Nevertheless, with 10+1 ULD positions on the main deck and 7 ULDs on the lower deck for the A320 and 14 containerized on the main deck and 10 on the lower deck in the A321, both Airbus aircraft offer significantly more containerized volume space than their direct competition. We see this as a clear competitive advantage in a market segment that is - through its express operations - rather driven to maximize volume," said Wolfgang Schmid, vice president - sales and marketing P2F, EFW.
EFW recently announced that its express major client DHL Express ordered an additional four firm and 10 optional A330-300 passenger-to-freighter (P2F) conversions. This follows the launch contract for four similar A330-300P2F conversions that was also awarded by DHL Express in July last year, strengthening its position as one of the world's leading freighter conversion and engineering companies. The first aircraft under the launch contract is currently undergoing conversion at EFW's Dresden-based facilities, and is on track to be redelivered by the end of 2017.
"We believe the A330-300P2F, with its favourable payload and range metrics, will address an important demand segment within the air cargo market that is not currently served by any other aircraft type. It will further strengthen the global air network of DHL Express and help us to achieve even greater efficiencies in our aviation operations," said Geoff Kehr, senior vice president, global air fleet management of DHL Express in a statement.
In order to take on the expanded conversion programme for DHL Express, EFW is gradually ramping up its capacity at its facility in Dresden, Germany, with a new single-bay wide-body hangar being recently completed. ST Aerospace's global network of facilities will also be utilised for some of the conversions to ensure on-time redeliveries and to handle increasing demand.
"2017 has been quite an exciting year so far for EFW as it comes to the Next-Generation conversion programs. For the wide-body conversions we have both prototypes at our premises in Dresden. The first of three A330-200P2F conversions was introduced to EFW by launch customer Egypt Air Cargo in April. Further, the A330-300P2F prototype is undergoing re-installation of systems right now and is expected to be handed to DHL by end of this year after all ground and flight testing. This is one of four aircrafts from the order book, with more contract orders to follow. As for narrow-body conversions, we expect to receive EASA STCs in summer 2019 for the A321P2F and one year later for the A320P2F programs," added Schmid.
Medium widebody freighters play catch-up
Conversion of medium widebody types is also gradually playing catch up, thanks to the express market players. Boeing's current market outlook forecasts a need for 400 widebody conversions over the next two decades, with strong demand for 767 freighter conversions due to a rise in e-commerce and the express market.
In a recent development, Boeing and UPS announced an order to convert three 767 passenger airplanes into Boeing Converted Freighters. "The purchase and conversion of these 767s is a perfect example of how UPS is making smart investments to fuel profitable growth," said UPS Airlines President Brendan Canavan in a press statement.
While 60 per cent of the conversions will be presented predominantly by narrow-body types, a trend that is expected to continue further, fuelled by growth markets in Asia, mainly China, the focus may shift to medium widebody freighters soon. "Medium wide-body freighters will return in focus again when the current generation freighters are getting older and newer technology is making new investments attractive to gain competitive advantages over airline competition. We regard the A330P2F as such a logical evolutionary next step, offering significant savings on operational cost compared to current freighters in this size segment but also enough growth potential in terms of volume and payload," anticipates EFW's Schmid.
Recently, Airborne Maintenance and Engineering Services (AMES) company, PEMCO unveiled its latest range of 737-700 combis and full freighters. PEMCO's programs will be marketed as B737-700FC (FlexCombi™) and B737-700F (Freighter). "The launch customer for the PEMCO B737-700FC is Bahrain-based Chisholm Enterprises, an internationally recognized provider of tailored aviation and business solutions in the Middle East. Its subsidiary Texel Air, a non-scheduled cargo airline, will operate the B737-700FC from Bahrain International Airport," reveals PEMCO's Andrews.
PEMCO will induct the first aircraft for B737-700 Passenger-to-FlexCombi™ modification at PEMCO's facilities in Tampa, during the second quarter of 2017. PEMCO expects to receive a US Federal Aviation Administration supplemental type certification (STC) by mid-2018.
"The first of its kind, the PEMCO B737-700FC offers three configurations: a 24-passenger cabin plus a 2,640-cubic-foot cargo hold for up to 30,000 pounds of payload in six pallet positions; a 12-passenger cabin plus a 3,005-cubic-foot cargo hold for up to 35,000 pounds of payload in seven pallet positions; or full-freighter mode consisting of a 3,370-cubic-foot cargo hold for up to 40,000 pounds of payload in eight pallet positions," shared Andrews.
As global GDP and world trade growth continues, air cargo traffic is projected to grow an average 4.2 percent per year over the next 20 years. World air cargo volume, in spite of external shocks arising from economic and political events, grew an average of 5.2 percent per year over the last 3.5 decades. E-commerce sales are expected to almost double from 2017 to 2020, with China and the US as the major drivers. This being said, air transportation will further play a key role in reaching products from omni-channel retailers to their customers in the fastest way possible. And this constantly growing e-commerce market served by express operators just further underlines the need for growth of narrow-body freighters and thus offers a huge potential for freighter conversion companies.