Dutch Drone Delta set for sustainable aviation from Jan. 1
Dec 7, 2019: Amsterdam Drone Week witnessed 13 parties establishing Dutch Drone Delta, an alliance set to develop smart, sustainable solutions. The parties have come together in an effort to realise the full potential of drones and Urban Air Mobility – the future of air passenger transport in the Netherlands. The Dutch Drone Delta partnership […]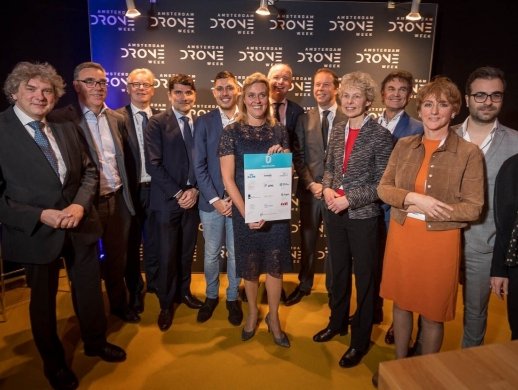 Dec 7, 2019: Amsterdam Drone Week witnessed 13 parties establishing Dutch Drone Delta, an alliance set to develop smart, sustainable solutions. The parties have come together in an effort to realise the full potential of drones and Urban Air Mobility – the future of air passenger transport in the Netherlands.
The Dutch Drone Delta partnership will come into effect on January 1. It includes partners KLM, Air Traffic Control the Netherlands (LVNL), Port of Rotterdam, KPN, a.s.r. schadeverzekeringen, RAI, Connekt, Antea Group, Space53, Koninklijk NLR, Achmea, AirHub and Rijkswaterstaat.
Royal Schiphol Group will be working with various partners to realise Urban Air Mobility: passenger transport using air taxis with vertical take-off and landing capability. This new form of mobility will have to be integrated into both air space and ground transport infrastructure. A study will be conducted in the first year in order to assess relevant requirements and potential infrastructure locations. An assessment will also be conducted to determine how Urban Air Mobility will impact the living environment.
The partnership is focused on the sustainable, economically feasible and safe integration of new forms of mobility. The partners feel the Netherlands is ideally positioned to play a leading role thanks to its rich aviation tradition, innovative mindset and openness to cooperation. Together, these factors can yield major results.