Dutch Dredging receives world's greenest bed leveller
June 18, 2018: With the delivery of the fifth bed leveller in the Dutch Dredging fleet -'Peter' last Thursday, now the world has the most sustainable bed leveller. The 22.4-metre-long vessel complies not only with the strict IMO Tier-3 standard for the emission of harmful substances in shipping but also with the Euro Stage 5 […]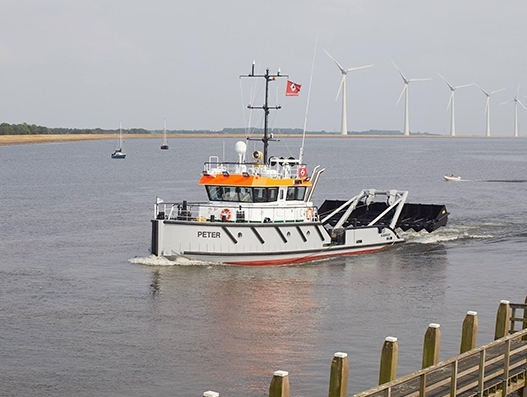 June 18, 2018: With the delivery of the fifth bed leveller in the Dutch Dredging fleet -'Peter' last Thursday, now the world has the most sustainable bed leveller. The 22.4-metre-long vessel complies not only with the strict IMO Tier-3 standard for the emission of harmful substances in shipping but also with the Euro Stage 5 standard for emissions in inland shipping.
John Nieuwenhuijse, the manager of New Building at Baggerbedrijf de Boer, Dutch Dredging, said that there was a lot of fiddling and fitting but, in the end, the two 550 hp Scania main engines were fitted out with after-treatment systems to clean exhaust gases. "We installed a selective catalytic reduction system (SCR) in the exhaust that converts nitrogen oxides (NOx) into water vapour and nitrogen. We also have diesel particulate filters (DPF) to reduce soot emissions. So we can now cater to the increasing demand from clients for low-emission vessels," he added.
With the installation of these systems, the dredging company is taking pre-emptive steps to comply with the legislation that IMO Tier-3 and Euro Stage 5 will only make compulsory in 2019 and 2020, respectively. The Peter also has a Green Passport from the International Maritime Organization. In other words, the owner is committed to preventing any harm to the environment throughout the lifecycle and even during the demolition phase.
The Peter is an even more advanced version of the sister ship Kees jr. The multifunctional bed leveller and tugboat is 7 metres wide and it has a draught of 2.80 meters. The vessel was built by Hoekman Shipbuilding in Urk and it has been fitted with, among other things, a multibeam and single beam so that the bed can be fully mapped out in three dimensions. These surveys not only serve to analyse the work to be done, but also to account to the clients.