Dublin Airport sets record with 25 million passengers in 2015
Jan 21, 2016: Dublin Airport had its busiest ever year in 2015, as a record 25 million passengers travelled through the airport. Passenger numbers increased by 15 percent last year with an additional 3.3 million people using Dublin Airport during 2015. The expansion was fuelled by 22 new routes and extra capacity on almost 40 […]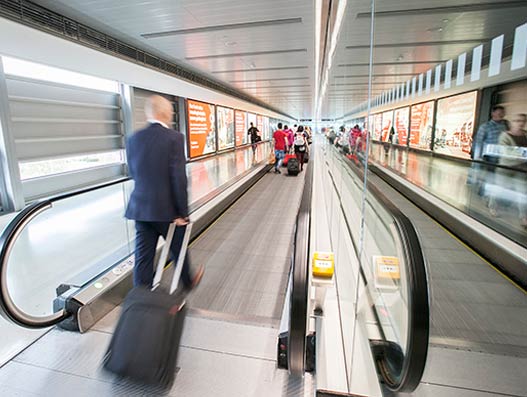 Jan 21, 2016: Dublin Airport had its busiest ever year in 2015, as a record 25 million passengers travelled through the airport. Passenger numbers increased by 15 percent last year with an additional 3.3 million people using Dublin Airport during 2015. The expansion was fuelled by 22 new routes and extra capacity on almost 40 existing services.
"Dublin Airport saw growth from most of its airline customers last year including our two largest airlines Ryanair and Aer Lingus, and we also welcomed six new scheduled airlines in 2015 - Ethiopian Airlines, ASL Airlines France, Finnair, Transavia, Vueling and WOW Air," said Vincent Harrison, managing director, Dublin Airport.
"There were 22 new routes at Dublin Airport last year and extra capacity on a total of 39 existing services. Ryanair launched three routes at Dublin last year and also added significant additional capacity on 21 of its existing services, while Aer Lingus opened six new routes and had extra capacity on 14 existing services," Harrison added.
"Dublin Airport had a fantastic year of passenger growth in 2015, which is good news for the Irish economy, for tourism, and for job creation, both at the airport and in the wider economy," according to Kevin Toland, chief executive, Dublin Airport.
Long-haul traffic, which comprises passengers taking flights to North America, the Middle East and Africa increased by 19 percent last year, while short-haul traffic was up by 15 percent.
Passenger traffic to and from Europe, being Dublin Airport's largest market segment, increased by 15 percent last year to almost 12.8 million due to new routes and extra capacity on existing services.
Transatlantic passenger numbers increased by 17 percent to a record 2.5 million, while passenger traffic to other international destinations, mainly the Middle East and Africa, increased by 25 percent to a record 805,000.
Dublin Airport is also continuing to invest in upgrading its facilities. Improvements are being made to the departures and arrivals areas and security screening within Terminal 1. The airport recruited about 170 new people last year and a further new 180 staff will be hired during 2016.
Dublin Airport is also currently evaluating plans for the development of a new runway, which will be an essential enabler for the Irish economy for many decades to come. A second parallel runway has been part of the Dublin Airport local area plan since the 1970s. Planning permission for a new runway was granted in 2007, but the project was put on hold due to the economic downturn.
Due to the significant growth in traffic, new records were set at Dublin Airport last year for overall passenger numbers, and for European traffic, British traffic, transatlantic traffic, and traffic to other international destinations. Dublin Airport also set new records for transfer traffic, as a growing number of passengers are choosing Dublin as their transatlantic hub, and for the number of passengers availing of the US preclearance facility in Terminal 2.
The growth in passenger numbers is expected to continue into 2016, as 11 new scheduled services have already been announced for this year, including new direct transatlantic services to Hartford Connecticut, Los Angeles, Newark and Vancouver. There are also new long-haul charter services to Cancun in Mexico and Montego Bay in Jamaica.
Between 2010 and 2015, transatlantic passenger numbers have increased by 66 percent at Dublin Airport and 15 new transatlantic services have been added.
Dublin Airport is currently the only major airport in Europe to offer US Pre-Clearance, and this service is convenient for US-bound passengers, according to Harrison.