Dubai Silk Road Project, Expo 2020 to drive Emirates SkyCargo's business in 2020
January 14, 2020: Emirates SkyCargo is geared up to facilitate global trade and cargo movement in 2020 and beyond through a combination of innovative product development and investment in 'fit for purpose' infrastructure. In 2019, Emirates SkyCargo's SkyCentral terminals in Dubai handled approximately 7,000 tonnes of cargo every day, between Dubai and the rest of […]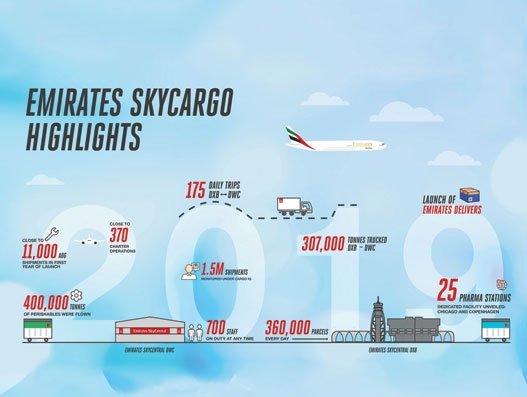 January 14, 2020: Emirates SkyCargo is geared up to facilitate global trade and cargo movement in 2020 and beyond through a combination of innovative product development and investment in 'fit for purpose' infrastructure.
In 2019, Emirates SkyCargo's SkyCentral terminals in Dubai handled approximately 7,000 tonnes of cargo every day, between Dubai and the rest of the world.
"The outlook for 2020 is more positive with the air cargo industry set to post a modest recovery thanks to improved economic activity and trade growth. With our commitment to 'deliver as promised' backed by a global network covering over 155 destinations centered in Dubai, our modern fleet of all wide-body aircraft and our state of the art Emirates SkyCentral terminals, Emirates SkyCargo is well-positioned to support trade and economic growth in line with the Dubai Silk Road Project. With Expo 2020 Dubai also set to kick off in October 2020, we will see a surge in movement of goods to and from Dubai and we are working with our partners to provide specialised air freight services for this once in a lifetime event," Nabil Sultan, Emirates divisional senior vice president, cargo added.
Last year, it rolled out Emirates Delivers, a new e-commerce platform that enables consumers, both individuals and small businesses, to purchase products from any US-based online retail store and have it delivered in the UAE. This product is part of Emirates SkyCargo's broader strategy to promote Dubai as an e-commerce fulfilment hub for customers based in the Middle East, Asia and Europe. In 2020, the availability of Emirates Delivers will be expanded to more markets.
"The global air cargo industry witnessed a very challenging year in 2019. Economic uncertainty, tensions in global trade and unrest in key markets negatively impacted cargo volumes. However, the tough market conditions were an opportunity for us to review our core offering to our customers and ensure that we remained market leaders with our specialised product offering, superior capabilities, and infrastructure as well as our agility in responding to customer demand," he said.
In 2019, more than 400,000 tonnes of perishables were flown on Emirates' flights under Emirates Fresh. In November and December of 2019, the carrier operated nine charter flights from Santiago, Chile uniquely for carrying cherries. Close to 11,000 high-priority shipments were moved across six continents under the Emirates AOG product during 2019. Year-on-year increase of 6 percent in the volume of high-value goods that were flown under Emirates Safe VAL and a 12 percent increase in demand for Emirates Pets.
Emirates SkyCargo has been able to operate close to 370 charters during 2019, which were widely used for the transportation of relief materials for natural disasters, equipment for music concerts, flowers and other perishables.
In 2019, Emirates SkyCargo unveiled a new handling facility dedicated to pharmaceutical cargo at Chicago airport. The facility features temperature-controlled zones for acceptance and delivery, pharma cargo build-up and break down, storage and direct ramp access and is also certified under EU GDP guidelines. Since the launch of the new facility, Chicago has seen double-digit growth in the volume of pharma cargo transported. In November 2019, Emirates SkyCargo moved its pharma handling operations at Copenhagen airport to a dedicated GDP-certified facility.
During 2019, Emirates SkyCargo worked with ground handlers at key pharma origin and destination cities across the world to expand the number of pharma stations from 12 to 25.
In 2019, the carrier monitored over 1.5 million shipments using Cargo iQ guidelines ensuring that cargo having a direct impact on the lives of people around the world was transported and delivered on time.