DSV Canada breaks ground on new Milton facility, company's largest facility ever
Nov 29, 2018: Yesterday, transport and logistics giant DSV broke ground on its largest facility ever – a new 1.1 million square foot facility in Milton, Ontario, scheduled to open fall 2019. It will comprise of a multi-client warehouse with state-of-the-art logistics capabilities and an attached 3-floor, 35,000 square foot administrative office. DSV's new facility […]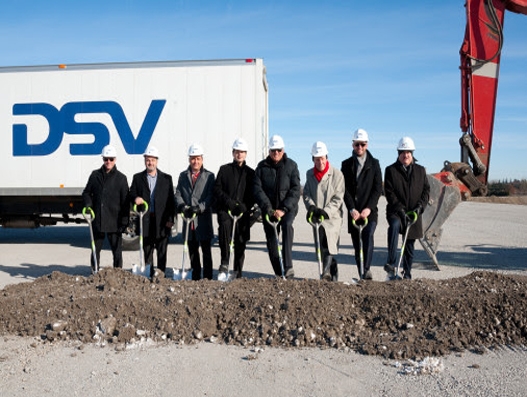 Nov 29, 2018: Yesterday, transport and logistics giant DSV broke ground on its largest facility ever – a new 1.1 million square foot facility in Milton, Ontario, scheduled to open fall 2019.
It will comprise of a multi-client warehouse with state-of-the-art logistics capabilities and an attached 3-floor, 35,000 square foot administrative office.
DSV's new facility will be the future Canadian head office and will consolidate its Air & Sea, Road and Solutions divisions under one roof.
"The largest facility of its kind in the DSV network worldwide (across over 80 countries), the new facility in Milton showcases our commitment to our customers and the future of DSV in Canada. Together, we have limitless potential and opportunity for growth, partnership, and innovation," says Martin Roos, managing director.
Rob Chanona, managing director of Solutions notes "providing a one-source solution for businesses to develop and grow their supply chain management has been key to our success at every stage. DSV Milton will enable us to achieve even further innovation and collaboration."