DRONAMICS announces Bodensee-Airport Friedrichshafen as its fourth airport partner
DRONAMICS partners with Bondensee-Airport Friedrichshafen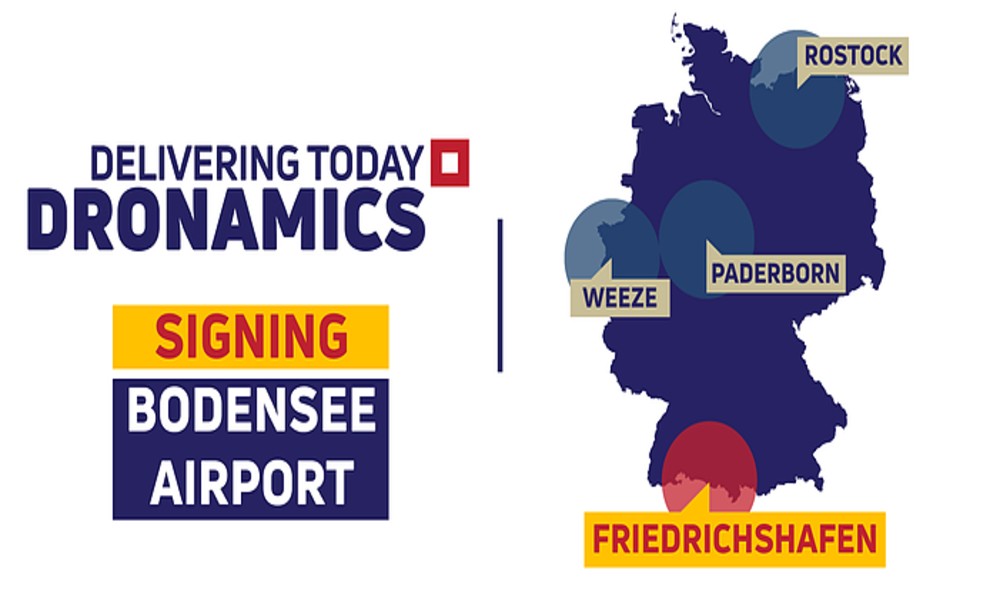 DROMANICS announces its new partnership with Bodensee-Airport Friedrichshafen. This will be the company's fourth airport partner in Germany and becomes a part of the broader European droneport network currently totalling 39 airports in 12 European countries.
The airport is a vital point in the coverage of Germany securing access to the major industrial hubs of the state of Baden-Wuerttemberg that have strong traditions in the Automotive and Aerospace industries.
Joining the already announced German droneport destinations of Paderborn-Lippstadt, Rostock–Laage, and Weeze, the four German droneport locations now can serve a total of 14 million people within 1-hour drive of the signed airports.
"DRONAMICS is a cooperation partner who has the potential to inspire the cargo business with an innovative technological approach. This will open new opportunities for our regional industry in the Bodensee region and new ways for their logistic network and it will prove the strength of Bodensee-Airport for future developments," said Claus-Dieter Wehr, CEO of Bodensee-AirportFriedrichshafen.
"Welcoming Friedrichshafen Airport to our European network is a big milestone for us. It is the first droneport location that will allow us to offer our pioneering same-day delivery service to a number of key industrial players in the region. Bringing Aviation 4.0 to a city with so much tradition in aviation is definitely inspiring," said DRONAMICS founder and CEO, Svilen Rangelov.
DRONAMICS will operate same-day flights within the network using its proprietary DRONAMICS "Black Swan" large unmanned cargo drones, each with a capacity of 350 kg and range of up to 2,500 km, reducing time, cost, and emissions by up to 80 per cent compared to traditional air cargo.
The signed agreement outlines the necessary space for cargo storage and handling and parking space for the drone as well as the commercial framework, which will be applied after an introduction phase.The plans for trials and the first commercial flights at the airport are scheduled for 2023.