dnata sets sustainability example with green turnaround of flydubai's aircraft
Dec 5, 2019: Air services provider dnata has set an example in sustainability by completing the green turnaround of a flydubai Next-Generation Boeing 737-800 aircraft using only zero-emission ramp ground support equipment (GSE) at Dubai International's (DXB) Terminal 2. Sheikh Ahmed bin Saeed Al Maktoum, chairman of Emirates Group, flydubai and Dubai Airports, said, "Sustainability […]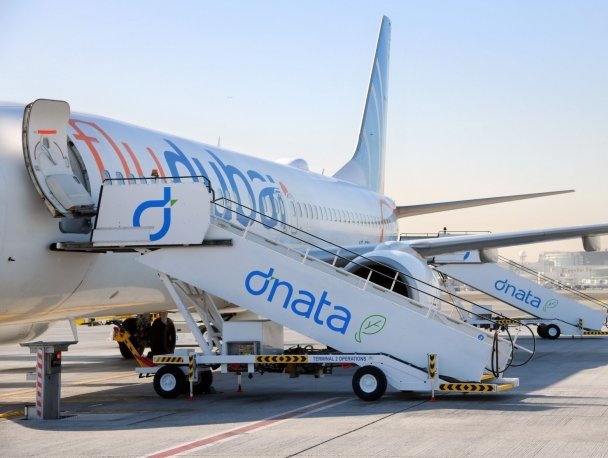 Dec 5, 2019: Air services provider dnata has set an example in sustainability by completing the green turnaround of a flydubai Next-Generation Boeing 737-800 aircraft using only zero-emission ramp ground support equipment (GSE) at Dubai International's (DXB) Terminal 2.
Sheikh Ahmed bin Saeed Al Maktoum, chairman of Emirates Group, flydubai and Dubai Airports, said, "Sustainability is a key focus across operations at the Emirates Group, flydubai and Dubai Airports. The UAE is a major global aviation hub, and in line with the country's vision to ensure sustainable development while preserving the environment, we are committed to taking meaningful initiatives and continually challenge our processes to deliver the highest possible value for all of our stakeholders. The green turnaround, involving a collaborative effort from airline, ground handler and airport operator, highlights Dubai's commitment and ability to make a difference by using resources in a sustainable manner."
During the green turnaround, dnata's dedicated team transported baggage with electric baggage tractors to the aircraft and applied electric conveyor belts to offload and load baggage and cargo. The passengers of the airline's Karachi and Faisalabad flights were disembarked and boarded through towable passenger stairs. After the boarding had been completed, the ground handler's professionally trained staff pushed the aircraft back from the gate with an electric towbarless pushback tractor, positioning it ready for taxi and departure. Throughout the turn, the aircraft ground power was provided by Dubai International's FEGP (Fixed Electrical Ground Power).
Ahead of Expo 2020 Dubai, which aspires to deliver one of the most sustainable World Expos ever, dnata is also currently reviewing the potential to convert its passenger handling operations at Dubai World Central (DWC) to an entirely electric ramp GSE operation in 2020.