Digitisation the next big thing
Digitisation and its futuristic approach is taking the global business landscape by storm and air cargo industry is not an exception. More than being physical, it is a mindset change. The winners will act now by forgoing resistance and embracing technology!
Shreya Bhattacharya
Rewind just six or seven years and you will find the air cargo industry happily transporting cargo believing it has mastered the art, until a wave of technology roiled and disrupted the well set standards.
In due course, the consumer base also became more aware and their rising expectations gave major goals to the industry to not only track and trace but also make the entire supply chain leaner. The air cargo industry, which was defined by its fragmented supply chain, comprising truckers, ground handlers, airlines, forwarders and shippers, was now in need for major structural redesigning.
Disruption was, therefore, here to stay and left a trail of buzzwords like analytics, automation, artificial intelligence (AI), internet of things (IoT), big data, blockchain, cloud and much more. With the structural redesigning of the industry, experts believe that supply chains will soon be replaced by supply networks.
Keeping this backdrop in mind, industry players are taking significant steps towards digitisation in order to streamline and simplify the supply chain right from the origin to the final destination.
Recently ground handler dnata partnered with IBM, Emirates Innovation Lab and flydubai Cargo, to test the use of blockchain to create a new value proposition for cargo service delivery.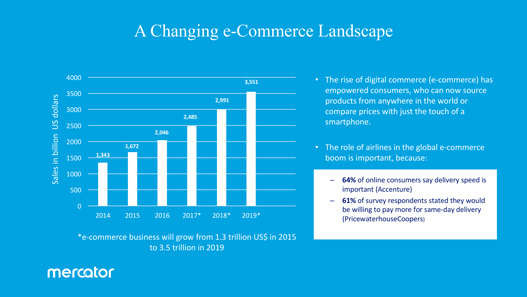 IBM Corporation's global managing director, travel and transportation industries, Dee K Waddell gave a detailed account of the technological opportunities that the stakeholders would be able to avail. "This initiative developed an industry logistics platform based on blockchain for supply chain transactions from purchase orders to the consignee warehouse. Leveraging blockchain to digitalise existing processes that span multiple organisations can unlock significant value for the network participants. Trade documentation alone in these existing processes are estimated to be roughly 10-20 percent of the actual physical costs of transport.  An open industry platform, based on IBM's blockchain technology, provides supply chain participants the required security, scalability and trust for digitalising these archaic and costly physical processes."
Confirming and reiterating similar views, Kevin Ennis, VP Commercial and Business Development Cargo, dnata says, "dnata's blockchain technology is a very secure way to share information between stakeholders. It creates a permanent, digital public ledger of transactions which can be shared among a network of computers. The sharing possibilities of this technology creates many opportunities for logistics/supply chain applications, it includes improvements of transparency and data sharing across the supply chain, better tracking of orders, reducing errors and better fraud detection." Ennis further says that the technology has been instrumental in eliminating redundant data and has improved visibility and transparency for all stakeholders.
The blockchain technology, developed originally to monitor and secure bitcoin, is rapidly breaking into a wide range of industries, and the air cargo industry is no exception. In fact the ability to create a permanent, digital public ledger of transactions, which are secure from tampering, hacking or revision makes it the perfect fit for air cargo. It is especially being touted as most beneficial for temperature sensitive items like perishables and pharmaceuticals. These items, if not kept in appropriate temperature during air transportation, could lead to a loss of millions in revenue and could even endanger human life.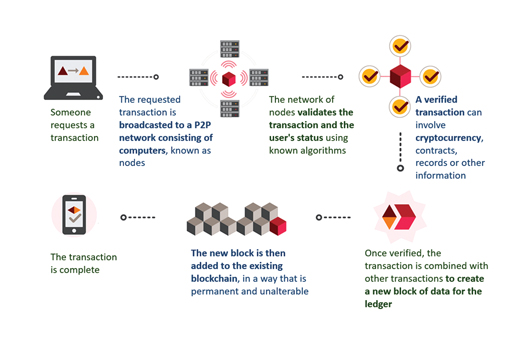 Blockchain organisation Hyperledger Foundation is hoping to use the technology's potential to make temperature-control easier than ever for air cargo. Using the blockchain framework Hyperledger Sawtooth, sensors could be set up around a plane's holding area to monitor internal conditions. These sensors would not only keep a track of temperature but will also give a detailed account of humidity, location, motion, shock, all of which could affect the integrity of perishables. The technology's capability of maintaining an unalterable record sets it apart from other product sensors.
Meanwhile, Waddell also reveals that Watson, IBM's AI platform, is being trained for performing cargo declaration checks, by ingesting structured and unstructured data, to ensure air cargo compliance. "As we know, the rules and regulations for air transportation across country boundaries are complex and can change often.  This complex environment results in errors and non-compliance and significant time is wasted in correcting non-compliant shipments.  Leveraging the Watson AI platform in helping identify compliance issues immediately can eliminate much of this wasted time and return it for revenue generation activities, such as up-selling additional products and services," he explains.
"A few of the digital technologies that will drive digital reinvention in the air cargo market include Blockchain, IoT, AI, and Cloud," he adds further.
Last year, in its bid to maximise the potential of the cargo business, Oman Air Cargo launched a 100 percent Cloud-based Cargo ERP Solution, implemented by cargo management platform SmartKargo. The smart and intuitive booking system is noted for its ease-of-use, providing web-based access for agents and employees of Oman Air, with a provision for customer bookings via a mobile app. The solution facilitates the paperless transformation of key business processes across the board, including eAWB and the capability to digitally collect, store and transmit associated documentation via e-pouch, leveraging standard IATA C-IMP messaging.
"We chose the SmartKargo cloud solution due to the robust infrastructure, platform and advanced technology that it is built upon. We can now provide easy, secure access via integration with any business partner across the world, with little effort," says Mohammed Al Musafir, senior vice president – Commercial Cargo at Oman Air. "The full SmartKargo ERP solution was deployed in less than two months. Within the first 24 hours, the Go-Live system registered a tremendous response from users globally," he informs further.
The SmartKargo Link capability within the solution will also facilitate Oman Air Cargo's interline opportunities by streamlining processes and communications with partner airlines—opening up new revenue potential.
Apart from these, airway bills, cryptocurrency payments, machine learning, cargo resource planning and threat analysis are some of the most significant digital trends, currently being explored by the industry players.
The fact that the industry is recognising the significant value that can be tapped by leveraging digital technologies has also been lauded by the International Air Transport Association (IATA). "We have been encouraged by the way the supply chain has been embracing technology with increased use of data sensors and track and trace solutions now being used. More companies are turning to the IATA XML standards (digital messaging standard promoted by IATA for electronic communication between airlines and other air cargo stakeholders) as the modern way to share messages. However the industry needs to use the current situation as a springboard to further digitalisation," says Glyn Hughes, global head of cargo, IATA.
Hughes also believes that the IoT, particularly when 5G is in wide use will provide incredible opportunities for the industry as optimised solutions require fast access to correct data in order to drive effective decisions and supply chain actions. It will serve the purpose of dynamic routing adjustments, the filing of advanced information with regulators and most importantly transparent and timely information to customers.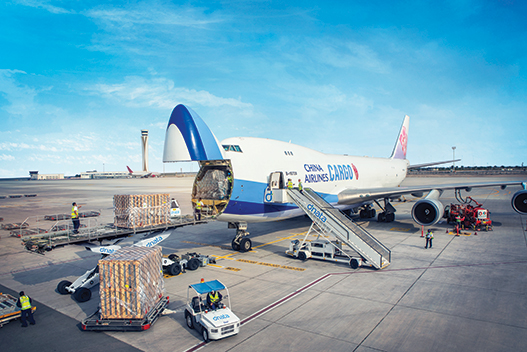 Recently, a multinational air transport IT firm SITA released a white paper detailing how airlines and airports could use smart contracts for shared control of data. The paper outlines research carried out by SITA, along with British Airways and Heathrow, Geneva and Miami International airports, into smart contracts residing on a blockchain. The IT firm has built a private permissioned blockchain, called FlightChain that stores flight information and uses smart contracts to judge potentially conflicting data. The research also examined the use of both public and private blockchain networks for the air transport industry. The paper however, on a concluding note adds that, with blockchain "still early in the technology lifecycle," its "immaturity" makes it complicated to deploy across air industry networks. However, SITA aims to add more airlines and airports to the FlightChain trial in future to get a more complete data set.
It is also worth mentioning that not only the air cargo industry players are embracing technology but many of them are making substantial investments in tech start-ups working towards developing these technologies specific to the industry's requirements.
Recently Lufthansa Cargo has taken a stake in Fleet, a US based online marketplace, matching customers' demand for freight services with free capacity provided by logistics companies. According to the German flag-carrier, the move is part of a "strategic commitment" towards improving airfreight's "digital maturity level".
"Fleet is a perfect match for us as the company combines innovative and visionary thinking with a strong intrinsic motivation to improve air cargo booking and shipping efficiency and, finally, our customers' overall experience," says Peter Gerber, CEO of Lufthansa Cargo. "We expect substantial learnings with regard to our product and service portfolio. Thus, we are sure that Lufthansa Cargo and Fleet will mutually benefit from sharing concepts and ideas."
This is not the operator's first fling with tech start ups. Earlier in 2015, it had partnered with RocketSpace, which had been working with Lufthansa's Berlin based Innovation Hub on the Logistics Tech Accelerator programme. The US company is helping selected young technology companies and innovation drivers bring their ideas and visions of the future to life.
Lufthansa Group is also working with Switzerland-based startup Winding Tree to build blockchain-based travel apps. It has agreed to participate in the pre-sale of Winding Tree's cryptocurrency Líf, which would then be used to finance a blockchain digital marketplace for travel.
Among others, Kuehne + Nagel recently inked a deal with Tamesek Holdings. With the Singapore-based investment fund, the forwarder will look to invest in technologies including AI, automation, blockchain systems and robotics. The two reportedly have a 50:50 partnership in the joint venture.
In 2017, International Airlines Group or IAG also launched its own startup accelerator program, dubbed as Hangar 51, which is trying to capitalise on technology aimed at improving basic services in the air travel industry and improve the efficiency of its business. The airline group has also separately set up a multimillion-pound corporate venture fund with the aim of investing in potential digital start-ups. Its first investments are in Esplorio, an automated travel journal app and VChain, a company that authenticates customer data using blockchain technology. VChain will be looking at using its technology to help IAG speed up the airport check-in process. IAG later plans to work with other partners to get the technology off the ground.
E-commerce giving a fillip to technology adoption
It wouldn't be incorrect to say that the recent spur in the air cargo sector revolving around technology also comes in wake of the rising e-commerce trends. According to Charles Brewer, CEO, DHL eCommerce, the world of logistics is on the cusp of radical transformation, fuelled by the rapidly growing e-commerce industry, rising consumer expectations and digital technologies.
"The best examples of digitisation in logistics are those that simplify processes, improve efficiency and also provide greater choice, convenience and control for the consumer. For instance, big data, predictive analysis and AI to better predict shipment volumes for customers and allow businesses to make more informed decisions. This will help greatly especially during e-commerce peak seasons like Singles Day, Black Friday or Cyber Monday. Businesses which are able to better prepare for peak seasons will of course reap huge rewards from the buying frenzy during these periods, and also improve customer satisfaction," shares Brewer.
In fact, according to technology-driven freight forwarder Flexport, the front-end of ecommerce is much more developed than the back-end. "The technology behind online shopping experiences, and rapid order fulfillment, is having a much bigger impact on air freight than the technology behind the supply chain from manufacturing to distribution," says the company's SVP and global head of airfreight Neel Jones Shah. The continuing growth of e-commerce and consumers' expectations of on-demand same-day availability are some of emerging digital trends that will drive the air cargo market in the near future, believes Shah. "Players like Amazon have set a standard for consumer expectations that the whole ecommerce market is now trying to match, and that is driving a massive shift towards on-demand inventory availability, which in turn is driving up air freight traffic."
Recently Flexport became the first customer for cargo IT specialist CHAMP Cargosystems' new cargoJSON data-interchange format for air cargo messaging. cargoJSON is a language-independent data format which CHAMP has defined for air cargo messaging. It has recently been added to Traxon cargoHUB and is fully interoperable with existing IATA CargoIMP and IATA cargo XML formats.
Meanwhile, DHL's Brewer mentions another important point that innovations in the sector would also enable people to do better for the environment. "DPDHL is committed to zero emissions by 2050 and technology will help us achieve that, for instance with green vehicles. In our domestic delivery operations in Thailand, Vietnam and Malaysia, we have deployed electronic motorbikes and will look at increasing our green fleet."
Apart from its own innovations like Parcelcopter and the EffiBOT, DHL eCommerce has also integrated FarEye's software into its services platforms. Brewer says that FarEye's platform has helped orchestrate the first and last mile delivery for the company and gave it more granular insight into its crucial offerings. "FarEye's platform has allowed us to secure first mover advantage by creating various new services like ServicePoints in Southeast Asia, reverse pickups in Chile and geo-fencing in North America."
Is air freight industry adopting digitisation fast enough?
While there are many examples to suggest that the air cargo sector is increasingly focusing on digital innovation, the prime concern remains whether this is an industry wide occurrence. It is widely being observed that not all stakeholders are up for a transition to new age IT solution from their own legacy IT systems.
"In our view, they are not that willing. The main reasons are the complexity of the systems involved, and the long migration process, coupled with the at times wrong perception that it will bring relatively low benefit due to the interdependency of the carrier on the various other players in the cargo ecosystem," says Alexis Labonne, chief technology officer, Hermes Logistics Technologies.
"How do you define fast enough? Historically, businesses and industries which don't innovate and evolve will likely disappear.  Air cargo is no different, so the pace of innovation must exceed the pace of market movements and evolving customer demands in order to stay relevant.  There are many factors which therefore impact an organisation's adoption of technology, including availability of investments, profile, customer demands and alignment with business partners. Digitalisation of supply chain information is one of the more challenging tasks to fully implement as it requires all partners to share the vision and have implemented compatible tools to support the required information sharing.  The key is to ensure that no matter how challenging the task the process must continue," emphasises Hughes of IATA.
It is therefore high time to get over the traditional paper methods and make concerted efforts towards digitalising the air cargo supply chain, for it has more to offer than just transparency and online tracking. Industry veterans feel that air freight consolidation market still includes massive amounts of waste due to unpredictability and bad data. Digitisation has transformative capabilities that can and will enable more flexible and agile business processes that leverage the explosion of data and harness it for data-driven workflows across organisations. In other words, digitalising the supply chain can take the risk out of the consolidation business and streamline it, which means more efficiency for carriers and lower rates for shippers.
Clearly, it is not anymore a choice but a necessity as advances in the technological sphere is going to be the main differentiator in the complex economic landscape and highly competitive business environment. As we see a world where traditional business architectures are converging with technical architectures, this industry will also continue to get disrupted with new technologies that will reshape the way key players interact with and serve their customers along the value chain. Digitisation may not be a cure-all for air cargo issues, but it's a fantastic start and if accepted with open mind, Brewer rightly puts it, "It's only going to get more exciting!"