Digitisation instills splendid colours into flower cargo
The shelf life of perishables poses a major challenge for the air cargo industry. To tackle issues such as temperature control during transportation and temporary storage, the freight forwarders, airlines, industry body and other stakeholders in the supply chain are adopting high-end technologies for fresh delivery of flowers in your bouquet.

Shalini Nair

The environmental control system of an aircraft, customs clearance or refrigerated trailers might not be the first thing that comes into your mind - when you think of gifting a bouquet to your loved ones. But they play a crucial role in making sure that the flowers stay as fresh as possible. 
Quality and reliability in the increasingly competitive global market for cut flowers is key. The International Air Transport Association (IATA) Perishable Cargo Regulation (PCR) has a dedicated chapter on the air transport of cut flowers, in which the most important factors affecting the post-harvest quality of cut flowers and other ornamentals are described. It also outlines standard techniques applicable to the commercial handling and transport of most cut flowers by air and includes suggestions for improving present post-harvest handling as well as appropriate packing system. Wastage of fresh cut flowers are considerable and may occur during harvest, handling, storage, transportation, wholesaling and retailing. The IATA estimates that approximately 20 percent of cut flowers are lost during post-harvest handling and transport, which represents a significant economic loss. Pre-cooling, correct packaging, ventilation and maintaining appropriate temperature controls throughout the handling and transport are amongst the other essential elements to assure good quality of flowers. Controlling the temperature throughout the entire airfreight process including transportation and temporary storage is a challenging task. The stakeholders must be aware that temperature range occurring during transportation cannot be maintained at all times throughout the supply chain. The exact conditions and service levels can be agreed upon in service level agreements between stakeholders. 
Tech boom
There has been progress in digitisation and new technology to address supply chain challenges and improve customers' expectations. Still the industry needs to continue to embrace the use of enhanced technology to provide data-on-demand, real-time tracking and transparent information services to the ultimate users of air cargo transportation.
The main focus is on the integration of new technologies and the importance of cool chain management in the flower supply chain. "Within the alliance we have three main projects of packaging, information sharing, and process innovation, and we have achieved some milestones. For process innovation, our aim is to create a reliable controlled trade lane. This requires more transparency and visibility regarding the performance of the trade lane between partners to guarantee the quality of flowers. Therefore, we developed a concept for a smart cool lane to monitor temperature in the trade lane. The first step in implementing this concept is gathering necessary data, which up to now has not been made available,"Eline van den Berg, programme manager, HFA stated.
With regards to information sharing, HFA now enables to track and trace shipments from Nairobi to Amsterdam on box level. And with packaging, after many sessions with industry stakeholders and supply chain partners they have now created a prototype for the 'ideal flowerbox'. The insight of this working group goes beyond the specifications of a new box and also considers the palletising process. HFA will be piloting this box and the new process very soon to measure and validate how it works in practice.
Trace & resolve
To address the challenges in transporting and handling perishable products, IATA adopts a supply chain approach with a dedicated working group, viz. IATA Time and Temperature Working Group (TTWG) composed of industry supply chain subject matter experts. The TTWG recommends standards, best practices and requirements in the perishable area that are endorsed by the IATA Live Animals and Perishables Board (LAPB), a governance body comprised of 12 airline members. The perishable standards are then included into the IATA PCR, to become industry standards. The standards that have been developed, such as the IATA Perishable Label has been disseminated to the industry but are not widely used. As such the need to continue raising awareness is essential among all stakeholders across the supply chain to meet the needs of customers.
Andrea Gruber, head-special cargo at IATA, opined, "IATA is considering to launch a globally consistent, recognised and standardised certification programme, namely the Center of Excellence for Independent Validators for Perishable Logistics (CEIV Fresh). The intention is to raise the bar in the industry by improving the level of competency, operational and technical preparedness in the handling and transportation of perishable products and to ensure that the international standards, norms and procedures are complied with by the industry."
In order to deal with temperature-control challenges, LATAM Cargo assures that the cargo remains inside cold rooms as long as possible, to reduce tarmac time and it also takes care of any delay in flight or last-minute changes.
Encountering challenges require industry collaboration and proper communication from all parties to identify the measures needed to reduce the cost. Few examples include reviewing the different steps of the process and adapting to new packaging that can be more profitable. Overall, strengthening the business relationship across the supply chain is critical for improvement. "By being in close contact with all the stakeholders involved, we react and respond as quickly as possible to limit the impact. The collaboration within the HFA supports this process and thus structural challenges are addressed unitedly," said Wico Santbulte, director cargo development, Air France-KLM Cargo.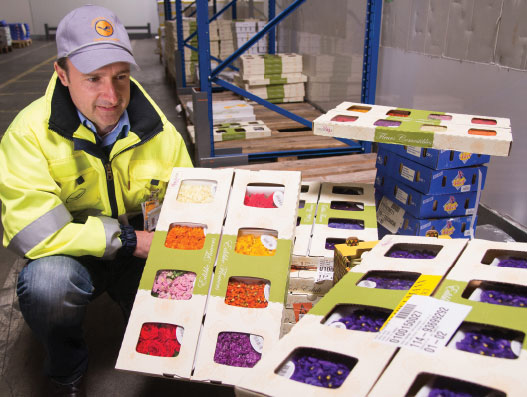 Ecuadorian market has been a priority market for flower industry. Speaking on Brexit wilting the European Union (EU) flower trade, FelipeCaballero,commercial manager for South America, LATAM Cargo commented, "Ecuadorian market has been preferred by its flower quality providing around 75 percent of the flowers to Europe. The Brexit may have a minor effect on their exports but may not threaten it, almost 80 percent of the exports to Europe are not related with EU."
Uniting to win
Find yourself fortunate if you have been visiting Amsterdam during spring. There will be millions of flowers blooming in this region. The Netherlands has a very rich history in flowers and flower transportation. With the world's largest flower auction in the vicinity of the Amsterdam Airport Schiphol (AMS) and with Air France-KLM being a large flower transportation airline, Holland Flower Alliance (HFA) was formed by collaborating both with Royal FloraHolland - in order to protect the position of the Netherlands when it comes to the fresh cut flower market. Eline stated, "It takes the whole supply chain to work together as one if you want to make progress, and starting with three key players seemed like a good idea. We started two years ago, with each of us working from our own perspective towards the supply chain of fresh cut flowers. We are now seeing results and other parties in the chain want to join and collaborate. We believe that this collaboration is our biggest success so far. The success is evident when we handled a total of 218,636 tonnes of import in 2017."
Last year, the acquisition of Trillvane in Kenya by Kuehne + Nagel has enabled the latter to strengthen its position in perishables operation between Kenya and Europe. Speaking on the partnership, Myles Hechle, national manager country cluster, Kuehne + Nagel said, "As the leading forwarder in Kenya, the acquisition enabled Kuehne + Nagelto penetrate into the UK market. Kuehne + Nagel Kenya now controls full freighters to UK, being the only forwarder with such arrangements out of Kenya. We support the industry with not only Europe capacity but also UK specific capacity on our controlled freighters."
On similar lines, Kuehne + Nagel has acquired the perishables business of Panatlantic Logistics in Ecuador. This enables Kuehne + Nagel to strengthen its position in the export market to the US, Europe and the Asia-Pacific region. The combined volume of Kuehne + Nagel´s current business portfolio and Panatlantic´swill account for 32,000 tonnes of air export of perishables per annum out of Ecuador. Together with the perishables business managed in Colombia, Peru, Brazil and Chile, Kuehne + Nagel controls over 120,000 tonnes of perishables export by air per annum from the south and central America region.
Prevention is better than cure
Considering cold chain as a crucial aspect, several years ago LATAM Cargo decided to invest in cold rooms in Colombia and Miami in order to lead the industry. Felipe said, "At third party stations such as in Ecuador, Amsterdam and Brussels, we have carefully selected our handling partners to be ready for this challenge so they can provide the best quality to our customers. Another important factor is the aircraft, which are capable of maintaining the correct temperature of goods at all times."
While commenting on transportation of flowers, Wico stated, "Before transporting flowers and being in B2B business, we ensure that our customers and partners are involved and committed to quality. We always ensure that we deal with professional companies which is embarked in sustainable, social and environmental programmes and are committed to the cool chain."
Committing to norms
Even though the splendid colours please you – it is not an easy task to import any flower across the world as it requires a phytosanitary certification issued by National Plant Protection Organization (NPPO). Importing countries must require phytosanitary certificates for regulated articles such as plants, bulbs and tubers, seeds for propagation, fruits and vegetables, cut flowers and branches. The certification is issued to indicate that consignments of plants, plant products or other regulated articles meet specified phytosanitary import requirements. At the same time, it is not mandatory to importing countries for plant products that have been processed in such a way that they have no potential for introducing regulated pests. NPPOs must bilaterally agree when there are differences between the views of the importing and exporting country regarding the justification for acquiring the certificate. 
Meanwhile, when a consignment is imported into a country then exported to another, the NPPO should issue a phytosanitary certificate for re-export. The certificate must be issued only for the export of an imported consignment, if the NPPO is confident that the importing country's regulations are met. Re-export certification may still be done if the consignment has been stored, split up, combined with other consignments or re-packaged, provided that it has not been exposed to infestation or contamination by pests. The consignment should always be accompanied by the original phytosanitary certificate or its certified copy.
Success Stories
For HFA, the route between Amsterdam and Nairobi is the focus point, and they are now able to track and trace flower boxes on piece level by matching flower information to supply chain information. The next step that they want to add is temperature control, but are still optimising on this route before implementing it on other routes. 
Each week, LATAM has an estimate of 31 B767-300 freighters out from Colombia and Ecuador to Miami, Los Angeles, Amsterdam and Brussels, which enables them to feed the main flower markets in North America and Europe. Their growth depends on the development of the flower into non-traditional markets like Asia and Oceania which have been growing in the past years.
Similarly, Kenya Airways has a wide body and a full freighter network feeding Nairobi. The transportation of flowers from neighbouring countries like Uganda, Tanzania, Rwanda, Zambia and Ethiopia, is channelled through this capacity into the hub of Nairobi. From here, both Kenya Airways and Air-France KLM would then support the uplift towards the hub of Amsterdam Schiphol ensuring the same quality of cool chain as on the direct uplifts from Kenya.
Due to the proximity of Schiphol to the biggest flower auction Royal FloraHolland, Schiphol forms a logical hub for flower imports. Its biggest flower import market sare Kenya and Ethiopia. If looking at the air cargo in general, then Shanghai is Schiphol's main destination for import.
Adding more colours
In 2018, LATAM Cargo has reported that during Valentine's Day season, they have flown almost 11,000 tonnes of flowers out of Colombia and Ecuador. For Mother's Day this year, the cargo peaked as well, and moved over 7,900 tonnes out of both countries as well. In a regular week, they move more than 1,500 tonnes out from Colombia & Ecuador to Miami, Los Angeles and Amsterdam. LATAM's B767F fleet moves 94 percent of the cargo with six frequencies per week from Bogota, six frequencies from Medellin, and 8 to 9 frequencies from Quito to Miami. From Central America, it provides six frequencies per week from Costa Rica and Guatemala to Miami. This is in addition to five frequencies per week from Miami to Amsterdam and Brussels.  "In our bellies we have flown over 5,200 tonnes of flowers in 2017 for Santiago, Buenos Aires, Sao Paulo, Montevideo. The North American market imports around 5,300 tonnes per week out of Colombia and Ecuador, followed by European with almost 2,000 tonnes per week, it means that the North American market will stay as the most important one for a long time," declared Felipe. 
A recent statistical release by the Kenya National Bureau of Statistics recorded that Kenya earned 480 million euro from horticultural exports in the period between January and April 2018. The figure represents a 40.41 percent increase in sales compared to the same period last year. The horticulture sector has kept an improved performance in the recent years attributed to compliance with the export market requirements by majority exporters, especially to EU.
In HFA, each party assesses the supply chain from their own perspective, leading to a more integral perspective on the supply chain. Bart Pouwels, head of cargo, Amsterdam Airport Schiphol stated that they intend to initiate and co-create smart cargo solutions for the supply chain, and working together has helped the supply chain of fresh cut flowers to advance. 
Concise and practical guidelines are needed to ensure an industry wide standard of excellence for shippers handling cut flowers by air. The example of adequate packaging systems is essential to reduce product loss and waste. Presently, the industry is focusing more on transport of flowers, resulting in the development of regional initiatives combining innovative and new technology solutions to optimise the transport of flowers.