FROM MAGAZINE: Digitalisation is the only way out for air cargo
Digitisation is a crucial element that has kept the air cargo industry to stay afloat even during the Covid-19 disruption.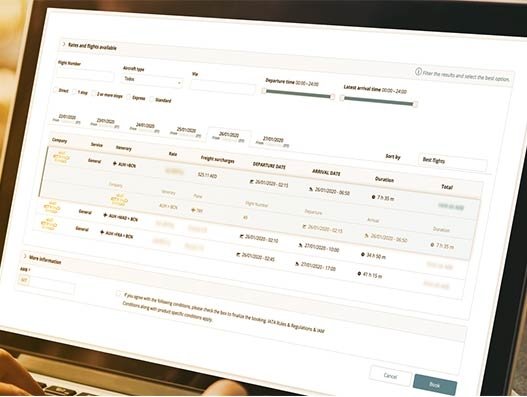 Digitisation is a crucial element that has kept the air cargo industry to stay afloat even during the Covid-19 disruption. If the slow pace of adoption and reluctance among stakeholders to jump in was the talk before, the pandemic is changing this. Digital service providers are reporting an unprecedented jump in traffic and demand while sales are happening in the record time frame.
The world is in a virtual war against the Covid-19 pandemic. While the virus is posing new challenges every day, the human race is engaged in finding solutions and innovating to fight it. The air cargo industry is no exception. Airlines, freight forwarders, airports and ground handlers are playing their part in innovating and finding solutions. But the most unintended help came from the digital technology that enabled the industry to not only to keep social distancing but also to move the air freight more efficiently.
The air cargo community is facing several challenges including the reduced capacity, a sudden demand surge particularly for medical supplies, absence of onsite manpower and climbing freight rates. Meanwhile, the digital solution providers came out with new software, redesigned current platforms and on-ground collaboration. They have reported increasing demand and traffic in their platforms while sales are getting completed in record time. Air cargo stakeholders are more than ever excited to embrace digital solutions.
Henk Mulder, head, digital cargo, International Air Transport Association (IATA) said "The most important tool that has allowed the air cargo community going is without question, the full digitalization of the workplace. The ability to telework from one day to the next with access to all data resources and the effective use of team collaboration tools has demonstrated the high degree of digitalization that has already taken place."
"In January we launched a new service, EPIC (Enhances Partner Identification and Connectivity), to manage system connectivity between air cargo stakeholders. We assumed with Covid-19 this new service would take a backseat whilst the industry deals with its operational challenges. It turned out that publishing contact and connectivity details, and access them of your partners is a highly important service, in particular when the supply chain is disrupted and needs to adapt and when digital communication is fast and safe," he continued.
Air cargo's dependency on paper
Air cargo industry is largely a paper-based industry. 30 types of documents and 124 copies of paper have to move along with an air cargo shipment that starts from its shipper to the consignee.
"Electronic documents like the e-AWB have turned out to have an unintended benefit: the absence of the need to physically touch paper documents that have been touched by others recently. In some cases, the air cargo paper documentation is shipped separately from the cargo via express couriers. Electronic documents don't have this issue, said Mulder.
"Most if not all airlines still handle a lot of paper documents and they have dedicated teams that process these documents. Typically they will manually verify the correctness of the data and key in the most important aspects into their systems. This requires the physical presence of these teams, which can be up to 100 employees in some cases. Electronic documents would have allowed this work to be done remotely while teleworking," he added.

In May 2020, Kale Logistics introduced 'PING', a new document processing solution for GHAs and ground handlers.
Community systems and new modules
In May 2020, the digital tech provider to air cargo Kale Logistics Solutions introduced 'Ping', a document processing solution for ground handling agents (GHAs) and freight forwarders. The new solution is one of the small modules separated from the company's bigger air cargo community system.
Besides, during the lockdown, the company has entered into agreements with two international airports to implement its community system, completed a sale to a charter operator in a record time of just three days and is even approached by top general sales & service agents (GSSAs) in the world.
Amar More, chief executive officer, Kale Logistics Solutions said "Air cargo community systems are big projects which will take time and several stakeholder interactions to implement it. So we have broken down the system into smaller modules to help different stakeholders to interact digitally for separate operations. PING is one of such modules that help GHAs and freight forwarders in document processing which has received a tremendous demand from different geographies including North America, Europe and the Middle East."
"Since the lockdown, we are receiving requests from ground handlers, airlines, airports and charter operators to transform their operations into the digital arena due to reinforced need of digital solutions. For example, the certificate of origin is a document required to move an air freight consignment and people have to physically reach out to the chamber of commerce to get it done. But the offices of these chambers are not working now," he added.
Regarding how community systems could mitigate the effects of lockdown he said "The airports with our next generation community systems were able to operate virtually, with very less direct human interaction, and in effect more efficiently. Airport employees were able to process the paper while they are working from home."
"To move life-saving drugs, like the hydroxychloroquine, the forwarder has to deal with the customs declaration, send airway-bill to the airline and pay handling charges to the airport. Our GMAX portal has all these things articulated into a single platform. The impact of lockdown was minimized for airports with community systems. The software also enables the people to process these requirements 24/7, particularly during Saturdays and Sundays," he added.
One big digital ecosystem
The crisis is asking for all stakeholders to come together and work collaboratively. But the IT solutions provider for the logistics industry, IBS software is looking into two levels of collaboration: both between the digital players and the air cargo stakeholders.
Ashok Rajan, senior vice president and head, Cargo & Logistics Solutions, IBS Software said "We in IBS Software are trying to widen our partner ecosystem. We are partnering with digital players in the sales channel and cargo payments space to integrate and add value to the customer. Thus IBS is opening up its integration capabilities to make sure that all these players will become one big ready-to-use digital ecosystem."
"Ground handlers are the airline representatives. Today also there is a lot of manual intervention between these parties to make sure that the airlines get all its work done by the ground handler. For example, even during these difficult times a lot of perishables and pharmaceuticals are moving through air cargo which requires strict temperature control. This mostly requires a phone call or direct communication between these stakeholders to constantly monitor the temperature," he said.
"Our platform 'Cargo Virtual Connect' has tried to make this one seamless transaction across players and systems through exchanging instructions and responses digitally. In an industry where the business environment has turned on its head and become a supply-constrained environment, our AI/ML-enabled revenue management solution is helping airlines make the best decisions on pricing and selling." he added.
While commenting on the need for airlines to work together he said "Even though the freighter-only airlines are doing an exceptional business, they also have challenges as they are dependent on feeder flights of smaller airlines that bring capacity from different areas. We are therefore also working for greater cooperation between carriers through a Joint Venture engine, where even the smaller players could participate."

In April, Cargocast introduced RFID-based logistics platform for automated warehouse operations
Tracking & visibility with RFID
The biggest challenge for forwarders and ground handlers at the moment is the amount of urgent freight being tendered and the lack of capacity to move it as quickly as needed. Besides, the various lockdowns and new social distancing practices have resulted in difficulty maintaining staffing levels in some areas. This is creating pressure on storage and handling capacity in the warehouses.
In April 2020, the digital solutions provider Cargocast introduced Radio Frequency Identification (RFID) smart logistics platform to provide automated warehouse operations.
Michael Morey, vice president, advanced cargo solutions, Cargocast said "RFID technology has reduced significantly in cost while improving accuracy and performance. Every warehouse has specific pain points and other areas where best practices are already implemented. We focus on the processes that can bring the highest return on investment in each case. For some, it's ensuring the accuracy of actual manifested goods being loaded (or unloaded). In some cases, the focus is on managing the consolidation of shipments."
Pricing, capacity and e-booking
Digitization hasn't started two months ago. It has already started a few years ago and the last two years saw bigger steps and quicker progress in this direction. Covid-19 has only reinforced the need to be resilient and agile. More than ever it is important to have transparent access to prices and capacity available, along with the ability to book them instantly.
WebCargo by Freightos is a digital software company that gives access to live capacity, pricing and allows e-bookings for freight forwarders with global presence. The company works with 1900 unique freight forwarders and more than 10 thousand branches around the world. While WebCargo already has 14 airlines on their platform, the company expects 11 more to join by the end of this year.
In the wake of this crisis, the company gave free access for all IATA accredited freight forwarders to its eBooking platform.
Camilo Garcia Cervera, global VP Business Development, WebCargo said "This is a perfect storm with reduced capacity, sudden demand increase particularly in certain trade lanes and lack of onsite manpower. We have seen changes in capacity and fluctuations in prices. Altogether these changes demanded digital solutions for this industry to move forward. Reduced capacity and increased demand took the prices to record levels. It has become important for the forwarders to understand the pricing in a very lively manner. We don't establish prices. Instead, we distribute the prices and make sure they are live. This isn't exclusively due to Covid-19, but the pandemic has accelerated this move."
"The WebCargo platform offers instant capacity availability and pricing of all 14 airlines. For example, we have many airlines transforming their passenger flights for cargo-only service using both belly space and main cabin which could be readily available in our platform," he said.
"More than ever in history, airlines and forwarders are opening their doors for digitization. It is no longer acceptable to have a business plan in this industry which doesn't have a digital strategy at the heart of what they are doing. We are already very strong in Europe and are trying to reinforce our presence here. Asia, led by India, is witnessing very significant and quick growth. The Americas is also another place we could see growth coming in," he continued.
Blockchain, mobile and new currencies
Many other promising developments are happening in the digital realm of air cargo which ranges from blockchain-based booking to introducing new currencies to fintech platforms.
In April 2020, AirAsia's cargo arm Teleport launched Freightchain, the world's first e-booking platform powered by blockchain. The platform helps on-demand bookings in real-time through submitted bids and then validates them using blockchain algorithms. The airline noted that it has deliberately launched Freightchain within global supply chains during this period of uncertainty, which was caused the Covid-19 pandemic.
The software company DAKOSY expanded its air cargo portal INFr8 into android and iOS mobile devices in April. Besides, ongoing processes, the dashboard shows the logistical and technical milestones accomplished, as well as notifications that inform users about rejected electronic dangerous goods declarations (eDGDs).
The online freight payment tool PayCargo launched a dedicated Canadian Dollar platform in Canada in April which enables users to pay either in Canadian or US dollars after the registration. According to the company, though the plan to introduce the Canadian dollar was an earlier plan, it had to fast track it due to the Covid-19 pandemic.
In May, Air Canada and the ULD company Unilode Aviation Solutions extended their ULD management solution which also includes digital solutions. Soon the cargo network of Air Canada will be managed by this digital solution.
Recently Portugal's flagship carrier TAP Air Portugal entered into a partnership with air cargo e-booking platform Cargo.one, confirming the trend.
The way ahead
The air freight industry still has great opportunities to digitise the processes, procedures and how shippers, freight forwarders and airlines interact.
Mulder of IATA said "In what is proving to be the biggest economic crisis in aviation since the second world war, many transport companies and their partners are forced to cut back as a matter of survival. They will conclude that digitalization is not just a more efficient way of doing business; it is also the only way to reduce manual processing of information. In the same way, that business process re-engineering was big in the '80s and offshoring big in the '90s, full digitalization will prove to be a business case for cost reduction. But just like business process re-engineering and offshoring before, it will require an investment for a payback."
This feature was originally published in May 2020 issue of The STAT Trade Times.