FROM MAGAZINE: Digital disruption in air logistics : hype vs reality
The air cargo industry is living in an age of great technological advancement. However, when it comes to digital up taking, individual elements of the air cargo supply chain seem to be working in isolation. Shreya Bhattacharya By end of 2018, the air cargo industry came across an unprecedented surprise statement coming in from IATA […]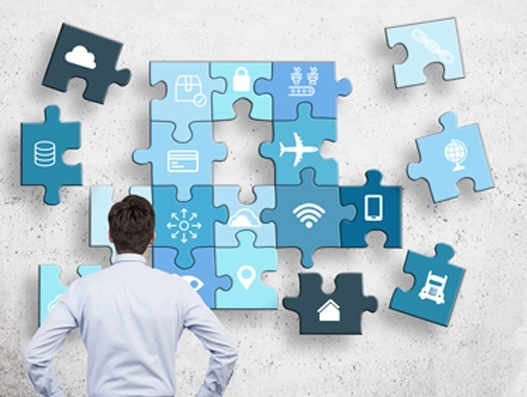 The air cargo industry is living in an age of great technological advancement. However, when it comes to digital up taking, individual elements of the air cargo supply chain seem to be working in isolation.
Shreya Bhattacharya
By end of 2018, the air cargo industry came across an unprecedented surprise statement coming in from IATA informing that, effective 1 January 2019, the electronic Air Waybill (e-AWB) will become the "default contract of carriage" for all air cargo shipments on enabled trade lanes. If that is being done, it means all parties in a supply chain, within these trade lanes, including the freight forwarders and airlines will have to be capable and compatible with digital AWB. Although the implementation and execution part of it is yet to be evaluated, IATA says it has been able to change the thoughts of few too many with this move.
Glyn Hughes, global head of cargo at IATA updates, "We have seen some excellent reactions in certain markets. The Scandinavia markets for example have responded incredibly positively with a number of industry participants who had previously been sitting on the fence have now fully embraced the importance of moving to digital solutions for information sharing."
As it seems, it cannot be an easy ride for any industry to get rid of ideas internalised in its system for decades. The efforts made in this course have remained spirited, with industry associations constantly propelling the stakeholders to embrace digitisation to step ahead towards digitalisation. But where has the industry actually reached when it comes to a paperless and fully digitalised freight vision? While industry associations have maintained a positive outlook, how much of it has been a hype vs reality?
It is important to note that the e-AWB was first introduced in 2010 and an initial target was set to bring 100 percent e-AWB by the end of 2015. Despite of a decade of efforts, the global e-AWB penetration stands around 61 percent by December 2018 on the legally feasible trade lanes, as per latest figures revealed by IATA.
photo: Lufthansa Cargo
Ram Menen, former head of cargo at Emirates says, "Though there are several initiatives in various pockets within the industry being undertaken currently, digitisation in the core airline/forwarders arena has remained behind times. New initiatives to create a digital market place seems to be in full swing but the basic e-AWB/e-Freight initiatives still remain a challenge."
While the industry is awaking to the benefits of paperless freight, it is also thrilled with the prospect of transformation that emerging technologies like the AI, Big Data and the Cloud can bring into the supply chain.
Many of the airlines are aiming to elevate their services with these technologies. One of the frontrunners is Lufthansa Cargo, which not only looks up to fully digitalise its processes but is simultaneously investing in many tech startups to get a sense of the new trends to stay ahead in competition.
Giving an idea of how digitalisation has brought changes in the way the airline used to operate, Boris Hueske, Lufthansa Cargo head of digital transformation says, "With digitisation of the AWB and further documents, we enhanced speed and quality of goods acceptance through a data Precheck and selfservice terminals."
Boris also highlighted the provision of direct connectivity via application programming interfaces (for tracking, schedule, rates) which also offers booking functionalities on booking platforms like cargo.one, WCN and CPS. He further informed, "We offer a digital dangerous goods declaration (DGD) service, simplifying the communication of all parties involved, we started to refresh our ebooking to make the booking process more convenient."
Earlier in 2018, Lufthansa Cargo and Freightos collaborated on instant %u2018e-booking' of air cargo, terming it as a "quantum leap in cargo booking", enabling clients to instantly look up contracted rates, assess capacity and book cargo on specific flights in real-time.
The companies said that e-commerce drove the nine percent growth in airfreight demand in 2017, but manual airfreight management and sales continued to cost the industry billions annually in changing fees, untapped capacity and manual labour, all contributing to average transit times of six days, though flights last a matter of hours. Lufthansa Cargo airline now plans to expand this system globally in coming months beginning with a rollout in major European markets.
Similarly, giving an account of the digital initiatives taken by Air France KLM Martinair Cargo, VP CXO Laurent Petitmangin informs that the airlines' online booking ratio has grown tremendously, while its website visits have doubled every year. Petitmangin listed three features that have been appreciated by its clients. "The huge potential of myCargo, their (clients) personal dashboard that lists all their quotes, bookings, shipments gives them all necessary alerts to run their operations."
The T&T capability further allows more actual, reliable and transparent information for them. Thirdly, he lists the airlines' booking capability that offers easy to use 3-step process, best available rate including spot rates on the fly, possibility to book now or save the quote, faster response from customer service on quotes for complex shipments etc.
"They (clients) also like all that we develop in operations (e-fast lane, speedy and well documented e-acceptance, etc.) Further on, we have developed APIs and each of our customer is free to link real-time its own IT system with ours and benefit from all new features," Petitmangin adds further.
Also the tech solution companies are betting big on emerging technologies such as AI, Big Data and the Cloud, providing solutions which can mitigate rising supply chain costs. Ashok Rajan, senior vice president & business head - cargo & logistics solutions, IBS Software says, "Over the last half a decade, the focus in many industries has shifted to heavily customised offerings and it is seen as a competitive advantage to deliver to specific parametric restrictions and timelines - a simple example being pharmaceuticals being shipped across the world keeping temperature and pressure conditions within specified standards throughout the entire period of carriage. This opens up new revenue streams within existing industry domains, but the fast move advantage stands out."
While Rajan's statement suggests customised offerings are being offered to customers as per their requirement, Petitmangin claims there are many takers who are adapting to the changes and are actually benefitting from it. In that case, when it comes to a transparent supply chain, why is it still slow on the digital uptake?
Stan Wraight, president and CEO of aviation consultancy Strategic Aviation Solutions International says, "When we speak of the %u2018industry' this is where we have failed as stakeholders to understand that generations of mistrust. Opposing interests have made any progress almost impossible. Vested interests in the silos of air cargo, for example the classic battle between airlines and forwarders re sharing information is still hampering progress. The classic example is the integrators taking away high yielding express business, and now the ecommerce companies doing the same for general cargo volume business. In 1988, I can remember technological solutions were there for e Air Waybills (AWB) and we are still not there as an industry. E freight was discussed by IATA in an executive summit in KUL (Kuala Lumpur International Airport) in the early 2000s, and here we are in 2019 still trying to work it out."
Digging further, Menen explains, "A lot of the challenges also come from airlines and forwarder relationship as the forwarders don't want to see transparent rates being offered directly in the retail market by the airlines as it prevents them from being able to generate revenues from the markup they are able to get away with. The fact remains, the elements within the supply chain need to stop making a buck out of each other and start generating their revenues from getting remunerated for the services rendered by them."
SOURCE: IATA
While the coaxing towards digitisation continues, some are taking stringent measures to bring eAWB into force. Last year, in favour of a greater push for eAWB adoption, Lufthansa Cargo implemented a %u20AC12 per paper air waybill fee for trade lanes on which eAWBs are available. The airline reportedly said that the decision would allow companies to save up to 50 percent of document processing time, and thus will significantly reduce costs. Lufthansa Cargo has been offering eAWBs since 2013, and reports suggest the move was also linked to its desire to pass on the processing costs of paper AWBs.
The decision, as expected, was not appreciated by many of the forwarders, however, it did find support from Wraight. "Generic and %u2018management by committee' solutions won't cut it anymore, and I applaud those airlines and authorities that are now saying automate and digitise or else face penalties or worse. It seems that is the only solution to effect change that works," he asserts.
Furthermore, when asked what sentiments or concerns he sees amid aviation industry stakeholders around emerging technologies, Wraight says, "They just do not understand that we need a global solution or at least a major gateway solution for air cargo logistics, not just in your hub or your company. What works in a few gateways in Europe for example, is not going to help when the cargo arrives in North America where there is not even one airport that has a cargo community system! I believe everyone of consequence understands this, its just they keep looking over the fence for solutions from industry silo organisations like IATA or FIATA to solve it. Sorry, but they are not capable of acting alone and getting all parties to agree and all previous attempts to coordinate between them have failed. Always remember we have a serious problem with the ability to even talk together due to anti competition rules which sent shock waves through the industry as well."
Rajan expresses similar sentiments. "Technology adoption in air cargo has been steady but slow, which I would attribute to the highly fragmented nature of the supply chain. Participants on the same supply chain can be diametrically opposite in terms of their technological maturity, agility and criticality which means it is a challenge in itself to bring them all together and integrate their business systems onto a common platform without proper incentives. One stakeholder alone is not able to optimise value derived from technology if it is not comprehensively penetrating through the supply chain. This has been a major hurdle in air cargo management and one which will continue to plague the industry unless there is a concerted advancement."
It's not that the air cargo stakeholders are not exploiting the IT solutions, but the application of AI, Big Data, Cloud etc. seems to be, in isolation being worked on within individual elements of the air cargo supply chain, and that too, mostly in the operations and information management areas, however, when it comes to sharing the data with others in chain, there seems to be a lot of reluctance, explains Menen. The other factor that plays a role in reluctance in sharing data is %u2018trust' in each other.
"Technology today is not a constraint and it can be used in many ways to support the operations. Blockchain technology should take the fear and paranoia of data being tampered with and be able to share data freely. To make technology work, companies need to have a clear understanding of their own business process and how to reengineer their processes for achieving optimal cost efficiencies. They need to have a very clear strategy. This will help them avoid pitfalls of hypes and other expensive excursions," he says.
"IATA has been trying to create industry standards for sharing data and have had some success in bringing the industry together. In the big picture, the efforts and take up rate is severely challenged," Menen adds.
Sodexi Hub Express (an AFKLM sister concern) at Charles de Gaulle Airport, Paris
Further on the positive side, Rajan says, "We are seeing increasing number of cargo players, being very much open to innovation use cases that can help them solve specific business pain points. Iterative/fail fast kind of innovation models can help the industry players quickly check the potential for these technologies, and are slowly gaining acceptance across the industry. Events like hackathons both at an enterprise level, and at an industry level help provide a relatively safe and pretty low risk option for industry players to crowd source ideas and bring in fresh thought into potential use cases that explore what these technologies can actually do."
In few words, while we live in a digital world, to compare the speed of eAWB adoption to eTicket adoption is an unfair comparison as the complexities of the cargo industry far exceed those of the passenger sector. However, without achieving 100 percent in e-Freight/e-AWB objective, the air cargo industry will not be able to fully participate in a digital world. Industry experts do believe, the market in the near future will see more tech driven business participants, who will offer new services like already seen with digital forwarders or booking platforms. Supply chain visibility will increase through better connectivity of all involved. However, in the current situation, not many understand technology and how to leverage the technology to gain efficiency. Data has to be available door to door through API solutions, and airports, airlines, GHA, GSSA and forwarders should be pushing these types of solutions now. The fact of the matter is, today everybody knows that digitisation is inevitable and they have to make way for it to be able to play a role in the digital world. The sooner they execute, the better!
photo: Lufthansa Cargo