DHL join hands with ChannelAdvisor to power global e-commerce for retailers and brands
3 October, 2018: DHL eCommerce, a division of Deutsche Post DHL Group (DPDHL), has announced a strategic alliance with ChannelAdvisor, a leading provider of cloud-based e-commerce solutions. Through the partnership, brands and retailers can easily expand internationally by reaching foreign markets and delivering to customers around the world, with seamless connection to DHL eCommerce fulfillment […]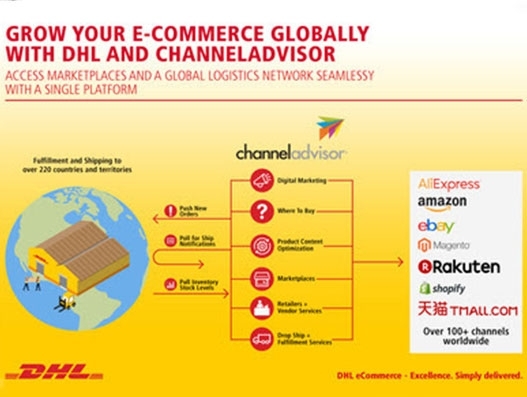 3 October, 2018: DHL eCommerce, a division of Deutsche Post DHL Group (DPDHL), has announced a strategic alliance with ChannelAdvisor, a leading provider of cloud-based e-commerce solutions. Through the partnership, brands and retailers can easily expand internationally by reaching foreign markets and delivering to customers around the world, with seamless connection to DHL eCommerce fulfillment and shipping.
"We're excited about this strategic alliance between DHL and ChannelAdvisor, which brings together two industry-leading companies to power the e-commerce opportunity for brands and retailers across the globe," says Charles Brewer, CEO, DHL eCommerce. "By leveraging technology platforms, retailers and brands can accelerate their cross border e-commerce strategy by easily expanding to new regions and selling to anyone, anywhere. This is made even easier with a global e-commerce logistics partner like DHL to ensure a seamless order fulfillment and shipping process."
As a strategic partner, DHL eCommerce will bring their expertise in e-commerce logistics and access to a global fulfillment network for customers on the ChannelAdvisor platform. Customers can utilise the network of shared-use facilities at transactional prices to enable high-quality e-commerce order fulfillment with best-in-class operations and multiple shipping options.
"By combining ChannelAdvisor's industry-leading e-commerce platform with DHL's leading logistics capabilities, DHL eCommerce customers will be able to reach new consumers on marketplaces, while continuing to offer the best-in-class fulfillment and shipping they expect. It's essential that brands and retailers diversify their digital and multi-channel strategies to succeed in today's evolving industry, and we are honored to be selected by DHL eCommerce to help its customers accelerate their sales strategies and meet demands," says Paul Colucci, vice president, global business development, ChannelAdvisor.