DHL is the official logistics partner of Formula 1 2018 season
March 20, 2018: DHL recently extended its four-year old global partnership with Formula 1, to become the first official logistics partner of the F1 eSports series, which will be held between March 23 and 25, in Melbourne. The Formula 1 will open the 2018 season with the Rolex Australian Grand Prix, spread over a sporting […]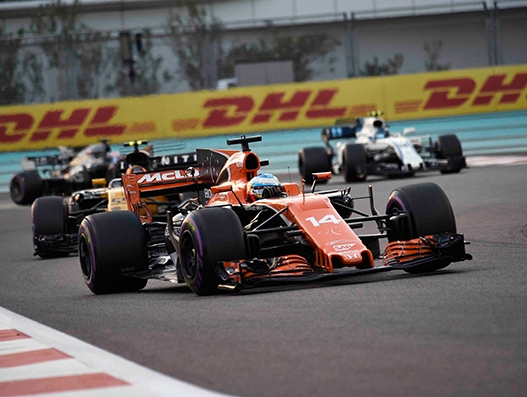 March 20, 2018: DHL recently extended its four-year old global partnership with Formula 1, to become the first official logistics partner of the F1 eSports series, which will be held between March 23 and 25, in Melbourne.
The Formula 1 will open the 2018 season with the Rolex Australian Grand Prix, spread over a sporting schedule of 21 weekends.
Other joint initiatives, includes fan festivals in core, growth markets of Formula 1, and new digital formats. Additionally, DHL will present its DHL Fastest Lap Award and the DHL Fastest Pit Stop Award, for exceptional performances of racing drivers and teams.
"As the logistics partner, DHL is in charge of the complex shipping of Formula 1 vehicles and equipment. The brand is therefore an integral component of this highly emotional sporting and entertainment experience with global reach," said Arjan Sissing, head of corporate brand marketing, Deutsche Post DHL Group.
"As the first official partner of the F1 eSports series, we are pleased to accompany Formula 1 on its digital journey, and will actively contribute to expansion and emotionalization of the product range for fans," said Sissing.
Sean Bratches, managing director, commercial operations, Formula 1 said: "I am delighted to have renewed and reinforced our long-term commitment with DHL, the official logistics partner of Formula 1. Our sport is very can you buy soma online legally fast-moving, where precision and punctuality are the key ingredients. These attributes are also central to DHL, and this is a guarantee for the ongoing success of this relationship."
On the other hand, DHL Global Forwarding, freight division has acquired Delivered On Time (DOT). The UK-based company has more than 80 years of experience as a full-range provider of logistics solutions, specialising in motor sports, TV, broadcasting, and international events.
"The acquisition of DOT will provide growth and produce a series of synergy effects in our range of services for Formula 1 and Formula E," said Thomas Nieszner, president and global head of motorsport, DHL Forwarding, Freight.
With this acquisition, DHL will complement its comprehensive service portfolio, and further expand its leading position in motor-sports logistics.
The ensuing Formula 1 season will have several new features, from a technical perspective. Among the most significant innovations is the introduction of the cockpit protection device 'Halo'. The titanium structure above the cockpit has been introduced to protect drivers from head injuries. Some changes have also been made in tyres for the coming Formula 1 season.
With two new tire compounds 'Hypersoft' and 'Superhard', the team will have nine different options at their disposal, including rain tyres. Additionally, all compounds will be one grade softer.