DHL Global Forwarding launches new multimodal service from Indonesia
Oct 16, 2019: Indonesian businesses will now benefit from the rollout of multimodal service DHL ASIACONNECT+ in the Southeast Asian country, announced DHL Global Forwarding (DHL GF) yesterday. The new less-than-truckload (LTL) scheduled service connects Indonesia to DHL ASIACONNECT, DHL's road freight network across Singapore, Malaysia, Thailand, Vietnam and China. With the launch of this […]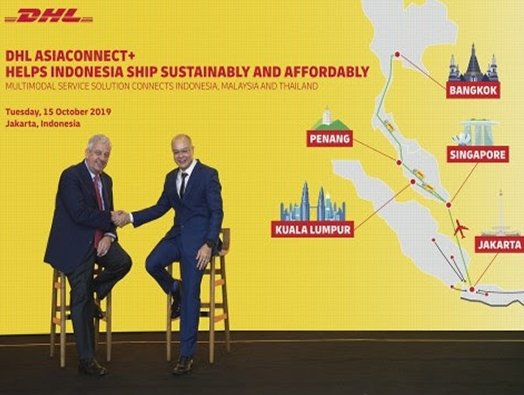 Oct 16, 2019: Indonesian businesses will now benefit from the rollout of multimodal service DHL ASIACONNECT+ in the Southeast Asian country, announced DHL Global Forwarding (DHL GF) yesterday.
The new less-than-truckload (LTL) scheduled service connects Indonesia to DHL ASIACONNECT, DHL's road freight network across Singapore, Malaysia, Thailand, Vietnam and China.
With the launch of this service, shipments from various cities in Indonesia, including Bandung, Balikpapan, Semarang and Lampung, containing locally-produced goods, such as textiles, machinery and electronic goods, are consolidated in Jakarta by air or truck before being air-freighted to Singapore and transported via road freight to Kuala Lumpur, Penang and Bangkok.
Source: DHL
DHL ASIACONNECT+ offers, in addition to cost savings and reduced carbon emissions, a standard tariff that helps customers manage their costs, a single point of contact for end-to-end shipments and online track and trace capabilities using the DHL Interactive platform.
"Businesses moving goods out of Indonesia now have a strong viable alternative to traditional air and ocean freight. With DHL ASIACONNECT, we have a robust scheduled road network across Indonesia's key ASEAN trading markets. Adding Indonesia to the service portfolio gives customers a new option for multimodal freight service, which is up to 35 percent cheaper and reduces carbon emissions by up to 54 percent compared to airfreight. It is also 65 percent faster as compared to ocean freight, providing the perfect middle-ground for customers who want more flexibility," said Vincent Yong, president director, DHL Global Forwarding Indonesia.
According to DHL's Global Connectedness Index, more than half of Indonesia's trade flows are regional, with 58 percent of its exports and 69 percent of its imports going to and coming from trading partners in Asia Pacific.
At the same time, DHL GF also informed that the extension of the offering to Vietnam and China, as well as imports to Indonesia from the various cities along DHL ASIACONNECT will follow at a later stage.
Logistics costs and Indonesia's burgeoning economic growth
While the manufacturing sector in Indonesia has been named as the engine of its projected average economic growth of 6.3 percent till 2024, logistics costs are among the highest in Asia at 24 percent of the country's gross domestic product (GDP).
"There is significant value for businesses in Indonesia to strengthen their intra-Asia supply chain. Half of trade from Asia are bound for destinations within Asia and Asia's economies are forecasted to be larger than the rest of the world combined by 2020," said Bruno Selmoni, VP, head of Road Freight & Multimodal ASEAN and South Asia, DHL Global Forwarding.
"Indonesia is an excellent manufacturing hub for companies looking to diversify from China due to rising costs."
In line with Deutsche Post DHL's goal to reduce all logistics-related emissions to net-zero by 2050, the new multimodal solution helps the growing number of sustainability-conscious Indonesian businesses reduce their carbon footprint by up to half as compared to pure play air freight services.