DHL Express opens its expanded Delhi Gateway
<p style="text-align: justify;">Jun 30, 2017: DHL Express has opened its expanded Delhi Gateway that boasts the largest capacity for the company in India. Located at the Indira Gandhi International Airport, the Delhi Gateway will double the capacity of export clearances from India for DHL Express and handle an additional 60 percent of imports.</p> <p style="text-align: […]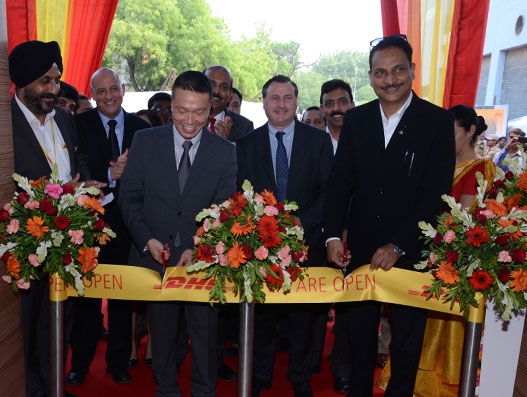 Jun 30, 2017: DHL Express has opened its expanded Delhi Gateway that boasts the largest capacity for the company in India. Located at the Indira Gandhi International Airport, the Delhi Gateway will double the capacity of export clearances from India for DHL Express and handle an additional 60 percent of imports.
With this new and expanded facility, DHL Express will be able to handle 10 million shipments per annum; a significant boost to trade and enabling efficient and speedy clearances of all kinds of shipments going from North and East India to global markets.
Ken Lee, CEO of DHL Express Asia Pacific, said, "India is one of the fastest growing economies in the world, and is a very critical part of the DHL Express network. We have, over the years, seen strong and sustained volume growth in the international trade between India and the rest of the world. To support this high growth, Deutsche Post DHL Group has earmarked €250 million (US$268 million) toward future investments in India by 2020. The new Delhi Gateway is part of that commitment to this country."
Commenting on the logistics sector, Rajiv Pratap Rudy, Union Minister of State for Skill Development and Entrepreneurship (Independent Charge), Government of India, said, "Currently the logistics costs to India's GDP is 14 percent as opposed to other developed countries in the world, which spend approximately 5 percent-7 percent. India can save up to $50 billion even if costs are brought down to 9 percent. We see a huge potential in express logistics with the current wave of online shopping. With regard to skill development, DHL Express has devised a beautiful system to train its people and the sector on the whole is doing a wonderful job of skilling people and generating employment."
At present, the Delhi Gateway connects North India, East India and parts of West India to over 220 countries and territories via 10 weekly DHL operated inter-continental freighters and 35 daily commercial flights. The expanded gateway enables DHL Express to now create separate facilities for imports and exports, which eases existing bottlenecks.
RS Subramanian, Senior Vice President & Country Manager, DHL Express India, added, "The Delhi Gateway was the first of its kind airside facility that opened in 2003, and since then, has significantly supported high international trade volumes. We believe that with the new and expanded Express Gateway at the Indira Gandhi International Airport, customers can experience superior round-the-clock clearances – an aspect vital to boosting international trade and the growth of Indian businesses across sectors."
The Delhi Gateway is certified by TAPA (Transported Asset Protection Association), Regulated Agent 3 (EU Aviation Security Validated Regulated Agents) and Regulated Agent by Bureau of Civil Aviation Security, India. The facility is also fitted with a Dual View X-Ray security screening, explosive trace detector system, access control systems and 46 state-of-the-art IP cameras to conduct screenings in accordance to international trade security standards.
Photo Caption: Union Minister Rajiv Pratap Rudy and Ken Lee, CEO of DHL Express Asia Pacific inaugurate DHL Express' expanded Delhi Gateway.