DHL Express deploys first passenger-to-freighter Airbus 330-300
March 15, 2018: World's leading international express services provider, DHL Express, has recently deployed its first ever passenger-to-freighter (P2F) Airbus 330-300, as part of its rapidly-growing Asia Pacific air network. The aircraft will serve the fast-growing markets of Malaysia, Vietnam and Hong Kong, with 33 percent more freight capacity per flight. It's the first of […]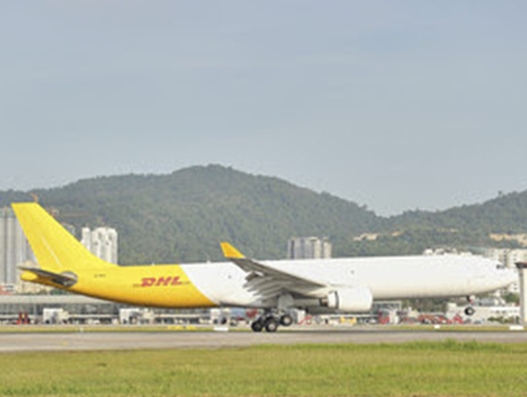 March 15, 2018: World's leading international express services provider, DHL Express, has recently deployed its first ever passenger-to-freighter (P2F) Airbus 330-300, as part of its rapidly-growing Asia Pacific air network.
The aircraft will serve the fast-growing markets of Malaysia, Vietnam and Hong Kong, with 33 percent more freight capacity per flight. It's the first of the four A330-300s to join the DHL Express fleet under a new passenger-to-freighter (P2F) deal signed with Elbe Flugzeugwerke (EFW), a joint venture between Airbus and Singapore Technologies Aerospace that will fly six times a week.
With a gross payload of 61 metric tonnes, the A330-300 will provide additional high-volume, lower-density capacity in the Asia Pacific region, catering to regional e-commerce activity, which accounted for 40 percent of the global e-commerce sales in 2017.
Following its conversion from passenger to freight use, the A330-300s features a range of upgrades, including reinforcement in its fuselage, floor structure, door frame shell, newly-installed safety barrier nets, and a powered cargo loading system.
"E-commerce is expected to generate $1.365 trillion in retail sales across the Asia Pacific region this year, a number that will be more than double at $3 trillion by 2021," said Ken Lee, CEO, DHL Express Asia Pacific.
"The introduction of the passenger-to-freighter A330-300 marks a significant step forward to enhance our service standards, to match evolving needs of our customers, e-commerce merchants and other businesses tapping into the intra-Asia trade growth," said Lee.
The A330-300 will serve markets with high e-commerce trade volumes, including Malaysia with a compound annual growth rate of nearly 18 percent till 2022, and Vietnam, where the local e-commerce market is growing at 35 percent per annum.
A330-300s, which is slated for deployment later this year, will also focus on intra-Asia connections as the region's middle-class and its consumption rates continues to expand.
"Rising income levels and Internet access have triggered a veritable e-commerce revolution in Asia's cross-border trade," said Sean Wall, executive vice president, network operations and aviation, DHL Express Asia Pacific.
"Yet there's an immense upside despite the amount of growth till date. The new A330-300s will provide cost-efficiency and high-volume capacity, carrying more than 20 percent extra cargo, compared to other mid-range cargo aircraft, which is needed for businesses to take advantage of these intra-Asian opportunities," said Wall.
The A330-300 deployment forms the latest stage of DHL Express' ongoing investments in its air freight infrastructure, with future planned deployments of the A330-300s, which is aimed to increase payload capacity by up to 50 percent, compared to the current aircraft.
"As a pioneer in P2F aircraft conversions since 1997, DHL Express constantly looks to bolster the strength of its dedicated air network in the Asia Pacific region, with a combination of new investments and design innovation," said Wall.
"As our maiden A330-300 cargo service arrives in our high-traffic Penang Gateway, we expect many more such services to transform our Asia Pacific network in the near future," said Wall.