DHL expands global e-commerce fulfillment platform for online retailers
April 4, 2018: With an aim to evolve as one of the leading global e-commerce logistics providers, DHL Parcel and DHL eCommerce recently rolled out a global fulfillment platform for online retailers to fulfill their e-commerce needs in the UK, Americas and Southeast Asia.
Today's e-commerce market have placed aggressive demands on retailers to provide fast fulfillment and delivery, without any cost increase. It's simply not possible for most merchants because they lag capital or the ability to manage the complexity.
DHL has built a new IT platform that provides seamless access to a network of fulfillment centers, and has closely integrated with DHL's shipping capabilities to allow its customers to meet their fulfillment and shipping requirements in a much more efficient manner.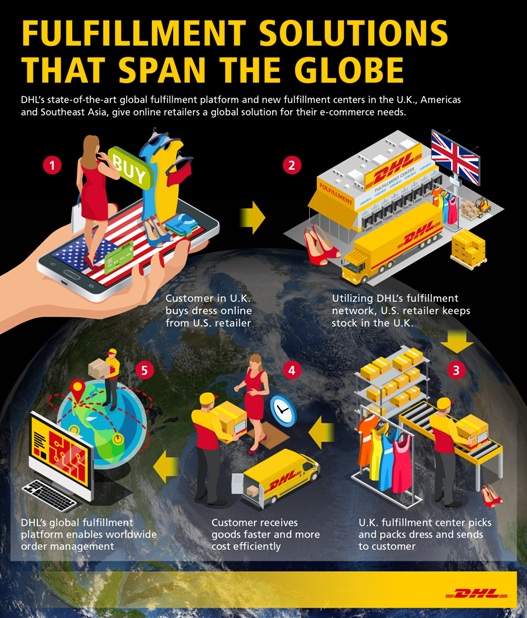 DHL Global Fulfillment Solutions March 2018
DHL is investing in this platform, and is expanding its fulfillment centers in key international markets, which will enable retailers to reach their consumers, globally.
"Without seamless and reliable logistics processes, the current e-commerce boom will be inconceivable. We offer physical storage of ordered goods, picking and packaging, global shipping and delivery to the end-user at their desired address, across several markets, from one single source," said Jurgen Gerdes, CEO, post- eCommerce-parcel division, Deutsche Post DHL Group. 
"By internationalising our fulfillment portfolio further, we will be able to help online retailers tap into new regions, and benefit from the global e-commerce boom," said Gerdes.
With existing fulfillment centers in the US, Mexico, Colombia, Hong Kong, India, Australia, Germany, United Kingdom and Southeast Asia, DHL covers major e-commerce markets, and is planning to expand further in the near future. Located near London on an area admeasuring about 6,500 square metres, the latest addition to the fulfillment network in the English town of Radlett, offers great potential for same-day processing to the Greater London area, as it has good transport links. Apart from the center in Radlett, DHL is planning to expands its fulfillment centers across other European markets, like the Netherlands, Poland and Switzerland.
The new IT platform will allow DHL to provide online retailers with access to all important e-commerce regions from a single source. It will ensures simple and secure data synchronization, as well easy connection to new business locations or regions, since reintegration is no longer required. 
"Online retailers don't have to look for new logistics partners anymore, if they want to expand their international reach," said Gerdes. 
By directly integrating the new DHL solution into the Webshop of the relevant retailer, it can access different reporting options in real time, and view current order data, for example, the stock of individual products. 
Retailers have now recognised the increasing importance of smooth fulfillment processes, because traditional approaches that are aligned with individual sales channels have failed to satisfy the purchasing habits, and expectations of modern consumers. 
According to DHL, today's consumers not only want to shop everywhere, but also want to have their goods delivered at their doorsteps. Without behind-the-scenes logistics processes that effectively orchestrate the movement of goods through multiple sales channels, hassle free shopping experience will not be possible for the consumer.