DG Goods call for 'pack it tight and handle it right'
Although the regulators have collaborated to enforce criminal sanctions on those responsible, aviation stakeholders are building self-discipline in handling DG goods to avoid accidents going forward.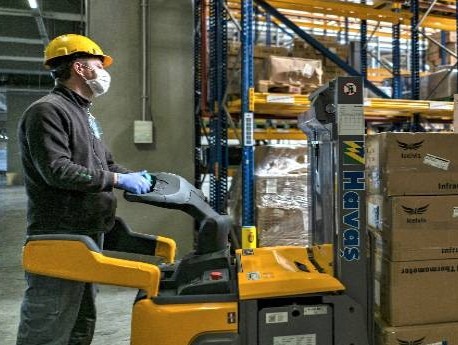 Dangerous goods are not a novel topic of discussion but still the incidents of fire continue to stay in the air. Although the regulators have collaborated to enforce criminal sanctions on those responsible, the aviation stakeholders are building self-discipline in handling DG goods to avoid accidents moving forward.
On July 22, when the main deck of Ethiopian Airlines' five-year-old B777-200F caught fire at the Shanghai Pudong International Airport, China, the news on undeclared dangerous goods being loaded on the aircraft was questioned across the aviation industry. While assumption on Ethiopian incident is still a fume in air, the investigation authorities are yet to confirm the reasons.
Last year, the International Federation of Freight Forwarders Associations (FIATA), the International Air Transport Association (IATA), The International Air Cargo Association (TIACA) and the Global Shippers' Forum (GSF) formed Global Air Cargo Advisory Group (GACAG) to focus on air cargo security. The organisations are also renewing calls for governments to crack down on manufacturers of counterfeit batteries and of mislabelled and non-compliant shipments introduced into the supply chain, by issuing and enforcing criminal sanctions on those responsible.
David Brennan, assistant director cargo safety & standards, IATA notes, "The collaboration through GACAG has helped to communicate through the different elements of the supply chain the importance of compliance with the regulatory requirements applicable to the shipping and transport of lithium batteries by air. GACAG has also helped to raise awareness on emerging issues such as the transport of used consumer electronic devices being shipped for refurbishing. These used devices, if not packed properly can pose an increased risk in transport."
KLM Cargo transported almost 80,000 DG shipments last year. Thirty-one percent of this flow was ELI/ELM (lithium batteries packed with or contained in equipment). This year, the airline reported a total of 22 undeclared DG shipments, with five of them being lithium batteries.
Edwin Boon, safety manager at KLM Cargo explains, "Our focus here is really on awareness in the supplychain. We use specific tooling to target hidden indications of something that does not seem right. Special attention is put on locations where electronics are being manufactured and we have a risk based approach on mitigation strategies, considering the full supplychain. We feel IATA is doing a great work in supporting this approach."
From a European perspective, Brussels Airport handles significant volumes of DG shipments. These typically include chemical products, laboratory test products etc. but lithium batteries only represent small volumes at the airport. Nathan De Valck, head of cargo product & network development, Brussels Airport Company observes, "We have had no DG related incidents reported at the airport. Potential incidents of misdeclared DG are stopped in the cargo warehouses before moving to airside during the 100 percent DG acceptance check procedures with the IATA checklist and the extra checks by the airline. For every misdeclaration, an administrative fine is levied by all handling agents and the shipment will be refused." As part of the BRUcloud, fully automated and standardised digital DG checklists are available and implemented by the handling agents at the airport.
Hong Kong Air Cargo Terminals (Hactl) handles dangerous goods in strict accordance with the IATA Dangerous Goods Regulations (DGR) manual, ensuring that all such items are correctly packaged, labelled and handled in preparation for flight. Wilson Kwong, chief executive officer of Hactl says, "Proper screening is paramount. Hactl is equippedwith comprehensive screening facilities including X-ray machines and explosive trace detection (ETD). All screening is performed by fully-certified staff, trained in Hactl's facility which is an IATA-authorised provider, and the only one at Hong Kong International Airport. In the event of any instance of non-compliance or misdeclaration, Hactl is required to report this to the corresponding customer airline, and the civil aviation department."
time:matters follow different steps before a DG shipment is loaded onto an aircraft. Alexander Kohnen, chief executive officer of time:matters says, "Ninety-nine percent of the shipments are being screened at the respective handling facility before departure. This guarantees that non-declared dangerous goods commodities can be identified accordingly. Consequently, the shipment will be not transported until clarification with the customer. We accept shipments with the security status 'SPX' (secured for passenger and all-cargo aircraft) from only less than 1 percent of our customers, who have the known consignor status."
Considering the overall cargo handled by Hava? Ground Handling this year, the share of DG cargo is 2 percent. Depending on the nature of DG, the highest percentage belongs to chemical goods (such as batteries etc.), representing 41 percent of the total DG shipments. Mete Erna, general manager of Hava? Ground Handling says, "We are the first ground handling and warehouse service provider in Turkey using the IATA Auto DG Check application to achieve high standards in the industry. If any discrepancy is noticed during screening, the shipper and relevant airline are informed immediately. All relevant documentation (material safety data sheet) is requested from the shipper to determine the nature of goods. But it is important to always remember that no checks are better than proper packaging, handling and documentation at the first point of production. Not only the cargo handlers but also the shippers need to remember the importance of working with qualified employees and agents to ensure correct packaging and documentation to avoid any incident or delay concerning their shipments."
IATA DG AutoCheck's purpose and objective are to improve the process of validating shipments of dangerous goods offered for air transport to the provisions in the IATA DGR. DG AutoCheck automates the process by checking the shipper's declaration data against the DGR consistently and accurately while reducing the time required. Thus, providing an opportunity for freight forwarders, ground handling agents and airlines to redesign their process to better utilise their personnel, who can focus on additional checks on cargo. This could help to reduce potential incidents.
Additional to IATA's DG AutoCheck, KLM is currently developing a DG module to be added to a taxonomy-based filter application that filters out shipments in which the AWB documentation and data contains wording that may need further investigation. All Air Waybill (FWB) and Consolidation List (FHL) information are run through this filter, initial messaging as well as changes, for checks on wording that might be suspect to erroneous behaviour by shippers and forwarders.The focus on; 'know what you transport' will be intensified over the next two years and with the introduction of the 5th protocol scanners in the security domain, this should be another opportunity to do actual scanning on DG like it is done on security issues.
Boon states, "In general, all airlines still rely heavily on the standard supply chain. Although possibilities exist for security screeners to check also for DG, this,in the industry, is still far away as the security branch keeps stating that (more) focus on DG and lithium batteries will take away focus from their core responsibility. Although not all possible distinctions between what's allowed and what's not allowed are always clear. Some scan images can certainly be matched with the commodity description in the documentation to assess if further checks are desired or not. In China, this process has a standard procedure by government legislation and for KLM we did the same in HKG following an incident. On the data screening beforehand, DG AutoCheck,though being an excellent application for capturing data early in the process, does of course not cover our flow of batteries that are not regulated by the IATA DGR and do not need a shippers declaration. The ones that do are usually well prepared and compliant to all regulations.For the non-regulated flow we rely on our own profiling of the AWB data."
Last year, time:matters started offering special speed logistics for time-critical goods in hazard classes 2,3,4,5,6,8 and 9. For instance, shipment loading on the apron is personally supervised at time:matters' hubs in Frankfurt, Munich, Vienna, and Brussels. Additionally, time:matters can facilitate in Frankfurt, Munich and Vienna tail-to-tail loading for particularly time-critical dangerous goods shipments. This involves shipments being reloaded from an incoming aircraft to a departing aircraft directly on the apron without detouring through a warehouse.
Kohnen explains, "Since the introduction of our worldwide DGR service we have transported a considerable amount of DG shipments of various classes. The transport of urgent spare parts or other time-critical shipments, which contain i.e. flammable materials, gases or magnetised material, are possible on the same day. We transport DGs fast and responsibly according to IATA DG regulations."
With effect October 1, 2019, IATA has implemented Dangerous Goods Occurrence Reporting Alert System where participating airlines advice IATA of the details where dangerous goods were found to have been offered without correctly declaring the dangerous goods. IATA then shares the information provided with all other participating airlines. This provides these airlines to identify the potential risk to their operation and to take action as the airline deems appropriate.
"There has been work done by many screening technology companies to develop algorithms that will detect lithium batteries, in addition to IEDs (improvised explosive device). These have been demonstrated to be able to detect lithium batteries in cargo. However, there has been no general adoption of this capability due to the additional cost and the lack of a cohesive governmental approach to address aviation security and aviation safety holistically. Until a time there is an internationally agreed standard to address the risks to aviation posed by undeclared dangerous goods within the aviation industry it is unlikely that these enhanced screening capabilities will be adopted," states Brennan.
As per IATA, there is no restriction on the number of packages of dangerous goods that can be loaded into an aircraft cargo compartment on either a passenger or cargo aircraft. The management of limits on weight or volume is managed at the package level dependent on the nature of the hazard posed by the specific dangerous goods. Exceptions to this apply to dry ice, radioactive materials and polymeric beads due to the nature of the hazard. Also, each airline should undertake a safety risk assessment to ensure that the risks identified with the transport of dangerous goods have been mitigated to a level acceptable to the airline.
Speaking on handling sanitiser as a critical product during the pandemic, Erna says, "The acceptance and screening of the sanitiser shipments have been separated from other shipments during the pandemic. Furthermore, the processes regarding the shipment of disinfectants are handled swiftly without keeping them waiting at these areas for long. Due to the packaging standards of sanitisers, our cargo build-up and flight preparation processes have been carried out safely and effectively. During the pandemic, the operations related to other dangerous goods were very limited. For this kind of shipments, we have taken advantage of using our existing DG storage area and handled the cargo in line with the regulatory segregation standards."
DG goods shipments, including lithium batteries shipment, constituted around 40 percent of all tonnage handled by Hactl this year. Lithium batteries represent the single largest element of DG shipments. Kwong states, "The large quantities of hand sanitiser being shipped during the peak of the epidemic were handled exactly as all other DGR shipments are handled at Hactl – following the IATA Dangerous Goods Regulations (DGR) manual, and our strict procedures. Coping with such large quantities presented no problem, as Hactl operates a dedicated DGR zone with fully-qualified staff."
IATA believes that the dangerous goods regulations provide necessary controls to ensure that the goods can be shipped safely by air as cargo on passenger aircraft or cargo aircraft, as applicable. However, there is a lack of coordinated oversight, surveillance and enforcement of the regulations across the supply chain by the national aviation authorities that are responsible for enacting national dangerous goods regulations.