DFW Airport preps up to counter Valentine's Day cargo rush
Feb 12, 2020: Dallas Fort Worth International (DFW) Airport's cargo profile continues to blossom with new freighter services from South America that are bringing approximately 40 tonnes of flowers to the North Texas region on each flight. Approximately 80 tonnes of flowers per week will arrive at DFW Airport from Colombia and Ecuador in the […]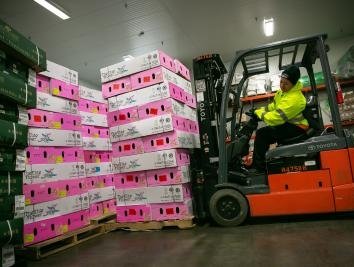 Feb 12, 2020: Dallas Fort Worth International (DFW) Airport's cargo profile continues to blossom with new freighter services from South America that are bringing approximately 40 tonnes of flowers to the North Texas region on each flight.
Approximately 80 tonnes of flowers per week will arrive at DFW Airport from Colombia and Ecuador in the three weeks before Valentine's Day. The cargo shipments will consist of roses, carnations, and mixed bouquets and upon arrival at DFW are prepared for local distribution to a supermarket or florist near you.
Imported fresh-cut flowers, represent a total value of $88.24 million for the month of November, and $1.23 billion calendar YTD through November of 2019, according to US Census Bureau data analyzed by WorldCity*. Offering a new cold chain facility, and service providers with the expertise to handle flowers and other temperature sensitive products, DFW Airport's role in the perishables sector has taken root and is expecting to see strong growth.
"DFW Airport has seen an increased demand for perishables, including flowers, coming to DFW and transferring from Latin America to Asia," said John Ackerman, executive vice president of Global Strategy and Development. "Specifically, we are seeing increasingly significant demand from flower wholesalers and local retailers who are demanding reduced transit times to get fresher products on the shelf faster, increasing shelf-life for their goods and improving profit margins."
South America continues to be a leader in flower exports because of its year-round growing season. Temperatures must be carefully monitored along the entire supply chain when transporting fresh flowers to ensure they remain fresh. The flowers are at DFW Airport for a short period before they are sent to various locations, just in time for Valentine's Day.