Delta to operate A350 flight between Detroit and Tokyo-Narita
October 31, 2017: The Airbus A350 is now a reality for Delta Air Lines customers and employees. For Delta, it is years of hard work and planning across virtually every workgroup at Delta culminated as Flight 275 pushed back from Gate A40. A350, the inaugural flight of Delta's new international flagship aircraft, was heralded with […]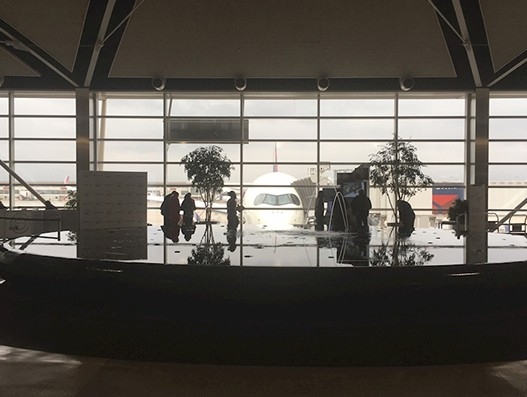 October 31, 2017: The Airbus A350 is now a reality for Delta Air Lines customers and employees. For Delta, it is years of hard work and planning across virtually every workgroup at Delta culminated as Flight 275 pushed back from Gate A40.
A350, the inaugural flight of Delta's new international flagship aircraft, was heralded with a customer event dubbed the First Flyers Club, complete with a champagne toast, gifts for each passenger and a multimedia installation where customers could take photos marking the occasion and share them in social media. Customers were encouraged to keep sharing images of their flight via the hashtag: #A350FirstFlyersClub
"On behalf of our more than 6,000 employees based here in Detroit - and more than 80,000 worldwide - it's our pleasure to have all of you today as customers of our inaugural flight on the Delta Airbus A350 heading to Tokyo-Narita. You're going to be flying today on a state-of-the-art aircraft and Delta has been hard at work over the last few years to make it a very cialis buy online enjoyable experience," said Hussein Berry, Delta's VP - Detroit Hub.
Delta One Suite
Delta One Suites offer up to 32 customers a private, personal experience, with a full-height door at every suite for enhanced privacy and comfort. Each suite features a fully flat-bed seat with direct aisle access, as well as more stowage for personal items, larger in-flight entertainment screens and memory foam enhanced comfort cushions.
Delta Premium Select
Designed with comfort in mind, Delta Premium Select offers more personal space with up to 38 inches of pitch, seat width of 18.5 inches, seven inches of recline and adjustable leg and headrests.
Main Cabin
Customers benefit from free seatback in-flight entertainment on high definition screens, in-seat power ports at every row and high capacity overhead bins. Meanwhile, the A350 features larger windows and optimised cabin pressure, temperature and humidity to help customers feel more refreshed after a long-haul flight.
The aircraft is equipped with high-speed 2Ku internet connectivity, and customers will have access to free mobile messaging while on board through iMessage, WhatsApp and Facebook Messenger.