Delta to be first North American airline to fly Airbus A350
July 14, 2017: Delta Air Lines has taken delivery of its first A350-900 and will be the first North American airline to operate the advanced Airbus' widebody aircraft. The A350 XWB was the first aircraft to incorporate the innovative passenger experience elements collectively known as Airspace by. This is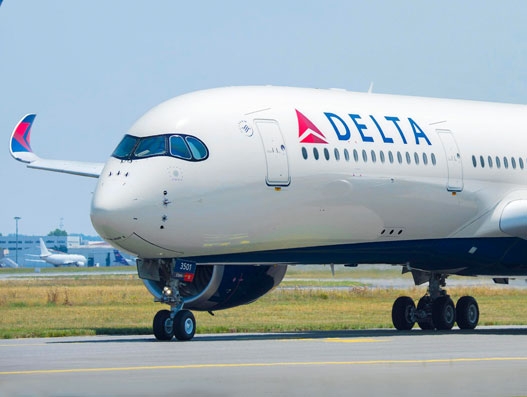 July 14, 2017: Delta Air Lines has taken delivery of its first A350-900 and will be the first North American airline to operate the advanced Airbus' widebody aircraft. The A350 XWB was the first aircraft to incorporate the innovative passenger experience elements collectively known as Airspace by Airbus. This is the first of five A350-900s scheduled for delivery to Delta in 2017.
The aircraft features 32 seats in the Delta One cabin, 48 seats in Delta Premium Select and 226 seats in the Main Cabin. It's also the first long-haul aircraft to feature next generation 2Ku internet connectivity. Delta will deploy this craft primarily on routes across the Pacific, initially to Tokyo-Narita, Seoul and Beijing.
The Airbus A350 sets a new standard of flying experience for our customers, representing years of product innovation as Delta continues to transform into a leading global carrier. The new A350 fits well in Delta's long-haul network, combining an exceptional customer experience with strong operating economics and fuel efficiency as we retire older, less-efficient aircraft, said Ed Bastian, CEO, Delta Air Lines.
The long-range Airbus A350 will continue Delta's optimisation of its Pacific network, operating primarily on long-range routes between the US and Asia. With a lightweight airframe and fuel-efficient Rolls Royce Trent XWB engines, the jets are expected to generate a 20 percent improvement in operating cost per seat compared to the Boeing 747-400 aircraft they will replace.
The A350 XWB also boasts the latest aerodynamic design, carbon fiber fuselage and wings, and the fuel-efficient Rolls-Royce Trent XWB engines. This combination of technologies translates into unequalled operational efficiency, with a 25 percent reduction in fuel burn and emissions, and significantly lower maintenance costs. To date, Airbus has recorded a total of 847 firm orders for the A350 XWB from 45 customers worldwide, already making it one of the most successful widebody aircraft ever.