Delta and Korean Air enter into trans-Pacific Joint Venture
<p style="text-align: justify;">Jun 24, 2017: Delta Air Lines and <a title="Korean Air" href="https://www.koreanair.com/global/en.html" target="_blank">Korean Air</a> have reached an agreement to create a leading trans-Pacific joint venture in both scope and service, offering an enhanced and expanded network.</p> <p style="text-align: justify;">Under the JV, both the airlines look at expanded codesharing in the trans-Pacific market; joint sales […]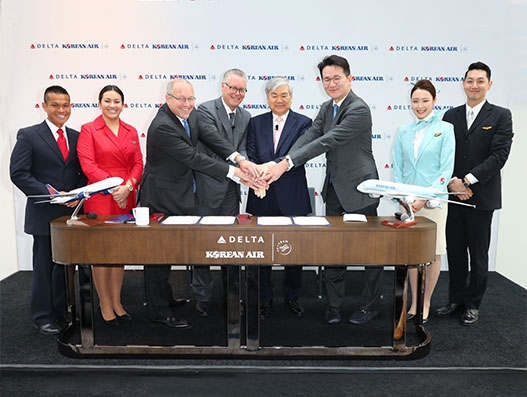 Jun 24, 2017: Delta Air Lines and Korean Air have reached an agreement to create a leading trans-Pacific joint venture in both scope and service, offering an enhanced and expanded network.
Under the JV, both the airlines look at expanded codesharing in the trans-Pacific market; joint sales and marketing activities in Asia and the United States; colocation at key hubs with seamless passenger and baggage transit experience. The JV also aims at increased belly cargo cooperation across the trans-Pacific.
"Together, Delta and Korean Air are building a world-class partnership that will offer more destinations, outstanding airport facilities and an unmatched customer experience on the trans-Pacific," said Ed Bastian, Delta's CEO.
"Now is the right time for this JV. The synergies we're creating will build stronger and more sustainable companies, and this is good for travelers, our companies and our countries," said YH Cho, chairman, Korean Air.
The agreement is the latest expansion of the longstanding partnership between Delta and Korean Air, which began in 2000 when both carriers became co-founders of the SkyTeam global airline alliance. This agreement follows the airlines' signing of a memorandum of understanding in March announcing the intention to form a joint venture.
The joint venture will create a combined network serving more than 290 destinations in the Americas and more than 80 in Asia, providing customers of both airlines with more travel choices than ever before. The joint venture will augment the two airlines' capabilities in the trans-Pacific market and provide the necessary scale and scope to compete in this market.
The joint venture is subject to regulatory approvals.
Under the agreement, the airlines will also share costs and revenues on flights within the scope of the joint venture as they work to expand service options for travelers.
In anticipation of the joint venture, Delta recently launched new nonstop service between Atlanta and Seoul. This flight complements Korean Air's existing service and provides customers in the US with greater access to destinations across Asia. At the same time Korean Air will continue to expand its US – Korea network in summer 2017 with the introduction of a third roundtrip flight between Los Angeles and Seoul, as well as a second flight between San Francisco and Seoul.