Delta Cargo, Roadie partner to offer door-to-door parcel delivery service in US
Oct 31, 2019: DASH Door-to-Door, new service launched by Delta Cargo, provides same day door-to-door parcel delivery service, from Atlanta to over 55 cities in the United States. The new service, which according to Delta Cargo is 'an industry-first for a US passenger airline', has been launched in partnership with Roadie, an Atlanta-based same-day delivery […]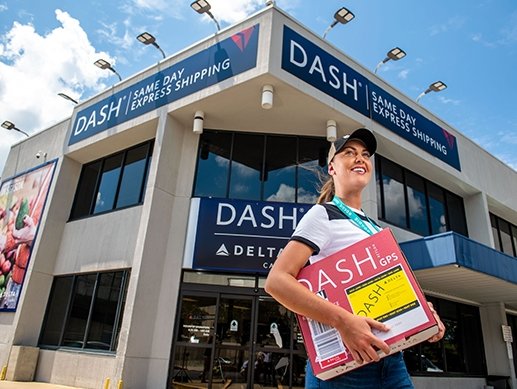 Oct 31, 2019: DASH Door-to-Door, new service launched by Delta Cargo, provides same day door-to-door parcel delivery service, from Atlanta to over 55 cities in the United States.
The new service, which according to Delta Cargo is 'an industry-first for a US passenger airline', has been launched in partnership with Roadie, an Atlanta-based same-day delivery service.
The companies plan to expand the service to dozens more cities before the end of the year.
DASH Door-to-Door pairs TSA-approved drivers with air cargo to create the fastest cross-country door-to-door service available in the US, with competitive prices.
Matt Weisenburg, Delta's director – Cargo Strategy and Alliances said: "We have been working with Roadie since 2015 on the passenger side of the business and have seen great customer satisfaction with the transparency and quality of the service. So, we wanted to continue this momentum and bring this innovative product offering to our cargo customers."
"We have used the DASH Door-to-Door Service several times now and plan to use it more often for critical same-day delivery of critical parts shipments to our customers," said Matthew Piercy, Technical Service manager, RONCHI America.
"Setting up the shipment was simple. The feature is amazing, select the flight, select the Door-to-Door option, receive a package pickup schedule and the driver picks up the package at your location and just hours later our customer is up and running again! Great job Delta!"
This service was created for time-critical shipments in industries including medical, manufacturing, automotive, industrial parts and more.
With more than 150,000 verified drivers nationwide, Roadie already has the largest local same-day delivery footprint in the nation and reaches 89 percent of all US households. Expanding that same-day footprint coast-to-coast is the next milestone in the company's growth.
Marc Gorlin, founder & CEO of Roadie said: "Roadie was first to market with an 'on-the-way' delivery service utilising excess capacity in passenger vehicles already on the road. Expanding our model into the belly of a 737 is just the latest step in realizing our vision to make same-day delivery faster, more efficient and more sustainable."
DASH Door-to-Door is for packages less than 100lbs and less than 90 linear inches and is available to all customers. TSA Known Shipper status is required to ship packages over 16oz and a streamlined registration is available directly on deltacargo.com. DASH Door-to-Door is available 24/7 and has a limited money back service guarantee.