Delta and Aeromexico enter into US-Mexico cargo partnership agreement
<p style="text-align: justify;">Jun 07, 2017: <a title="Delta Air Lines Cargo" href="https://www.deltacargo.com/" target="_blank">Delta Air Lines Cargo</a> and Grupo <a title="Aeromexico Cargo" href="http://www.aeromexicocargo.com.mx/?page_id=731&lang=en" target="_blank">Aeromexico Cargo</a> are now working together, to create a bigger, better cargo operation in the transborder market between the United States and Mexico, one of the most important cargo routes in the world.</p> <p […]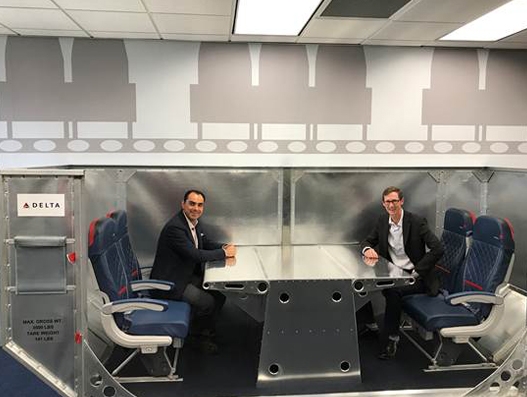 Jun 07, 2017: Delta Air Lines Cargo and Grupo Aeromexico Cargo are now working together, to create a bigger, better cargo operation in the transborder market between the United States and Mexico, one of the most important cargo routes in the world.
The cargo joint cooperation agreement (JCA), will allow customers to work with either carrier to transport cargo across a broad network of flights and joint trucking options. Developments are also underway to integrate technologies creating a seamless experience to customers. Delta and Aeromexico Cargo have co-located warehouses in Mexico, Boston, New York-JFK, Miami, San Francisco and Chicago, with Orlando and Detroit opening in the summer. The two companies will also be able to implement joint sales and marketing initiatives in both countries.
Delta will provide service in the United States through its connecting hubs in Atlanta, Detroit, Los Angeles, Minneapolis-St. Paul, New York, Salt Lake City and Seattle; Aeromexico will offer greater access to Mexico through its hubs in Mexico City, Monterrey and Guadalajara.
"By working together on the cargo side we can really provide a seamless logistics experience in the US and Mexico," said Gareth Joyce, Delta's president-Cargo and senior vice president-Airport Customer Service.
"Aeromexico and Delta as partners have the largest, more comprehensive and expanding air cargo network in the US-Mexico market," commented Rafael Figueroa, CEO, Aeromexico Cargo.
Delta and Aeromexico currently transport varied cargo products in the US-Mexico transborder market. From the US, turbine parts, medical equipment, auto, perishables and aircraft parts are some of the key products shipped to Mexico. In the reverse direction tequila, medical equipment and aircraft/auto parts are carried.
This agreement creates a new chapter in the history of aviation in the Americas with the first transborder alliance between the United States and Mexico. This partnership will allow the carriers to expand competition and serve new destinations. Additional service and more convenient schedules will benefit customers of both companies, while deepening the relationship the airlines have shared for more than 20 years.
Photo: Rafael Figueroa, CEO Aeromexico Cargo and Gareth Joyce, President Delta Cargo