FROM MAGAZINE: Delivering cargo just in time!
Air cargo industry plays a crucial role when it comes to delivering time-critical commodities at the very last moment. The service has the potential to bring heavy revenues to the air cargo sector and therefore, the industry needs to ensure that they keep on setting new standards to meet the expectations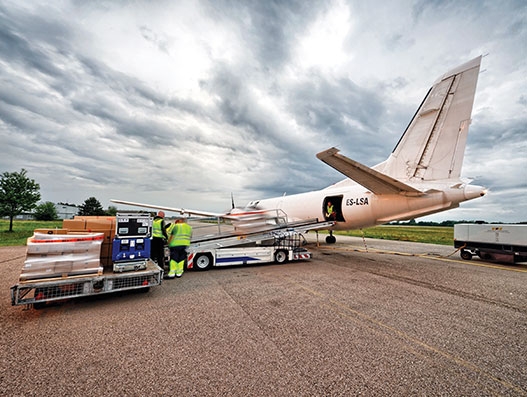 Air cargo industry plays a crucial role when it comes to delivering time-critical commodities at the very last moment. The service has the potential to bring heavy revenues to the air cargo sector and therefore, the industry needs to ensure that they keep on setting new standards to meet the expectations of the customers.
Shreya Bhattacharya
Picture a scene of a movie hall fully packed with audience, all ready to watch the first premiere of a blockbuster and suddenly the show gets cancelled because the projectionist says he has got the wrong copy of the movie. Well, that fiasco could have been a reality at least for once, less or more dramatic, had there not been just in time cargo delivery solutions available.
During such a crisis situation, time:matters, a company of Lufthansa Cargo came as the savior. "For the premiere of a big fantasy blockbuster, the wrong copies had been delivered to the cinemas. As only one day was left to deliver the correct movies to 164 cinemas in Germany and Austria, the customer contacted time:matters for help. The challenge was that not all movies were ready for pickup at that time, as they were still busy with creating the copies," recalls Christian Moertl, COO, time:matters.
He further narrates, "We picked up new copies every two hours and delivered them to Stuttgart airport. At the airport we organized a hub concept in the shortest time: all packages were consolidated for four regions and sent to Munich on the road and to Frankfurt, Vienna and Linz via air. At the arrival airports, the packages were deconsolidated and from Frankfurt the movies were again loaded onto connecting flights to many airports all over Germany. From each destination airport in Germany and Austria, the last mile delivery to 164 cinemas was done via road. All movies arrived on time so the premiere was ready to start."
Gasping for breath? Well, that is how just in time cargo (JIT) or time critical shipments are delivered by the aviation industry. International airlines, air-express companies and air freight forwarders are rapidly expanding their services in this segment to grab the larger share of business, milking from the high time-value for such requirements.
Major air cargo player IAG Cargo recently announced that it has shipped over 1000 'Critical' shipments since its launch in October 2016, achieving the milestone with a shipment of automotive parts from Europe to South America. Critical is IAG Cargo's premium product for urgent and emergency shipments, providing guaranteed capacity and enhanced shipment monitoring for 'must-fly' goods.
"Week on week we are seeing new orders and repeat business coming in from customers who need to ensure they can get their goods to where they're needed, when they're needed. We're also seeing freight forwarders using the service to guarantee capacity on some of our busier routes. The product has proved to be robust, even during the Christmas peak, and we expect to see demand continue to grow over the coming months," says David Shepherd, commercial director, IAG Cargo.
However, executing such an assignment is challenging as shipments could be consisting of any commodity ranging from a sim card to automotives to highly temperature sensitive life-saving drugs. There is no time like now to prepare for it and tolerance for mistakes is close to zero. Such deliveries require intricate planning, proper coordination, optimum utilization of the available resources and a highly experienced team that could ensure safety of the shipments during the entire process.
Many of the top players today make sure that their teams customise logistics solutions tailored to one's specific needs– around the clock, 7 days a week. For instance, Emirates SkyCargo has a special section called 'Priority' for transporting urgent shipments of its customers. "When choosing to book with us, your consignment is not only guaranteed capacity and flown-as-booked, but you also gain priority loading with extended booking and consignment acceptance times. Most importantly, you can relax knowing your urgent consignment will arrive on time," says the company to its customers.
Matthias Frey, global head of Panalpina Charter Network says, "By having dedicated and experienced people we can manage the challenges especially for customers who are not so familiar with handling urgent shipments. For instance, flying goods to remote destinations often involves filling in complex paperwork and obtaining special permits. Out-of-gauge cargo requires knowledge of aircraft dimensions, payloads and airport infrastructure, while temperature-sensitive cargo requires end-to-end cool chain management. And while the process is the same as for our regular charters, in an emergency we have to get everything done in a lot less time."
Panalpina is a major freight forwarder, which offers air freight solutions in close collaboration with its selected carriers and through its Panalpina Charter Network. Frey defines Panalpina Charter Network as a virtual cargo airline that the company controls at their customers' command. Panalpina provides charter and emergency services to overcome any critical issue that could cause costly production downtime or other problems for its customers. It offers on-board couriers (OBC), part and full charter aircraft, helicopters, or any combination of transport methods for urgent shipments.
While in most cases, JIT cargo is an emergency option, there are times when manufacturers consider this option as a way to reduce inventories in a production process. For example, an automobile company may not always keep parts in its inventory ready and may deliver the same on demand. As the business market becomes more and more competitive and the pressure for improvement continues, companies find the idea of JIT or lean manufacturing, as an impressive option to cut costs and compete. The idea is to have the supplies, a firm needs, at the exact moment that they are needed.
As mentioned before, there is no specific category in particular that makes for just in time cargo. However, there are few industries which require this service more frequently. "Technology, automotive and manufacturing are the main industries requiring just-in-time delivery. For example, in the technology industry new products are frequently launched and the product life cycles are getting increasingly shorter. Inventories depreciate rapidly and there are seasonal fluctuations. This is why customers rely on just-in-time deliveries of their goods in order to maximize sales and prevent any supply chain disruptions," explains Frey.
Meanwhile, Moertl says, "The main part of our business is based on the transportation of spare parts from the automotive, high-tech, medtech, aviation and machinery & components industry. Another very important category is the transportation of life-saving stem cells. In this highly sensitive and urgent segment, we are offering accompanied transportations."
"All shipments are monitored and tracked actively by specially trained people. Our monitoring teams at the airports actively observe the loading of the shipments so we always know the status. For the tracking process, we setup a special quality team which operates 24/7 and informs our customers pro-actively about each step of the transportation," he adds while talking about the safety of the shipments.
Recently, one of Germany's largest technology company appointed time:matters, to transport an urgently needed spare part for an energy plant in Oman via on-board courier. The part needed to arrive on the same day and was required for a turbine overhaul at an energy plant in Muscat. The customer was immediately presented with the fastest and cheapest solutions online, said time:matters in a press statement. The driver first picked the shipment from customer in Berlin and then set out for Berlin Tegel Airport (TXL), where he handed over the shipment to on-board courier.
"Our on-board courier flew with Etihad Airways to Muscat, finally landing there that evening after a brief stopover in Abu Dhabi. In Muscat, he handed over the spare part to its intended recipient," informed time:matters. The spare part was thus personally transported from Germany to Muscat in just 16 hours, available for the successful maintenance of the turbine.
It is not only the freight forwarders or the airlines, which play key roles in the urgent deliveries, even the airports have a pivotal role to play. Last year, Amsterdam Airport Schiphol and KLM Cargo came together to support a new same-day intra-European air cargo service. The same-day delivery is the responsibility of a start-up called 12send, of which Dutch company Parcel International is the majority stakeholder. "12send uses KLM for air transport. Parcels are injected into Schiphol's baggage system; we facilitate that part of the process," says Jonas van Stekelenburg, Head of Cargo, Amsterdam Airport Schiphol.
The service involves delivery of weekly shipments to London (LHR) and Barcelona (BCN). van Stekelenburg identifies baggage tag labeling and stabilizing the procedure as current challenges faced by them. That's what trials are for, he says. "It is an art to introduce something into a complex environment such as an airport, and establish stable operations. It has been hard work for all who have been involved, but very well worth it! Working on a new project such as this is exciting, and all partners want to move it on, and add more complexity - it can be a challenge to slow down, keep it simple, and implement step by step! This is a complex chain, and our focus is very much on seeing a smooth first 12 months."
Industry experts also note that the supply chains of various industries are vulnerable for disruptions from force of nature, political instabilities, limited freight capacities, part and component shortages and various others factors, where it is of utmost importance to rely on punctual deliveries.
In 2015, during the US West Coast port strike, airlines offering cargo services did huge business and volumes touched new heights as shippers on both sides of the Pacific struggled to get space on freighters. Later in 2016, the collapse of Hanjin Shipping emanated similar results. According to the International Air Transportation Association, global air cargo traffic rose 6.6 percent year-over-year in September 2016, fastest growth rate since the industry benefited from the disruption caused by the previous year's port crisis. The rebound, which coincided with an apparent upturn in new export orders, may also have been driven by some "unique" factors, including the rush replacement of Samsung Galaxy Note 7 devices. Keeping in view, the huge difference in the ratio of cargoes transported by the ships and the airlines, (In 2016, airlines transported less than 1 percent of world trade by volume), it is apparent that a little disruption in ocean freight can create huge demand for urgent deliveries through air.
The stakeholders therefore need to ensure that they constantly innovate methods and set new standards to cajole more and more customers and meet their expectations for just in time cargo, which has huge potential to bring revenues to the air cargo sector.