FROM MAGAZINE: Delivering aid at right place right time
The air freight industry as part of numerous relief efforts has proved its worth time and again. For carrying out relief operations, the response and communication between parties must not only be prompt and concise, they must also be accurate. It is crucial for humanitarian organisations and air cargo industry to work in tandem to […]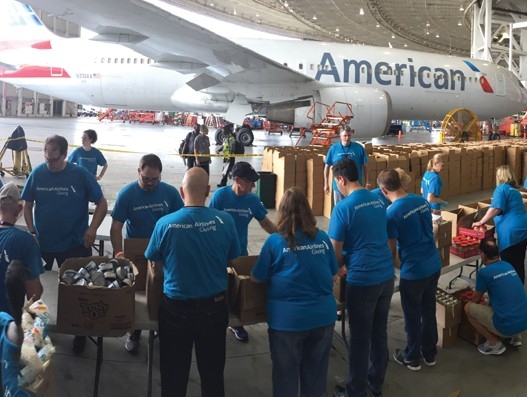 The air freight industry as part of numerous relief efforts has proved its worth time and again. For carrying out relief operations, the response and communication between parties must not only be prompt and concise, they must also be accurate. It is crucial for humanitarian organisations and air cargo industry to work in tandem to ensure aid reaches survivors at right place in right time.
Shreya Bhattacharya
The 2017 Atlantic hurricane season will be remembered as one of the worst in the hurricane seasons list in the history. Just as Harvey took a moment after wreaking havoc in Houston, Irma, a record Category 5 storm, set off on a collision course with Puerto Rico and the Virgin Islands. Hurricane Maria soon after left a broken Caribbean, upending the lives of millions. No wonder, the ferocity of the epic trio dominated the news in the second half of 2017 highlighting the vulnerability of humans to natural and manmade disasters.
When such kind of massive calamity strikes, the best of mankind's traits come to the fore as people from all corners come out to help and contribute with massive aid and relief supplies for the survivors. One of the most challenging roles here is played by the logistics industry, which takes the daunting task of delivering these relief materials to the calamity stuck regions at the earliest. Humanitarian logistics is all about the management of essential commodities like food, water, fuel, which is all consumed rapidly in the affected area just before and after a major event. While it is important to have a logistics and emergency plan already in place for such crisis, one cannot really predict the nature of damages that can occur and therefore actions are taken impromptu and can be challenging.
American Airlines Cargo, which actively got involved in relief operations in Houston, shared its experience. "The biggest challenges came from the sheer size of the disasters, as well as the enormous number of people needing help. Once donations started pouring in, our task became identifying the best ways to transport and distribute relief supplies," said David Vance, vice president Cargo Operations, American Airlines Cargo.
"We sent a rescue flight loaded with more than 10,000 pounds of relief equipment, including food, water, generators, blankets and diapers. Then we learned that a joint reserve base in Houston was flooded, so we worked with fire departments in New York to send clothes to the children of the First Battalion, 23rd Marines, who had lost everything. The same was true in Puerto Rico. After Hurricane Irma, we set up a command center in San Juan (SJU) to oversee all relief efforts to St. Thomas and St. Maarten. We wound up sending 26,000 pounds of humanitarian relief, including food, water and generators to team and partner employees throughout the Caribbean. In addition to all the residents who need help there, we also have more than 400 American Airlines team members living in San Juan. That's why we were proud to be the first airline to arrive in SJU after Hurricane Maria struck the island. Since then we've provided more than 150 flights and 2.5 million pounds of relief into and out of SJU," Vance added.
Many of the air cargo players also contributed in relief operations in partnership with Airlink, a disaster relief charity that facilitates a partnership between commercial aviation and nonprofit community.
"Fortunately for Airlink, our NGO partners, and the disaster survivors they serve, we had several airlines rise to the challenge. The assistance they provided came in many different forms," explained Steven J Smith, executive director, Airlink.
"United sent a ferry flight to Puerto Rico to bring back passengers, they contacted Airlink and offered the belly of the plane and the passenger seats to our relief partners; Spirit Airlines offered available capacity and carried food and medical aid to St Martin for our partners; British Airways offered passenger flights to a British Airlink partner specializing in debris removal."
Talking about the kind of challenges encountered during the relief operations, Mike Oslansky, director, US Cargo Operations, United Airlines shares, "The particular challenges we encountered during the recent storms centered around local logistics: including congestion at airports and the conditions of roads to and from the airports. There were also issues with the availability of trucks to transport relief supplies from the airports, along with the limited availability of fuel to power these trucks. Specifically in Puerto Rico, our first challenge was to determine whether we could safely operate an aircraft into the San Juan and Aguadilla (BQN) airports. Once that was certain, we needed to ensure our United personnel were in place and they had everything they needed to support the relief operation." United Cargo has shipped more than 2 million pounds of relief supplies to Texas, South Florida, Puerto Rico and the US Virgin Islands.
Be it a hurricane in the US, Africa's Ebola virus, a typhoon in the Philippines or an earthquake in Nepal, each humanitarian crisis is unique and so are the challenges. Industry players opine that there is often uncertainty over the state of the local infrastructure so it requires a high level experience to clarify and understand the potential risks. This is followed by identifying and providing a fast response solution as well as a contingency plan to the relief agencies or NGOs working to help victims in the affected region.
Dmitry Grishin, CEO of CargoLogicAir elaborates the sequence of events in case of a natural calamity. "Usually, the first flights to arrive in a disaster-stricken area are military or civil cargo aircraft capable of carrying outsize equipment and rescue teams. Aircraft transporting large pieces of equipment – possibly helicopters or earth moving equipment - must be self-handling and equipped to operate roll-on/roll off loading and unloading. After a few days, traditional wide-body freighters will then start arriving, bringing the necessary relief supplies such as food rations and water as well as other necessary equipment needed to provide assistance to the population of the region. The next phase involves creating a reliable and resilient supply chain off-airport than can provide a targeted delivery distribution system to cities and villages that have been impacted."
Recently, MAB Kargo flew its third relief mission to Bangladesh for Rohingya refugees, with almost 50 tonnes of goods to set up the Malaysian Field Hospital. More than 6 lakh Rohingya refugees, who fled from Myanmar to Bangladesh since August to survive from an outbreak of violence in Rakhine State, have been staying in the refugee camps with insufficient food, water, housing or healthcare facilities. The flight carried medical equipment including supplies for emergencies and resuscitation, surgery, anaesthetics and intensive care unit treatment, orthopaedic procedures, labour room, basic neonatal care, paediatrics and preventive medication, as well as medical supplies for three months. Previously, the airline also carried goods of basic daily necessities like biscuits, sanitary pads, towels, toothbrushes, disposable diapers, blankets, tents and other necessities.
On asking how does the airline ensures minimum dwell time at the airport, MAB Kargo chief executive officer, Ahmad Luqman Mohd Azmi said, "Chittagong is a very small airport. The three flights that we operated had different experiences. But we are seeing a lot of dedication from the partners there. In an operation like this, you definitely need to engage the airport, the military, the infrastructure and the government to manage the mission in Bangladesh. So this kind of cooperation is key to ensure the minimum dwell time of the aircraft."
Talking about other challenges, Ethiopian Cargo & Logistics Services MD Fitsum Abadi points out, "From their very nature relief goods are urgent and unplanned, which demands quick schedule/operation planning to allocate capacity; secure overflying and operating permits in a very short and off times. Availability of the right equipment, manpower, and other facilities at the airport of destination, may at times become a challenge. The standard of the logistics services from the source of the relief goods also plays an important role for the operation success."
Earlier in the year, Ethiopian Airlines joined hands with Boeing and three non-profit organisations to deliver 6.5 tonnes of humanitarian aids including medical equipment and supplies for St. Paul's Hospital and Bihar Dar University College of Medicine & Health Sciences.
Also, in case of a natural calamity, the local infrastructure might not be in a shape to support freighters landing in the region, giving rise to a requirement for self sufficient aircrafts. When asked about the kind of freighters best suited for carrying out relief operations, Colon Miller, global director of humanitarian, government & defence programmes, Volga-Dnepr Airlines said, "We have a unique range of solutions that can be quickly implemented to provide support when and where it is needed. This includes our fleets of unique, self-supporting, ramp loaded cargo aircraft that are capable of loading and unloading cargoes without the need for additional loading or handling equipment. This is especially vital when operating to the more remote parts of the world. Aircraft such as our An-124-100 and IL-76TD-90VD ramp freighters are well-equipped, self-sustaining aircraft that offer a drive-on/drive-off capability for emergency vehicles, helicopters, automobiles, etc. This includes an onboard overhead crane system built into the aircraft that allows for self-loading from trucks bringing cargo to the aircraft, placing it on the ramp under the tail sections for ease of loading by the internal crane systems."
While time sensitivity is crucial part of relief operations, ensuring pharma and food safety in the aftermath of natural disasters is also vital, as contaminated or stale goods can start a vicious circle of diseases in the affected areas. It is of utmost importance to keep a check on temperature excursion, while carrying temperature sensitive relief material.
Commenting on the precautions, Abadi explains, "Currently we are operating with ultra-modern passenger and cargo aircraft fitted with modern cooling system that enable us to carry different relief goods like pharmaceutical products at required temperature and as we all know air cargo services is the right choice for time sensitive shipments such as relief goods."
There is no denying the fact that when disaster strikes, the air cargo industry joins the relief effort unhesitantly. However, there have been conflicting notions regarding the charges demanded for the services. While some players provide completely free of cost services, few extract minimal cost of operations. Air cargo players say it is important to understand that for the air cargo industry humanitarian relief business is involved with other corporate disciplines and services. It is crucial for them to maintain a balance between carrying out rescue and relief operations and its own survival in a competitive market with cut throat competition.
Commenting on the same Luqman says, "Besides this Rohingya movement, which is a cry for help to which the mission government responded and so being part of the government linked company, we are going our way in providing free transportation, into Bangladesh. That's part of our commitment to the government, but for other relief missions, we are doing a lot within other stricken areas or tsunami hit areas. Our push has always been, as long as the cost that we have spent for a trip is recovered, we can manage. We just want that portion of the cost."
It is therefore apparent that air freight industry does take due cognizance of its duties towards the society and is investing much of its time and focus on managing the countless details that accompany these efforts. They are assigning unique teams to concentrate on the relief campaigns and it is incredible to see them collaborating with aid partners like Airlink. However, the coordination between the different parties is more crucial. For carrying out relief operations, the response and communication between them must not only be prompt and concise, but they must also be accurate. While the air partners should provide real-time tracking information, the aid agencies should ensure enough warehouse space for everything they are bringing in. It is the time when strong supply chain partnerships and relationships can give the best results to millions in need of help.