Delays in engine deliveries shadowed Airbus H1 2017 results
<p style="text-align: justify;">Jul 29, 2017: The European aircraft manufacturer has taken a hit in Q2 profits owing to the delays in engine delivery that led to postponement of releases of crafts, however, maintained its guidance for the full year.</p> <p style="text-align: justify;">The net income amounted to € 1,503 million (H1 2016: € 1,761 million) after […]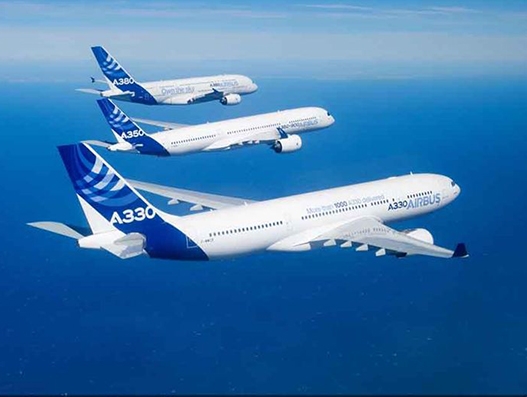 Jul 29, 2017: The European aircraft manufacturer has taken a hit in Q2 profits owing to the delays in engine delivery that led to postponement of releases of crafts, however, maintained its guidance for the full year.
The net income amounted to € 1,503 million (H1 2016: € 1,761 million) after the EBIT adjustments with earnings per share of € 1.94 (H1 2016: € 2.27), marking a sharp decline. EPS and net income included a positive impact mainly from the revaluation of financial instruments and balance sheet items. The finance result was € 66 million (H1 2016: € -148 million).
"The commercial aircraft environment remains healthy while the robust order backlog continues to support our production ramp-up plans. However, we are facing challenges due to ongoing engine issues, but we have a clear road-map in place and have maintained our full-year guidance. Achieving the aircraft delivery target depends on the engine suppliers meeting their commitments," said Airbus Chief Executive Officer Tom Enders. "Our focus in the second half remains squarely on programme execution and delivering the ramp-up. In Helicopters, resolving the H225 situation while supporting our customers is a top priority, and at Defence and Space, we continue our efforts to de-risk the A400M programme. Over the longer term, Airbus will benefit from its strong focus on innovation and more efficient and integrated structure."
Order intake of commercial aircraft totalled € 37.2 billion in the current year (€ 39.1 billion H1 2016) with the order book valued at € 981 billion as of 30 June 2017 (year-end 2016: € 1,060 billion). A total of 203 net commercial aircraft orders were received (H1 2016: 183 aircraft), with the order backlog comprising 6,771 aircraft at the end of June. During June's Paris Air Show, 144 firm orders and 202 commitments were announced. Net helicopter orders increased to 151 (H1 2016: 127 net orders), including 30 H225Ms for Kuwait. Defence and Space's order intake was impacted by the perimeter changes from portfolio reshaping and some slowdown in telecommunication satellites. Good order momentum was seen in Military Aircraft with orders for 19 Light and Medium aircraft booked.
Revenues were stable at € 28.7 billion (H1 2016: € 28.8 billion) despite the perimeter changes in Defence and Space. Commercial Aircraft revenues rose three percent with deliveries of 306 aircraft (H1 2016: 298 aircraft) comprising 239 A320 Family, 30 A350 XWBs, 31 A330s and six A380s. Helicopters' revenues increased nine percent with deliveries of 190 units (H1 2016: 163 units). Revenues at Defence and Space reflected a negative impact of around € 1.2 billion from the perimeter changes.
EBIT Adjusted – an alternative performance measure and key indicator capturing the underlying buy ambien without prescription business margin by excluding material charges or profits caused by movements in provisions related to programmes, restructuring or foreign exchange impacts as well as capital gains/losses from the disposal and acquisition of businesses – totalled € 1,099 million (H1 2016: € 1,679 million).
Commercial Aircraft's EBIT Adjusted was € 954 million (H1 2016: € 1,269 million), reflecting the aircraft delivery mix and phasing as well as transition pricing.
Good progress was made on the A350 industrial ramp-up with 30 deliveries compared to 12 in the first half of 2016. The A350 programme is on track to meet the monthly production rate target of 10 aircraft by the end of 2018. The level of outstanding work has improved in the industrial system, and supply chain bottlenecks are improving. In the second quarter, Qatar Airways cancelled four A350 delivery slots. The focus remains on recurring cost convergence. On the A320neo programme, 59 aircraft were delivered compared to eight in the first half of 2016. The A320neo ramp-up remains challenging, and customers are still experiencing some in-service engine issues. Engine supplier Pratt & Whitney has introduced some fixes, but these improvements have not come through yet on a reliable basis under normal service conditions. Close to 200 A320neo deliveries are still targeted for 2017, but this objective is more challenging given these engine issues. Considering the current A380 order booking situation, 2019 deliveries will be adjusted to eight aircraft.
Helicopters' EBIT Adjusted totalled € 93 million (H1 2016: € 144 million), reflecting an unfavourable mix mainly from lower commercial flight hours in services as well as the impact from the partial H225 grounding. In July, the UK and Norwegian aviation authorities lifted the H225 flight ban. However, the implementation of enhanced safety measures will require a plan of checks, modifications and preventive inspections. Airbus will continue to support its customers, as and when required, to progressively bring the H225 fleet back into operations.
Defence and Space's EBIT Adjusted declined to € 248 million (H1 2016: € 322 million), reflecting the perimeter change and was broadly stable on a comparable basis.
Eight A400Ms were delivered compared to five aircraft in the first half of 2016. Airbus has continued with A400M development activities toward achieving the revised capability roadmap shared with the customer. However, achievement of the contractual technical capabilities and associated costs remain highly challenging. Challenges also remain on securing sufficient export orders in time, on cost reductions, industrial efficiency and commercial exposure, which could all impact the programme significantly. Discussions to de-risk the A400M programme are ongoing with the Nations and OCCAR.
Group self-financed R&D expenses declined to € 1,288 million (H1 2016: € 1,309 million).