Decarbonisation plan in Port of Rotterdam inspires confidence in delegation
Nov 24, 2019: A German business delegation has praised the projects undertaken by Port of Rotterdam during a visit on November 20. The delegation from Bundesverband der Deutschen Industrie (BDI) comprised 15 participants, including representatives from ThyssenKrupp, BASF, ExxonMobil and Scott AG. The reception in Rotterdam was part of a two-day visit to the Netherlands organised […]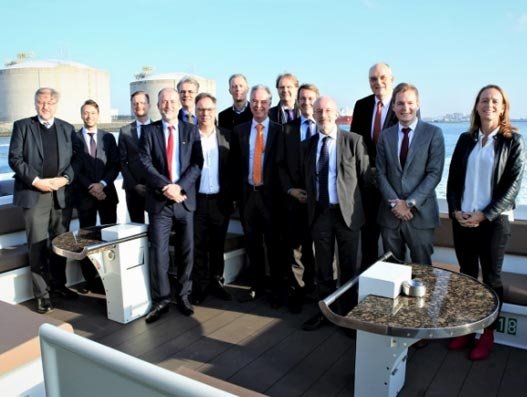 Nov 24, 2019: A German business delegation has praised the projects undertaken by Port of Rotterdam during a visit on November 20. The delegation from Bundesverband der Deutschen Industrie (BDI) comprised 15 participants, including representatives from ThyssenKrupp, BASF, ExxonMobil and Scott AG.
The reception in Rotterdam was part of a two-day visit to the Netherlands organised in cooperation with VNO-NCW.
"The Port of Rotterdam handles the challenge of climate protection in a consistent and pragmatic manner. The decarbonisation of this logistical global hub, that is central to German industry, is exemplary", said BDI delegation leader Holger Lösch.
Stijn van Els, delegation leader on behalf of the Port of Rotterdam Authority added, "We should be proud that the leading role that Rotterdam is taking in the energy transition is being recognised by our partners in Germany. This can only work to strengthen the long-standing and extremely important links between Rotterdam and the German hinterland."
A quarter of the freight throughput in the Port of Rotterdam is destined for Germany. Europe's biggest economy imports ores, coal, oil and minerals as well as parts for industry via Europe's biggest port. The Rhine, Neckar and Main rivers form a sustainable and efficient connection between important economic centres in Germany and the Port of Rotterdam.
Rotterdam is also part of an extensive network of direct rail connections for freight transport. Deep-sea shipping companies choose the Port of Rotterdam as the first port of call in Northwest Europe. This offers time gains for shippers, as containers are already en route to the end customer via train, inland shipping or truck before the container vessel departs for its next European destination.