DB Schenker lends support to Australia's smart city project Aerotropolis
August 16, 2019: Global logistics provider DB Schenker has become Foundation Partner of the Western Sydney Aerotropolis being developed in the vicinity of the new Western Sydney Airport. In the future, DB Schenker will cooperate in a number of fields to develop the 11,000-hectare commercial, logistics and education hub. Gladys Berejiklian, Premier of the State […]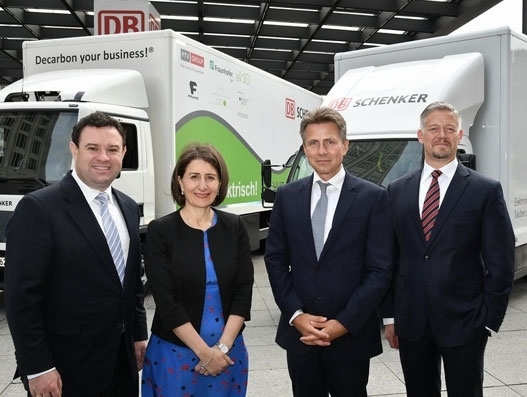 August 16, 2019: Global logistics provider DB Schenker has become Foundation Partner of the Western Sydney Aerotropolis being developed in the vicinity of the new Western Sydney Airport. In the future, DB Schenker will cooperate in a number of fields to develop the 11,000-hectare commercial, logistics and education hub.
Gladys Berejiklian, Premier of the State of New South Wales, and Alexander Doll, member of the board of management for finance, freight transport and logistics Deutsche Bahn AG and chairman of the supervisory board of DB Schenker signed a Memorandum of Understanding (MoU) in Berlin. DB Schenker is the only forwarder to sign an MoU with the WCAA.
"The Western City and Aerotropolis Authority will work with DB Schenker to explore the best freight and logistics technologies for adoption in and around the Aerotropolis," said Berejiklian.
According to the MoU, DB Schenker intends to work cooperatively together with the Western City and Aerotropolis Authority (WCAA) to promote the development of the Western Sydney Aerotropolis. It will cooperate on the planning of a digitally-enabled freight and logistics supply system, a cutting-edge cold-storage logistics hub, or logistics for the aerospace and defence sectors.
"The Aerotropolis is set to become a pioneering project on our path to building smart cities with integrated transportation concepts and sustainable logistics solutions. It is our pleasure to support the development, which will further strengthen DB Schenker's engagement in the Asia-Pacific region, that has been so successful over the past decades," said Doll.
On the east of the airport, the New South Wales government will focus on developing an advanced technology and aerospace precinct on a government-owned 114 ha land parcel. On the west, the government will work with land owners and the western Sydney airport to develop a world class freight, logistics and agribusiness precinct.
Ditlev Blicher, DB Schenker's Asia Pacific Region (APAC) CEO, said, "For more than 57 years, DB Schenker has been supporting trade and helping businesses grow with our cutting-edge logistics network in Australia and around the world. Today, we are delighted to join in this unique effort of building the Western Sydney Aerotropolis for the benefit of the enterprises and the residents of New South Wales."