DB Schenker gets an autonomous forklift in Eching
January 25, 2020: DB Schenker has introduced an autonomous forklift truck for its regular operations. The transport system – AGILOX – transports empty containers over a distance of around 150 meters at the Eching, Munich site. This operation, which was earlier carried out using conventional forklift trucks, is now done completely without the intervention of […]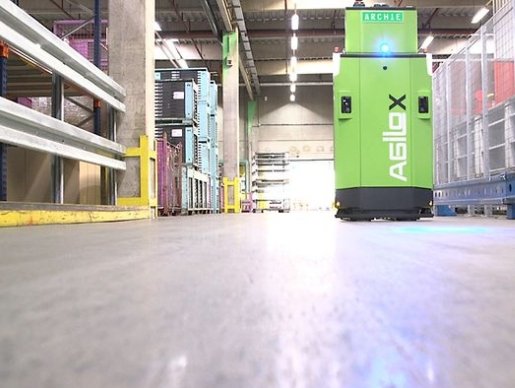 January 25, 2020: DB Schenker has introduced an autonomous forklift truck for its regular operations. The transport system – AGILOX – transports empty containers over a distance of around 150 meters at the Eching, Munich site. This operation, which was earlier carried out using conventional forklift trucks, is now done completely without the intervention of a warehouse associate.
AGILOX can lift and lower container using its height-adjustable fork and eliminate the need for the warehouse staff to place the containers manually on the Automated Guided Vehicle (AGV). The autonomous forklift is also capable of recording a site map for navigation in a very short time; hence, could be made operational in a few days' time.
Xavier Garijo, Member of the Board for Contract Logistics at Schenker AG: "Autonomous forklift trucks promise innovation, precision and efficiency for the benefit of our customers. DB Schenker is always open to alternative solutions in warehouse logistics. However, our most important asset is always our highly qualified employees: without them, we would not be one of the world's leading logistics service providers today. For this reason, we want to relieve them by automating some logistics processes – especially since there is currently a shortage of skilled workers in logistics at the labour market."
Franz Humer, CEO and co-founder of AGILOX: "The robots can take over simple tasks in the warehouse, meaning employees can concentrate on more complex tasks, especially at peak times. We look forward to many more successful projects with DB Schenker throughout Europe."
Using a dedicated software, DB Schenker associates can set up operating areas and safety zones, or mark storage and parking areas. Precise sensors and cameras ensure that AGILOX recognizes and avoids obstacles in real time. At the site in Eching, DB Schenker supplies vehicle parts for the production of a renowned German car manufacturer. It is now being examined whether the AGILOX can also be used at other locations of the logistics service provider.