DB Cargo equips half of its wagon fleet with smart sensors, telematics
Aug 28, 2019: DB Cargo has reached half way point of digitalising its freight wagon fleet as it fitted its 34,000th wagon with state-of-the-art telematics and smart sensors. The wagon rolled out of the refitting facility in Seelze near Hanover yesterday. The German rail freight operator expects its entire German fleet of 68,000 wagons to […]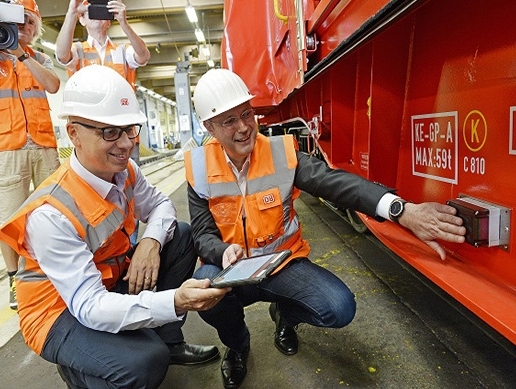 Aug 28, 2019: DB Cargo has reached half way point of digitalising its freight wagon fleet as it fitted its 34,000th wagon with state-of-the-art telematics and smart sensors.
The wagon rolled out of the refitting facility in Seelze near Hanover yesterday.
The German rail freight operator expects its entire German fleet of 68,000 wagons to be fitted with smart sensors and telematics by 2020.
The company highlights that it has invested 'high seven-figure sum' to digitalise its freight wagon fleet.
The GPS and sensor technology bring a range of benefits for DB Cargo's customers. A telematics module, GPS and the use of RFID and NFC tags help the analogue freight wagons join the fully connected digital world.
The modernised wagons use mobile telephony to transmit signals during the journey, such as when the wagon starts and stops or sensors detect an impact. This data can help to produce useful information about the load condition, temperature and humidity and about the movement of sensitive cargo inside the wagon.
"The smart freight wagons are modernising rail freight transport and making it fit for the future. Our customers are benefiting from more manageable logistics chains, higher-quality transport and predictable arrival times. With these advantages, we want to achieve a lasting shift in traffic onto the environmentally friendly rail freight network and to make our contribution to 'Strong Rail' in Germany and Europe," said Marek Staszek, member of the Management Board for Production at DB Cargo.
"The value chain at Salzgitter Flachstahl GmbH relies heavily on efficient logistics processes. The digitalisation of our business processes, which is focussing on connectivity, real-time capability, high quality and excellent service, is becoming ever more important. The 'smart freight wagon' is the final piece in the puzzle. The new data will refine and improve forecasts and assumptions as it provides information not just on the consignment but on quality, too," said Dr Jurgen Harland, head of Logistics and SCM at Salzgitter Flachstahl GmbH.