DAMCO's Lebanon team back in action within 24 hours of Beirut blasts
DAMCO's Beirut-based team, working with the forwarder's Business Resilience (BR) Program, had operations in Lebanon back up and running within 24 hours of this month's devastating blast at the Port of Beirut.
Staff at the freight forwarder's headquarters in The Hague were able to rapidly assess the safety and welfare of the Lebanon team thanks to communication channels put in place as part of the Program.
Supported by the global DAMCO team working with the BR Program, the Beirut team relocated all office functions to its warehouse facility in Dekwaneh, a suburb of the city, keeping supply chains moving.
Also Read: Cargolux, Fedex team up to transport free medical relief to Beirut
Qatar Airways Cargo moves 45 tonnes of essential supplies to Lebanon
 "The immediate concern was 'what is the status of the team members? Are you safe?'," said Zera Zheng, Head of DAMCO Business Resilience and Security.
 "Our office was badly damaged in the blast, but fortunately there were only a few minor injuries across the team, and we were able to work on getting our processes operational as swiftly as possible.
 "Business resilience is only effective with a strong, connected team and we are very fortunate to have that with our colleagues around the world.
 "It is thanks to the perseverance of the local team and our BR Program that office operations were up and running within 24 hours."
DAMCO has invested in, and developed, its BR Program over the last two years, preparing staff globally for over 47 different supply chain damaging scenarios with the mission to 'protect people, product, asset, profit'.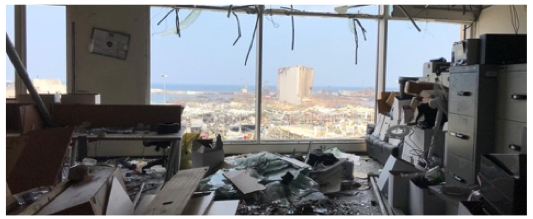 The DAMCO Lebanon offices were badly damaged in the recent explosion at Beirut Port.

A new Instant Message feature launched earlier this year for its BR App, means specific users or groups can be contacted quickly and speeds up information flow between local and global offices.
 "Our thoughts are with all of those who have suffered as a result of this terrible accident," said Saskia Groen-in't-Woud, chief executive officer, DAMCO.