DAMCO's app tackles 47 freight interruption scenarios
DAMCO's Business Resilience Program, developed over the last 18 months, and prepares all staff for over 47 different scenarios, is helping the freight forwarder to keep cargo moving through Covid-19 supply chain disruption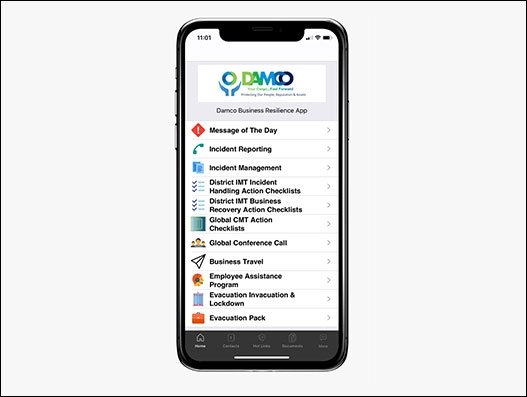 DAMCO's Business Resilience Program, developed over the last 18 months, and prepares all staff for over 47 different scenarios, is helping the freight forwarder to keep cargo moving through Covid-19 supply chain disruption.
DAMCO local and global teams communicate in real time using a Business Resilience App developed for the program, which also stores information on procedure, as well as providing incident reporting, management functions, and links to relevant contacts.
A new Instant Messaging feature for the App now allows the freight forwarder's Business Resilience Team to contact specific users or groups of users to speed up information flow between local and global offices.
"The Program means we can be agile and find flexible solutions to keep freight moving, it also means we can put established procedures in place to keep our staff safe," said Zera Zheng, Head of DAMCO Business Resilience and Security.
"In early January 2020, our Business Resilience Team responded to reports about the impact of Covid-19 from DAMCO offices in China and were able to give global updates and advice using the App so that we were well prepared." She added, "Business Resilience is about procedure, but it is also about culture, and that means having clear communication channels with customers, and making sure the people on the front line are able to both share information and have easy access to the information that they need."
Last year, DAMCO's Business Resilience Team, working with front line staff, successfully managed 94 disruptive events globally, ranging from supply chain disruption in the wake of Typhoon Tisoy in the Philippines, to hold ups due to new Air Cargo Screening Regulations in Hong Kong.
Office operations were resumed within 24 hours, where needed, with warehouse operations up and running again within two to five days.
"A key aspect of the Program is to take care of our team members and ensure that they have the resources to look after our customers, regardless of the situation," said Saskia Groen In't Woud, DAMCO's chief executive officer.
DAMCO offices worldwide take part in surprise scenario exercises, including civil unrest, strikes, protests, adverse weather, unplanned IT systems outage and new regulatory changes, as well as a pandemic scenario.