Czech Airlines Technics enters into landing gear maintenance agreement with Air France Group
May 25, 2017: Czech Airlines Technics (CSAT), a daughter company of the Czech Aeroholding Group, which provides aircraft maintenance services, has won a several-round tender and entered into a nine-year agreement based on which it will provide landing gear maintenance, component maintenance and lease of spare landing gear sets for Boeing B737NG to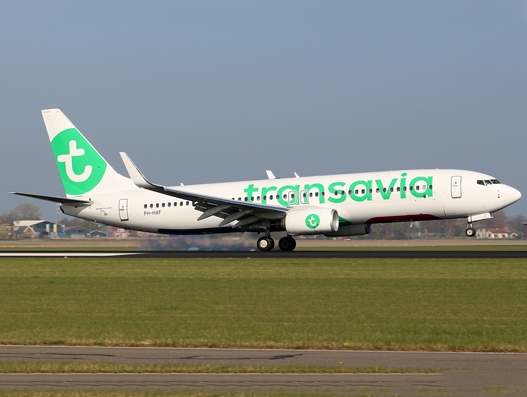 May 25, 2017: Czech Airlines Technics (CSAT), a daughter company of the Czech Aeroholding Group, which provides aircraft maintenance services, has won a several-round tender and entered into a nine-year agreement based on which it will provide landing gear maintenance, component maintenance and lease of spare landing gear sets for Boeing B737NG to the Air France Group, namely to Transavia Airlines and Transavia France.
Victory in such a demanding tender proves that, long-term, CSAT has provided quality work which emphasises adherence to high safety standards and deadlines as well as a flexible approach to customers, Václav ?eho?, chairman of the Czech Aeroholding Board of Directors, the sole shareholder of CSAT, said, adding, "During the nine-year term of the agreement, CSAT will perform the complete overhaul of at least 96 Boeing B737-700 and B737-800 landing gear sets."
Czech Airlines Technics has years of experience with Boeing 737 landing gear maintenance, having provided the service for 17 years, during which it has performed 360 overhaul to entire landing gear sets. Moreover, 11 years ago, as the second MRO (Maintenance Repair Overhaul) organisation in the world, it performed a Boeing B737NG landing gear overhaul.
CSAT now has a total of four spare Boeing B737 landing gear sets: three Boeing B737NG (New Generation) sets and one Boeing B737CG (Classic Generation) set. Alongside high quality work, CSAT can take pride in one of the shortest turnaround general repair times as it takes CSAT workers 28 calendar days to complete the repair.
"Purchasing our own, fourth in line, spare landing gear set is the first major CSAT's investment to be made this year, spending money on the development of its landing gear maintenance sector. Currently, B737NG landing gear general repair demand is on the rise," Václav ?eho? said, adding, "CSAT uses three production lines for performing landing gear maintenance with an average yearly capacity of 30 Boeing B737 landing gear overhaul. The company thus provides its clients with continuous landing gear repairs."
CSAT provides its clients with complex services including transport of both landing gear sets and spare landing gear sets to be used on the aircraft to and from general repairs, i.e. the installation on and removal from the aircraft unless performed directly at the CSAT's workshop. Transavia France is a new CSAT client. CSAT will lend the carrier spare landing gear sets to ensure the uninterrupted operations of its aircraft for the time of the performance of all 19 planned landing gear general repairs.
CSAT also provides another of its Dutch clients, Transavia Airlines, with base maintenance services. The new landing gear maintenance agreement includes, alongside the maintenance and lease of spare landing gear sets and components, removal and installation of landing gear sets from/to aircraft. As CSAT provides the service using its own resources, the required aircraft downtime is significantly shortened. In addition, next to the overall decrease in costs due to the time saved, decreased transport costs are also a significant factor. Based on the agreement, CSAT will perform 32 general landing gear repairs for Transavia Airlines.
Travel Service, with an exclusive six-year agreement signed last year (general repairs to 19 landing gear sets), Enter Air, Neos and UTair are among other contractual Czech Airlines Technics customers. CSAT also provides its services to many carriers based on individual repair orders.