Customer centricity emerges as most important at Ecommerce Logistics Summit
August 24, 2019: The inaugural Ecommerce Logistics Summit 2019 held at ITC Gardenia in Bangalore on August 22 saw participation from around 150 industry stakeholders representing 100 organisations to discuss and deliberate upon issues to the ever-changing ecommerce industry. The Summit was organised by Indian Transport & Logistics News (ITLN), a STAT Media Group venture […]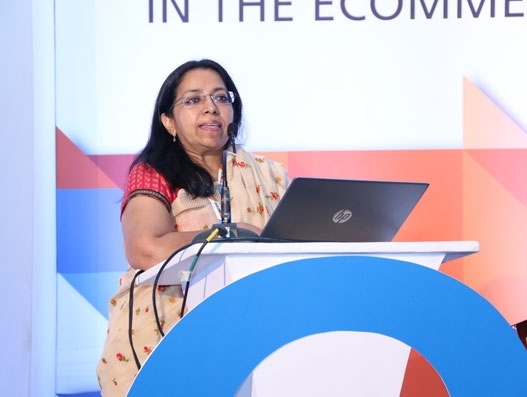 August 24, 2019: The inaugural Ecommerce Logistics Summit 2019 held at ITC Gardenia in Bangalore on August 22 saw participation from around 150 industry stakeholders representing 100 organisations to discuss and deliberate upon issues to the ever-changing ecommerce industry. The Summit was organised by Indian Transport & Logistics News (ITLN), a STAT Media Group venture that also publishes the STAT Trade Times magazine.
The event was sponsored by Bangalore International Airport Limited (BIAL), Air India SATS, Air Menzies Bangalore, DHL India and GreyOrange.
Inaugurating the Summit, Vandana Aggarwal, economic advisor, ministry of civil aviation, government of India urged airline and logistics industry stakeholders to adopt districts to develop community trade. "We have caught up with the rest of the world when it comes to ecommerce," she said, while giving a historical perspective on regulation governing trade. She also narrated an anecdote to say that the supplier is a silent or shunya (zero) partner in the supply chain and invited stakeholders to read drone regulations and offer feedback and dialogue.
Addressing the attendees, Satyaki Raghunath, chief strategy & development official, BIAL said, "We need to do a lot more in India. We need to take advantage of the fact that we are a 1.5 billion population. We are targeting a $5 trillion economy over the next 4-5 years. Cargo and logistics are going to be centrestage of many things," said Satyaki, outlining BIAL's concerted efforts taken to drive cargo initiatives in terms of physical infrastructure. He also stressed on customer service as the most essential. "If you're not looking at your customer, you're really making a mistake," he said.
MJ Chethan, joint commissioner, Customs Bangalore highlighted the ecommerce-specific initiatives and challenges of the government body in his address. He noted that digitalisation has facilitated concrete accountability at Customs, stressed on the need for clear regulations for smooth and seamless movement of cargo. He also outlined how Customs Bangalore is embracing digitalisation to facilitate faceless transactions and data analytics to improve operations.
MJ Chethan, joint commissioner, Customs Bangalore
At the Summit a number of panel discussions deliberated on topics like building intelligence, customer centricity, understanding regulation, going global from local and improving visibility.
Speakers from BIAL, GoAir, Skyways Group, Moglix, Eunimart, Ecom Express, Gizmobaba.com, SpiceJet, Delhivery, Landmark Group, MedLife, OpenApp among others shared insights on varied subjects.