CSafe gets EASA nod for new temperature-controlled RAP ULD container
January 25, 2018: CSafe Global has recently received approval for its new CSafe RAP active container from the European Aviation Safety Agency (EASA). With this new approval along with the FAA approval granted in November 2017, CSafe Global currently offers greater opportunity for pharmaceutical and life-science companies to ship their temperature-sensitive products, globally. Brian Kohr, […]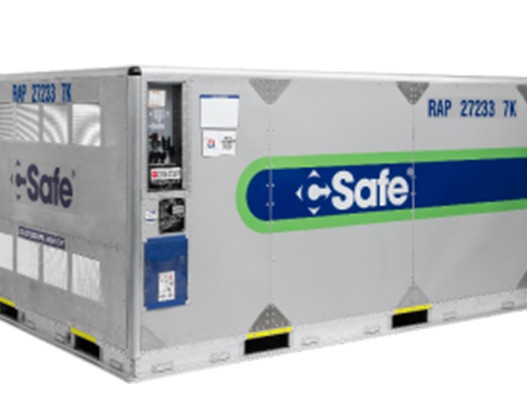 January 25, 2018: CSafe Global has recently received approval for its new CSafe RAP active container from the European Aviation Safety Agency (EASA).
With this new approval along with the FAA approval granted in November 2017, CSafe Global currently offers greater opportunity for pharmaceutical and life-science companies to ship their temperature-sensitive products, globally.
Brian Kohr, president and CEO of CSafe Global said: "The EASA's approval for our new active RAP system is quite important in our mission to provide cold chain solutions that ensures successful delivery of life-enhancing products across the world. The approval received from EASE marks another milestone in the launch of the CSafe RAP, which provides life-science shippers with a new temperature-controlled container solution for larger cargo payloads. It's based on our system designs and technologies that have been used in successfully transporting shipments with the CSafe RKN active container since last one decade."
With increasing demand for pharmaceutical and life-science companies to ship large quantities, the CSafe RAP was specially developed to address this growing need. CSafe RAP was designed with performance in mind, utilising innovative heating and compressor-driven cooling technologies collectively with advanced ThermoCor VIP insulation to eliminate the risk to payloads associated with extreme ambient temperature conditions and long-duration shipments.
The new CSafe RAP active container system leverages the proven performance and capabilities of the well-established CSafe RKN to remove the operational and environmental challenges encountered with global temperature-controlled shipments.
According to the company, the CSafe RAP has unmatched operational capabilities, maintaining constant payload temperatures even at extreme ambient temperatures between -30C and 54C.
Built using state-of-the art technologies, it offers the largest RAP capacity in the industry with a max payload volume of 6.68m3, thereby easily accommodating up to four standard US-pallets or five standard Euro-pallets. Just like the CSafe RKN, the CSafe RAP has an extended battery life well over 100 hours, which outperforms competitive active systems.