Creating value through extensive network
With over two decades of experience in the air cargo industry in multiple roles at leading airlines, Martin Drew comes into India to head the cargo division of India's popular airline Jet Airways. Before joining Jet Airways, Drew was with Etihad Airways for nine years where he was head of freighters and business partnership. In […]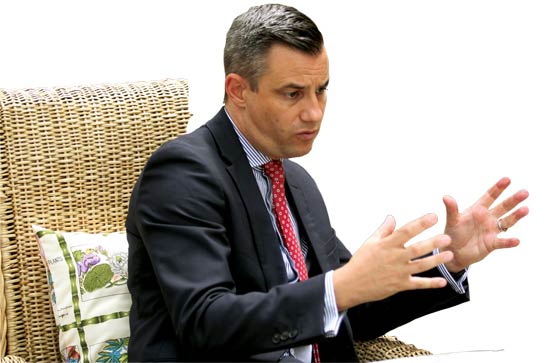 With over two decades of experience in the air cargo industry in multiple roles at leading airlines, Martin Drew comes into India to head the cargo division of India's popular airline Jet Airways. Before joining Jet Airways, Drew was with Etihad Airways for nine years where he was head of freighters and business partnership. In April2014, he was chosen to head Jet Airways cargo division. As the vice president for cargo, Drew will report to the Chief Commercial Officer and has been entrusted with the responsibility of substantially increasing the airline's cargo business taking advantage of the airline's strategic partnership with Etihad. Martin Drew, Vice President, Jet Airways Cargo, speaks to Reji John about the launch of freighter operations in India and what it means to head cargo operations for Jet Airways in India.
What is the brief to you when you joined Jet Airways to head its cargo division in India?
The mandate has been to enhance revenue, leverage the strong Jet Airways brand and strengthen the position of Jet Airways Cargo. A particular focus area is to improve Cargo revenues from the domestic market. Jet Airways' domestic network is vast, serving 50 Indian cities with around 400 flights each day. The overall capacity per day is huge at around 650 tonnes. So the main focus is to better optimize this capacity and enhance the revenue this generates. Another key part of my mandate is to work on the strategic partnership with Etihad, and other interline partners by identifying opportunities to work together and capitalize on the synergies.
How important is the launch of freighter operations in India and, for you personally, how important is this announcement?
Jet Airways will be the first privately owned Indian passenger airline to operate a freighter, so this is a huge milestone. Induction of the freighter is further evidence that Cargo is a serious growth priority at Jet Airways. The ability to offer main deck capability complementing our extensive passenger network will raise our profile making us even more relevant to our customers. This development is not only a major fillip for the Indian air cargo market, but it also fully backs the Indian Government's "Make in India" strategy. From a personal perspective, the last year with Jet Airways has been incredibly enjoyable, we have achieved a lot and launching the freighter operations is certainly a high point. A lot of hard work and effort has gone into making this happen and it really was a team effort. I have to say the Indian regulatory authorities have been very helpful.
Where do you see the growth and revenue coming from for Jet Airways Cargo?
We are certainly benefitting from the huge demand increase in the domestic market. This is primarily being driven by the thriving e-commerce sector in the country. Year on year, we have seen double digit growth in revenue on our domestic network. Many of the major agents are key customers and we have focused on how we can do more with them as well as trying to capitalize as much as we can on the growing e-commerce sector. Another key area where we see improved performance in the domestic market is in the movement of valuables and in life sciences products, which require specialized transportation.
We have also grown our business through broader distribution and increased customer engagement. We have launched a Global Key Account program increasing our engagement with the largest global forwarders and continue to build on our strong relationships with the independent forwarders. Furthermore, we have increased revenues through the development of high yield products, greatly increased focus on partnership, a critical area in enabling us to expand our network reach. The launch of our freighter operations will enhance our network offering, expand the scope of services we offer, and inject significant capacity helping us to further boost our revenues and market presence.
What are the challenges in operating in India?
India offers tremendous opportunities and has massive potential. In certain aspects infrastructure needs improvement. At times the complexity of doing business in India adda cost and reduces speed. It is very encouraging to see the initiatives the government is taking to address these challenges. India's minister for civil aviation has clearly expressed intent to develop the air cargo sector.