Creating digital nucleus to control ULDs
Inside the complex web of airports around the world, it is important to distribute the availability of ULDs throughout the connecting points according to the demand generated from each airport and city.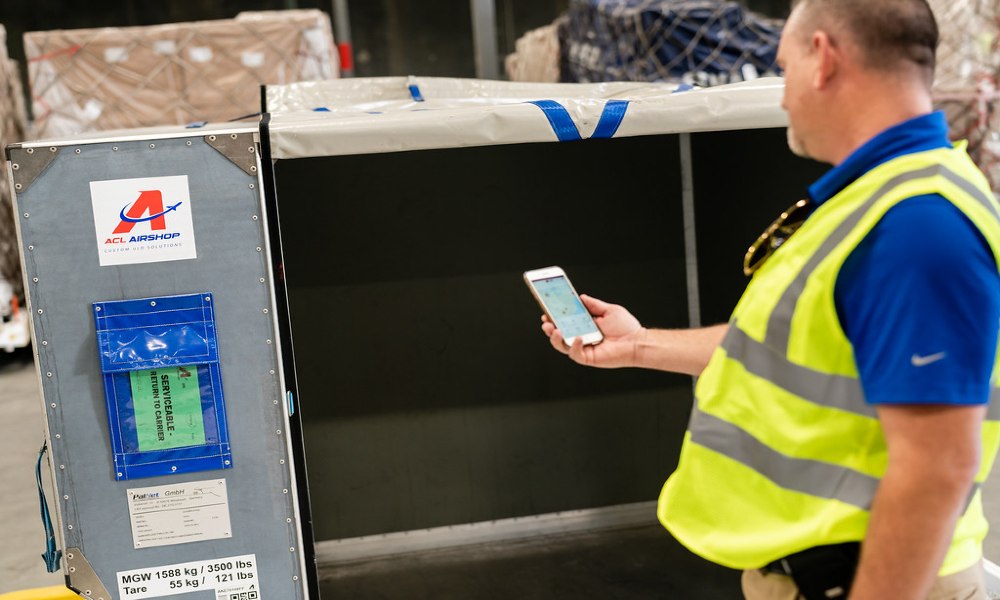 ULDs are the carriers of cargo and are present throughout the arteries of the air cargo supply chain. Finding the right technology to track, trace, manage and analyse them for efficiency is still evolving.

Unit Load Devices (ULDs) are the shipping container counterpart for air cargo. However, unlike the shipping containers, they come in various sizes and varieties due to the space limitations in airfreight, the shape of aircraft and the varieties of commodities they have to carry. As an integral part of the air cargo industry, they play a crucial role in moving goods efficiently, ensuring safety & security as well as increasing the revenue for all stakeholders.
Inside the complex web of airports around the world, it is also important to distribute the availability of ULDs throughout the connecting points according to the demand generated from each airport and city. Similar to the container shortage in shipping, airlines and freight forwarders in air cargo also face the complexity of its unequal distribution. But the fact that they are completely unpredictable in a fast-moving industry increases the level of complexity.
Another crucial challenge in ULD management is regarding its safety and security. Since ULDs have to always move along the aircraft, they are just another part of the aircraft. However, they also move around inside the warehouse, along the apron and are handled by various stakeholders, which is why there are several regulations established to manage them. Technology to track & trace ULDs and building a world of connected ULDs are often cited as a solution to all these complexities even though the road is not very smooth.
Harold Elfring, technology & IT director for ACL Airshop reported that ULD management is getting more mission-critical due to the Covid-19 pandemic and the increased demands on limited capacities in the air cargo industry.
"Air cargo carriers have bought or re-activated freighters to add to their fleets. This created a new emerging trend for more freighter-loads of palletized goods to keep pace with world trade while passenger belly-loads remain impaired," he said.
He also informed that the phenomenon is dictating the need for even more accurate ULD stock management and logistics precision of the ULD fleet around the globe.
"Even just a 5 to 10 percent improvement in ULD fleet efficiency can mean hundreds of thousands in cost savings to an air carrier and even millions if they are able to make more revenue flights with the same air fleet," he added.
Technology trends
The world of ULDs is complex not only in terms of their varieties and distribution but also in finding the right technology to digitalise them.
For example, radio frequency identification (RFID) technology, after having huge expectations, failed to help ULD management firms to track them due to the level of infrastructure they demanded and the cost involved. The same fate continued for global positioning system (GPS) and global system for mobile communications (GSM). Whatever the new technology emerging, they also have to comply with all available regulatory requirements.
Hence it is important to keep track of the new technologies and trends emerging in the market.
Martijn van Geest, managing director digital solutions, Unilode, noted that Low Energy Bluetooth is a technology that meets all the regulatory requirements.
"However," he said, "The technology used for the ULDs is one thing while building a powerful backbone, such as an intelligent data lake capable of possessing mass data and delivering relevant information is the other thing."
Geest also pointed out an upcoming trend in using the software as a service to avoid individual development cost and additional development time.
Tracking and tracing technologies have developed rapidly in recent years and now offer possibilities of collecting a wide range of data to improve processes in the cargo value chain. The ULD management firm Jettainer in May 2021 announced its plan to create digital counterparts or digital twins for every ULD within its fleet, which numbers around 100,000 units.
Arnd Trapp, director IT, Jettainer, informed that on the request of our customers they are prepared and willing to equip their customer's ULD fleet with the Bluetooth Low Energy (BLE) tags.
Trapp also reported that collecting critical sensory data of high valued products like pharma and perishable is increasingly gaining importance.
"This data helps support end customers' quality requirements (e.g. with regard to keeping the cargo within a defined temperature range or shock limitation) while cargo is being transported or handled," he said.
"Additionally, this data helps derive beneficial information from our AI-driven Jettware system and boosts our digital twin initiative. This will subsequently help minimize ULD damages in the future and increase the efficiency of repair steering processes," he added.
Steve Townes, chief executive officer, ACL Airshop agreed that several companies including ACL Airshop are proliferating Bluetooth tracking.
"We are proud to have been the first mover. Eventually, it will become the expected norm with clients," he said.
Meanwhile, Elfring noted that investments by ACL Airshop in the digitalisation of ULD management are not only in the new Bluetooth track & trace solutions but also in our state-of-the-art web-based ULD management and ULD control software, integrated with the airline's flight scheduling and load-management systems.
Safety & security
It is necessary to meet all regulatory requirements while introducing new technology solutions like that of the Internet of Things (IoT) for ULD tracking due to the safety and security concerns surrounding it. From the same point of view, digital technology also helps the industry to provide more accurate data and enhance transparency towards a safer air cargo environment.
"For example," Geest said, "Technology will help to keep better track of life cycles and conditions of containers, pallets and pallet nets, which are aircraft parts and as such, must comply with IATA ULD regulations."
The industry also needs to be concerned about and reflect upon the safety standards and regulatory requirements of these technologies.
Geest noted that meeting these requirements is a sometimes underestimated deliverable in the development process of digital solutions. He also argued that airlines will need to keep pace with technologies being introduced.
"Unilode's digital solution is fully compliant with aviation regulations and the Bluetooth tags have been approved by all major ULD manufacturers. To date we have secured the approval of more than 60 airlines to load digital ULDs on board their aircraft and are in the position to digitise ULDs beyond our own fleet for other airlines as well," he added.
Once loaded, a ULD becomes part of the aircraft and therefore is subject to the same strict safety and security regulations as other systems installed in the aircraft. These include the regulations on EMC (electromagnetic compatibility), fire protection measures, energy density/type of batteries used.
Trapp asserted that digitalization in aviation faces special challenges due to very strict safety and security regulations provided by flight safety authorities (e.g. EASA and FAA). He believes that the BLE technology available in the market currently ticks most of these requirements and is appropriate for air transportation.
"Besides the BLE technology, we see great potential in the development of other technologies (e.g. 5G, LoRaWAN, GPS) but there are still some ways to go. Standardized communication/frequency usage, power consumption and global availability of these technologies are still a challenge to avoid the supply chain blind spots," he said.
Trapp also pointed out the confidentiality of data as another challenge. "It must be ensured that everyone in the cargo supply chain has complete control of its data and can determine who is allowed to have access to it, or not," he added.
Meanwhile, Townes said, "Our friends at ULD Care have said it best. Their ULD code of conduct, to which we fully adhere, states ULD are flight safety-critical and costly items of aircraft equipment. They require suitable operation and handling if they are to protect the aircraft and its systems during flight and to avoid expensive damage during ground operations. Their operation is subject to aviation authority regulatory requirements."
Future of connected ULDs
Experts predict a completely new level of transparency in the air cargo supply chain, particularly for the shipment of pharmaceuticals, high-value goods and perishables.
Geest forecasted, "ULDs will keep you posted proactively on their whereabouts and condition, and provide valuable sensor information such as temperature, humidity, light and shock."
He said, "ULD management data will be combined with other data sets, generated by airlines, ground handlers, and will be brought together on standard platforms. We will see data being consolidated on blockchains for a reliable transfer of data with a very high-quality standard."
Thomas Sonntag, managing director, Jettainer, also expressed his optimism.
"AI already offers a multitude of enhancement options. Not only for the lifecycle optimization of every single ULD but by combining and aggregating the insights from all ULDs for even more accurate forecasting, repair and purchase decisions, '' he said.
"Door to door tracking on a piece level is something which is already in place. The technology to monitor the condition of shipments in regards to temperature, light, shock and humidity is also available to a certain extent. Hence, it's all the more reason that the technology-specific for the ULDs keeps pace, if not be a few steps ahead," he said.
Townes predicted that the future could liken it to the growth of AT&T, Sprint, Verizon, and T-Mobile phone systems.
"We predict that every major node in the air cargo ecosystem will eventually be populated with readers and scanners, that all or most ULD's will be affixed with reliable tags, and all ULD fleets will benefit from the big data analytics that allows an air carrier to do more with less," he said.
Elfring informed that they have been collecting ULD management data for decades and that is why they are also investing in artificial intelligence, embodied today in PowerBI and Data Warehouse tools and the insightful analytics which come from their expert usage of those new technologies.
"With these innovations, we can support the ULD stock levels on various airports, based on the history of ULD movements, flight schedules, and stock levels around the globe. We will add more predictive data services and KPI dashboards as we keep moving forward. This is truly the next wave of technology for the air cargo sector, and we are proud to have been a first mover in it," he said.
"Finally, a variety of track & trace networks are available such as Starlink satellites, NBIoT, and Sigfox. Plus previously closed networks are now open for track & trace devices. The closed network providers are transforming to open network operators," he added.