Count us for digitalisation, sustainability: Benelux air cargo industry
Air cargo historically played a huge role in the development of the Benelux region. Right now the industry is leading in front for digitalisation, sustainability and collaboration techniques.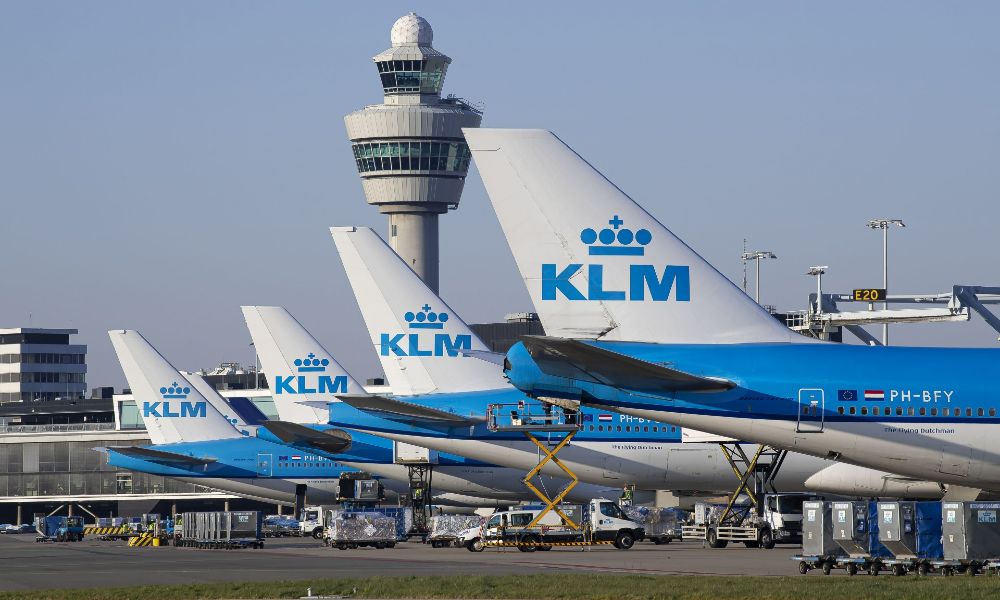 Benelux is one of the most logistically connected and established markets in the world and specifically Europe. The heavily interconnected region offers huge capacity for business in the countries of Belgium, the Netherlands and Luxemburg through some of the most important European airports it has in Amsterdam, Brussels, Liege and Luxembourg.
The air cargo commodities moved to and from the Benelux region have a high concentration of perishables and pharmaceuticals while there are high-tech and e-commerce shipments increasingly occupying the available capacity.
Flowers, Covid vaccines, chips
Bernard Geersing, director Benelux, Air France KLM Martinair Cargo, said, "Perishables are very important, especially for the Dutch market. We export a lot of flowers, fish and vegetables while we import flowers and fruits from South America and East Africa."
He noted that as part of Benelux, a lot of pharmaceutical companies have their head offices and large production facilities in Belgium. "This is one of our focus points. AFKLM has invested a lot in pharmaceutical product logistics and particularly for the movement of Covid vaccines. We play a big role in the global air logistics of pharmaceuticals around the world, especially Covid vaccines and this is something we are proud of," he added.
Even though AFKLM is moving Covid vaccines throughout its network, Geersing informed that the biggest flows of vaccines are towards South America and Africa. He also informed that high tech products produced in the southern part of the Netherlands are also very important to them from an export perspective. He gave the example of the Dutch multinational company ASML that makes chips and exports its products all over the world.
We play a big role in the global air logistics of pharma, especially Covid vaccines and this is something we are proud of
Bernard Geersing, Air France KLM Martinair Cargo
Roos Bakker, director of business development, Amsterdam Airport Schiphol Cargo (one of the recently appointed three cargo directors) also emphasized the import and export of flowers as a very important trade for the Netherlands through air cargo. "At this moment the production of flowers is increasing, however, the number of freighters to/ from Africa is low. We see that demand for flowers is high in Asia at this moment, as well as for other general cargo," she said.
"Another important trade lane is cross border e-commerce, particularly e-commerce traffic to and from Asia. Schiphol has maintained a strong cargo connection with Asia during the difficult times of Covid," she added.
Perishables and pharmaceuticals are some of the difficult cargo for air freight to handle while high-tech and e-commerce are no less complex. Thus, stakeholders across the supply chain need to collaborate not only for safety and security but also to streamline the efficient movement of cargo.
Collaboration within Benelux air cargo
Geersing pointed that as they export perishables from the Netherlands to all over the world, they already have a very strong relationship with the sector in the country."We also feel that, as a national carrier, it is part of our responsibility to keep a healthy business relation with our partners in the perishable sector to make sure that it is a continuous sustainable business," he said.
Bakker noted that passion for air cargo is high within the cargo community at Schiphol and the supply chain partners and are devoted to shaping Europe's smartest cargo hub through collaboration.
"According to the latest ACI report, AMS remains the best directly connected airport in Europe, having recovered two-thirds of its pre-pandemic direct connectivity. Like almost all European airports, we are struggling with a lack of skilled staff and overall resources. This is something we hope to overcome with dedicated partnerships as now is a very busy time," she added.
Another area where a large amount of collaboration is required is at the events followed by Brexit. Since the cargo flows are not limited by the boundaries and because the UK is an important trade partner for the Benelux region, the air cargo stakeholders also had to make many adjustments.
Brexit woes in Benelux
Bakker again attributed smooth transition through Brexit to good collaboration with their partners. "In close co-operation with customs, we are coping well with changes brought about by Brexit and have not witnessed any extreme decrease in goods moving through the airport," she said.
"Geersing said, "Since we have a big footprint in the UK, Brexit plays a role for Air France KLM, mainly in relation to trucking between mainland Europe and the UK, but if you look from the Benelux perspective, Brexit plays a much smaller role."
"Of course we need to truck products from mainland Europe to the UK and from the UK to our hubs in Paris, in Amsterdam and from where we transport them to other parts of the world. The most difficult part is trucking between mainland Europe and the UK," he added.
While dealing with these difficulties and bottlenecks, one way for air cargo to become resilient is by adopting digitalisation. The wave of digitalisation has also reached the Benelux region and it is visible in their priorities.
Technology infra investments
Geersing said, "Some of our top focus points are investing in digital, developing our services very much in a digital way and making sure that our customers can find the best rates, make the booking and modify on our digital platform MyCargo.
He regards this as one of the most important dynamics in their strategy, not only for their customers but also internally. "So our internal commercial teams work with these systems and thereby we increase our efficiency, our speed and our customer proximity."
Schiphol and its cargo community also aim to shape Amsterdam Airport into Europe's smartest cargo hub with digital investments.
At this moment the production of flowers is increasing, however, the number of freighters to/ from Africa is low
Roos Bakker, Schiphol Cargo
Bakker said, "At Amsterdam Schiphol, we have implemented the Smart Cargo Mainport Programme (SCMP), a cluster of projects that revolves around smart landside logistics, data sharing, and innovations. Digital pre-notification, ready for carriage and milk run export are just a few examples of the projects within the program, which aims to realise efficiencies, reduce wait times and enhance transparency in the freight network at Schiphol Airport."
"Additionally," she added, "The Holland Flower Alliance is in its pilot phase, with a new track & trace application whereby the location and temperature of flower shipments are being monitored. The alliance between Royal FloraHolland, KLM Cargo and Schiphol Cargo aim to create a seamless global floricultural supply chain for growers, logistics providers and flower professionals all over the world."
While there are trends that are pushing the region and its air cargo industry to get ready for the future, along with digitalization, sustainability will play an important role in the transformation.
Future of air cargo in Benelux
Bakker believes that the events of the past 18 months have accelerated progress towards the goal of a digitalised supply chain, and she argues that "we should all be devoting efforts to ensuring this momentum is not lost."
"Digitalisation of the air cargo sector and achieving paperless operations is key not only to the sustainability of the planet but also to the future sustainability of the industry," she said.
"We hope the future will also include the creation of extra room for cargo partners and airlines at Schiphol Airport to set up their cargo operations and to grow here," she added.
Geersing thinks that air cargo has always been one of the core parts of this Benelux and the region has a very strong logistical base in its 'DNA', as he puts it.
"So, I think you will always see that we, as the region, facilitate a very efficient logistical chain, sustainable growth and we will continuously invest in innovations and efficiencies moving forward to move pharmaceuticals, perishable shipments and high priority express shipments," he added.