FROM MAGAZINE: Flower Logistics: Cool, Competitive, Collaborative
<p style="text-align: justify;"><strong style='font-weight:bold;'>The flowers in your living room may have crossed thousands of miles before reaching the vase and they smell as fresh as just being harvested. The credit goes to the logistics "cold chain" that is ensuring quick and efficient transportation to preserve the freshness of flowers.</strong><br /><br /><em><strong style='font-weight:bold;'>Shreya Bhattacharya</strong> </em></p> <p […]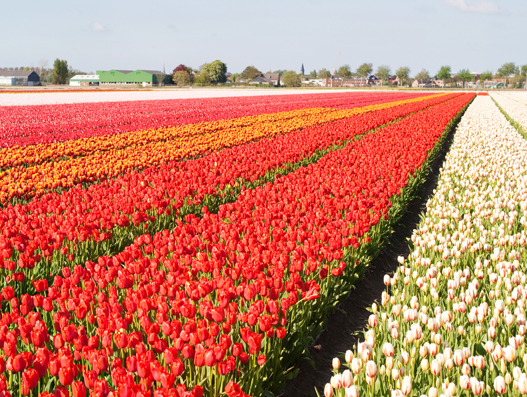 The flowers in your living room may have crossed thousands of miles before reaching the vase and they smell as fresh as just being harvested. The credit goes to the logistics "cold chain" that is ensuring quick and efficient transportation to preserve the freshness of flowers.

Shreya Bhattacharya
Be it the Valentine's Day, Mother's Day or any special occasion, flowers are undoubtedly one of the most traded produce globally. Quintessential to any celebration, flowers are of great importance and are integral to the human society. The cut flower industry, therefore, has been flourishing rapidly and widely, mainly on the back of air freight industry that has been instrumental in providing quick and efficient transportation to over 95 percent of the exported cut flowers. As an efficient support system, the air cargo industry ensures they have more than enough capacity to handle the constant flow of the delicate cargo as eighty to ninety percent of purchases are shipped within 24 hours.

Packing fresh flowers for transport
With the snip of a stem – the clock starts ticking for growers who hydrate and place flowers quickly in coolers on site. Using special techniques, the flowers are then packed for transportation. The most common packaging is boxes in which the flowers are placed horizontally. Other flowers, which cannot survive for long without water, are packed with their stems in water containers or buckets. Carefully loaded onto pallets, refrigerated trucks bring them to airports where they are loaded onto cargo planes.

Global trade flow of flowers
Traditionally, the centers of flower production have developed near their largest consumers. The demand for flowers usually originates from countries like Netherland, Germany, UK, USA and Russia. That's how Netherlands eventually became the center of production for the European floral market, as well as a major international supplier to other continents. The flower auction at Netherlands' Aalsmeer is the largest flower market in the world where approximately 17 million flowers change hands daily. Amidst this backdrop, Amsterdam Schiphol recognizes its primary role in the cut flower supply chain and acts well as a facilitator. Being classified as a perishable centre Schiphol Cargo has features such as cool storage and specially trained handlers, optimising the facility for specific requirements. Each organisation that deals with perishables at Schiphol has decades of experience.

"Perishable cargo accounts for 15 -20 percent annual cargo volume at Schiphol Cargo, and as the largest flower importer in Europe, freshly cut flowers account for much of that volume," says Bart Pouwels, Business Development Director Cargo at Amsterdam Airport Schiphol. In 2016, Schiphol Cargo along with AFKLM Cargo and flower auction company RoyalFlora Holland together launched the Holland Flower Alliance. "With over 300 years of experience between us, the initiative seeks to optimise and increase the speed of the fresh flower supply chain at Schiphol with the smart use of data sharing."

Many members of the Schiphol Cargo Community have dedicated perishables centres at the airport. A few of these are forwarding and handling companies Kuehne & Nagel, Interfresh, IP Handlers, Panalpina and Hellmann Perishable Logistics, part of Hellmann Worldwide Logistics.

Crucial role played by air cargo industry
The journey of flowers from the growers to the consumer isn't an easy one, for it requires specific temperatures to survive the drive. The extremely delicate nature of the grown product combined with the potential challenges of air transport means managing flower logistics demands specific expertise.

Significant air cargo players are developing special facilities designed for the transport of flowers.

"One of the fundamental aspects for the transport of flowers, and of any type of perishable items, is the cold chain. The temperature control throughout the logistics chain is vital to maintain and ensure the product quality. Accordingly, PERISHABLE guarantees temperature controlled warehouses throughout the LATAM Cargo network; use of thermographs that allow the analysis of temperature information in different transport stages; temperature programming in warehouses of cargo aircraft and wide passenger airframe; and, in addition, reduced times of reception and delivery of the cargo," says Felipe Caballero, Commercial Director for Central and South America North Region of LATAM Cargo.

In United States, billions of stems of flowers are imported annually from all over the world, which travel through the center of the US flower distribution system: Miami International Airport (MIA).

"Cut flowers are the most important import commodity at MIA. In 2015, flower imports represented 197,307 tonnes or 89 percent of all the flower imports into the United States. As a comparison the next two closest airports JFK and LAX represent 3 percent and 5 percent respectively of total 221,063 tonnes of imported flowers," says Emir Pineda, Manager, Aviation Trade & Logistics, Marketing Division, Miami International Airport.

"As an airport we promote our customer's refrigerated facilities, expert handling, and fumigation centers. We advocate to make sure we have enough customs and agriculture inspectors during peak season to handle the extra work load and we provide the necessary truck parking and traffic flow to move the flowers off airport as quickly and efficiently as possible," Pineda adds.

Pineda also points out eliminating tariffs on imported flowers could further give a boost to the cut flower industry. "At MIA we are fortunate to have over 41,340 square meters of on-airport refrigerated space, but the market is always looking for more. An additional boost could come from a flower distribution center located in FTZ, eliminating tariffs on imported flowers. Last year MIA applied to be designated a FTZ Magnet Site and we expect to have approval sometime during the first quarter of 2017," he says.

Meanwhile, there is emergence of a new trend wherein the production focus is moving from traditional growers to countries where the climates are better and production and labor costs are lower. This is while traditional markets like Netherlands get more involved into flower trading than producing. As the largest trading platform, Netherlands sees huge amounts of flowers coming from other countries for auction.

"The flower volumes at Schiphol comprise mainly of import, from producing countries such as Kenya ( 111,000 tonnes), Ethiopia (73,000tonnes), and Ecuador (19,000tonnes)," says Pouwels. [Import figures represent October 2015- September 2016 inclusive]

"The total European import market for fresh flowers from Kenya is growing 5 percent. [Comparisons drawn between October 2015-September 2016, and the same period the previous year] We see the Netherlands growing above market by 5.8 percent last year, and this has been a steady trend for the last few years. Ethiopia, for example, sends more flowers (tonnage wise) to the Netherlands than any other European country. We also handle flowers that have arrived by air in Liege, and complete their journey to the Netherlands by road, their final destination where they will be traded. Looking ahead to 2017, we predict similar growth."

Pouwels further explains with a total of 102,355 tonnes exported to the whole of Western Europe, more than 80 percent of the total Kenyan flower market has its destination as the Netherlands. "Import from Kenya to the Netherlands grew by 6percent in 2016 and we expect similar growth in 2017. Elsewhere, the Columbian market is stable, and Ecuador grew by 25 percent but is unpredictable due to their reliance on the Russian market. South American flowers mainly go to Russia, whilst East African flowers come to Europe. The value of the Rouble, and Russian economic environment is uncertain, making it difficult to predict. I'd expect a 5 - 10 percent growth in 2017," he says.

In its report, 'World Floriculture Map 2016: Equator Countries Gathering Speed', Rabobank says while the Netherlands remains the dominant central market for global cut flower trade with its combination of locally produced and imported flowers, the four cut flower exporters close to the equator—Colombia, Kenya, Ecuador and Ethiopia—are also gathering speed.

Africa's flower market gathering speed
In Africa, Kenya is the largest exporter, supplying a large percentage of Europe's flowers. According to the Kenya Flower Council (KFC)-the group representing Kenya's flower industry, the floriculture industry contributes 1.6 percent to the National Gross Domestic Product (GDP) of the country and employs over 100,000 directly and 500,000 indirectly supporting over 1.5 million livelihoods.

However, the industry in Africa still has lot of room for growth.

Flower growers find high freight cost and lack of direct flights to new markets like US hampering their business. "About 40 percent of the flower price goes to transport and supply chain logistics. The situation is complicated if flowers have to transit many times making such markets uneconomical. The lack of direct flights to the US is one of the major obstacles in tapping this market that has a lot of potential for the African flowers. The transport and logistics costs to this market is prohibitive and makes the African flowers uncompetitive as compared to the South American flowers," says Elizabeth Kimani from Sian Roses - leading Kenyan producer of high quality roses.


Jane Ngige, Chief Executive Officer, KFC, states, "Freight cost from Kenya remains one of the highest compared to other horticulture producing/exporting countries in the world. It affects the competitiveness of the Kenyan flowers in terms of cost and hinders direct exports to some destination as well as stifling those willing to venture in new destinations."

African countries producing flowers are also grappling with the challenge of poor infrastructure. At a recent event organized by the STAT Media Group, named 'Flower Logistics Africa' Sanjeev Gadhia, CEO, Astral Aviation pointed out that making of a sustainable cool chain remains to be a prime challenge in Kenya. "When you look at the location of some of the farms, they are actually one to two hours from the JKIA (Jomo Kenyatta International Airport). We notice the trucks are taking longer to arrive at the airport, because of some challenges which come across the way, one of them being the infrastructure. Sometimes the trucks are delayed because of the roads, especially when there is bad weather, or because of the security checks, on the way from farm to the airport. So the biggest challenge is how to make the cool chain," he said.

While infrastructure at JKIA is catching up with the increase in production of recent years, cool chain facilitators are also doing their bit to smoothen the journey of flowers.

Jeroen van der Hulst of FlowerWatch explains, "The African flower industry grew big supplying the auctions. This is usually done through importers, who unpack, re-cut and re-hydrate flowers. Any issues with diseases, damages and opening stage can be corrected at that stage, but at considerable cost."

"At FlowerWatch we are setting an industry standard for cold chain performance together with our customers. In our best performing cold chains our customers are grabbing new opportunities for shipping to new markets further away with higher load rates, less handling costs and a better quality. It is our firm opinion that innovation in the business can only work when our new cold chain standards are met," adds Hulst.

Asia- a potential market
In the flower industry, significant changes are occurring with new markets developing in some parts of the world. Both in terms of flower production as well as consumption, the floral industry looks forward to these regions' contribution to the sector.

"Future markets such as China and India have the most immediate potential for strong growth. Both markets have been expanding with GDP growth in the 6-9 percent range, as well as, more discretionary income available to their large populations providing the potential for additional flower consumption," says Pineda. Although Miami International Airport currently has limited presence in the regions, Pineda adds, "both markets represent opportunities as we expand our air service network to Asia and connect the producing markets in Latin America to the buyers in Asia. MIA can play a pivotal role in the distribution and transportation of fresh flowers to millions of new consumers."

The Schiphol Amsterdam Airport also looks forward to Asian countries to increase business. "We are seeing increased demand from Asian countries such as China and Japan – a trend we attribute to factors such as an increasingly faster supply chain, the growing middle class, and the strong demand for European products in these countries, which shows itself in the volume of sweet peppers the Netherlands exports to Chinese each year," says Pouwels.

"There is no cool chain between Africa and China, but there is between Africa and Schiphol, and between Schiphol and China. In fact, we have over 100 weekly flights carried out by all main national Chinese carriers and home carrier Air France KLM to the Chinese hubs of Shanghai, Chongqing, Chengdu, Guangzhou, Zhengzhou and Tianjin, Ningbo and Xi'An," he adds.

With more and more efforts being put by all major stakeholders, the growers, the cool chain facilitators, air cargo players and the retailers-whose businesses are quite intermingled, the trends and opportunities in the fast-evolving floral industry looks dynamic, with the industry achieving significant growth rates year on year.