From Covid-19 Issue: Containers for containment
With the transformation in the way of working, the way of thinking has also been altered. CURA, an open-source design for Covid-19 hospitals, developed by designers, architects, among others with the support of the World Economic Forum becomes a saviour for hospitals to solve space constraints. 
The world of work is undergoing dramatic changes for many businesses in the wake of Covid-19. Meanwhile, health infrastructure is facing tremendous challenges day-by-day as the hospitals either lack equipment or enough accommodation for patients, whose numbers are surging a day to 300 approximately in certain countries like Italy.
During the pandemic, not only community workers like doctors ventured in to help the patients but also certain professionals, who are to be commended, in contributing to the health infrastructure. Carlo Ratti, MIT professor and founder of Carlo Ratti Associati (CRA) designed connected units for respiratory ailments (CURA), an open-source design for Covid-19 hospitals. Here, the shipping containers are converted into plug-in intensive-care pods for patients with respiratory infections, hosted in a 20-foot intermodal container with bio-containment. Each unit works autonomously and can be shipped anywhere.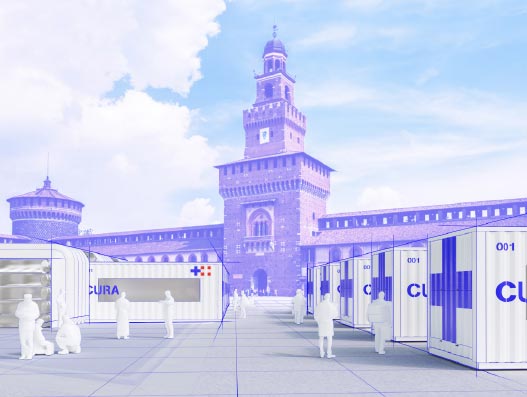 Commenting on the inspiration behind the design, Ratti notes, "Covid-19 is impacting our lives at such an unprecedented scale that we felt compelled to react and contribute with our skills to this crisis. Our objective is not to invent something new - rather, we want to improve the efficiency of existing solutions in the design of field hospitals, taking into account what is most needed at this moment. The virus is spreading so rapidly that a design solution should not only be just flexible, agile and inexpensive but also provide medical professionals with safe working conditions. Shipping containers offer a series of important advantages in this sense."
CURA is the product of a task force of designers, engineers, medical professionals, and consultants. The prototype is ready in Turin, Northern Italy and the first phase of the project is sponsored by European commercial bank UniCredit. CURA can be quickly deployed in cities around the world, promptly responding to the shortage of ICU space in hospitals. The team is defining the workflow with the companies that will support logistics on a bigger scale for the next phase of the project.
Ratti says, "Just in the first 48 hours from the launch of CURA, we have received several requests of collaborations from all over the world. In the last few weeks, hospitals in the countries most affected by Covid-19, have been struggling to increase their ICU capacity to admit a growing number of patients with severe respiratory diseases, in need of ventilators. Whatever the evolution of this pandemic, it is expected that more ICUs will be needed internationally in the next few months."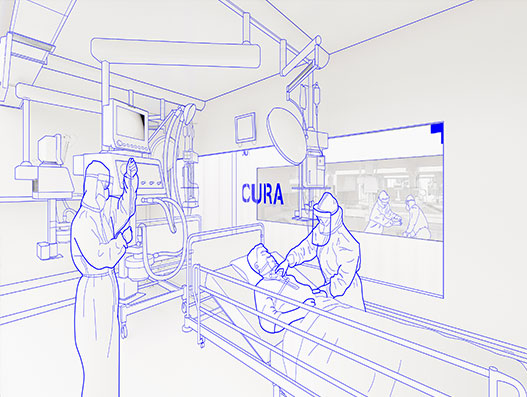 As far as CURA's configuration is concerned, individual pods are connected by an inflatable structure to create multiple modular configurations (from 4 beds to over 40), which can be deployed in just a few hours. Some pods can be placed in proximity to a hospital (e.g. in parking lots) to expand the ICU capacity, while others could be used to create self-standing field hospitals of varying sizes.
The response to the emergency in China and Italy so far has been to set up makeshift emergency hospitals such as tents or build new prefabricated wards with biocontainment. While the latter option is time and resource-intensive, the former one exposes medical professionals to a higher risk of contamination and adds operational strain, especially in the long run. "Learning from both approaches, CURA strives to be as fast to mount as a hospital tent, but as safe as a hospital's isolation ward to work in, thanks to biocontainment (an extractor creates indoor negative pressure, complying with the standards of Airborne Infection Isolation Rooms). It follows the standards for Covid-19 hospitals issued by the Chinese authorities while speeding up execution," he added.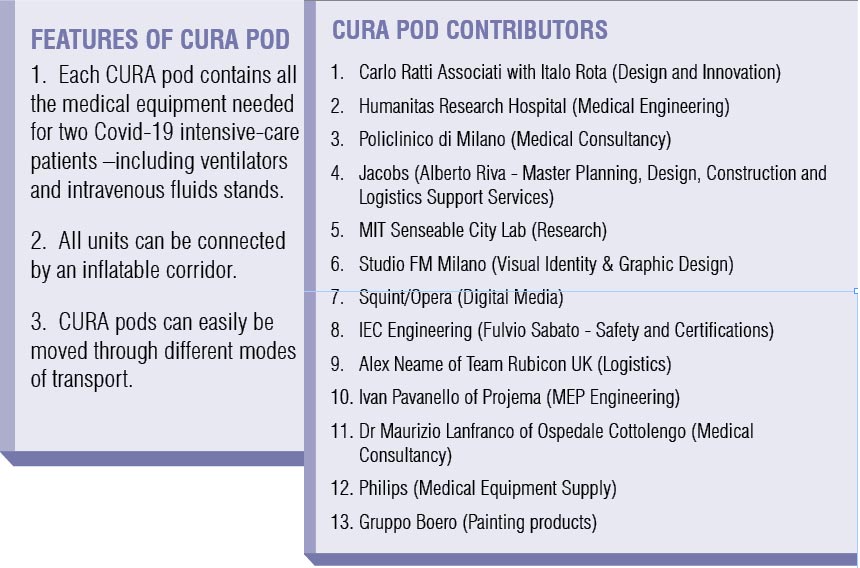 The project is developed with the support of the World Economic Forum's Covid-19 Action Platform; and Cities, Infrastructure and Urban Services Platform.
This feature was originally published in April 2020 Covid-19 Special Issue of The STAT Trade Times.