Container freight increases at port of Antwerp in Q1 2017
<p style="text-align: justify;">Apr 18, 2017: The port of Antwerp has handled 54,324,303 tonnes of freight during the first three months of this year, 1.5 percent more than in the same period last year. The further growth is mainly due to container freight, which was up by 2 percent in terms of tonnage. In fact this […]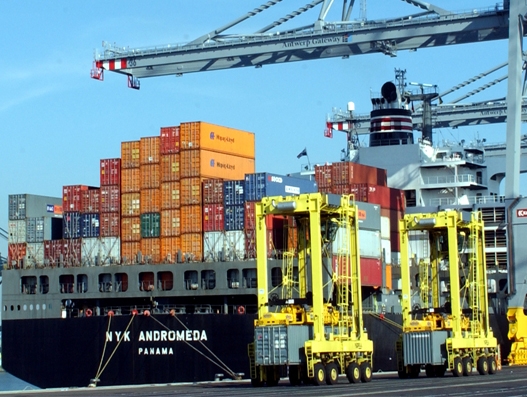 Apr 18, 2017: The port of Antwerp has handled 54,324,303 tonnes of freight during the first three months of this year, 1.5 percent more than in the same period last year. The further growth is mainly due to container freight, which was up by 2 percent in terms of tonnage. In fact this has been the best first quarter ever, both for total overseas freight and for containers.
The previous month was the best for containers that has ever been recorded in the port. The container volume was up 2 percent during the first quarter, totaling 29,750,925 tonnes. This corresponds to 2,480,932 TEU, an increase of 0.7 percent.
Ro/ro for its part experienced remarkable progress, up 5.3 percent to 1,219,314 tonnes. The number of cars handled was up 2.8 percent to 316,988. Conventional breakbulk too continued to expand in comparison with the same period last year. At the end of March, the volume stood at 2,583,590 tonnes, an increase of 8.3 percent. Just as in 2016, this good performance was largely due to the steel volumes handled (up 14.7 percent to 2,093,071 tonnes). Protectionist measures have not resulted in lower volumes, only a shift in the steel trade from one port to another.
"The Port Authority is very satisfied with these growth figures," declared Jacques Vermeiren, CEO.
"Since the first half of last year experienced better performance than the second half, it is important to see the volumes continuing to steadily increase in the container segment. This positive trend confirms the demand for additional container capacity in the Antwerp port area," he concluded.
The volume of liquid bulk handled during the first three months has seen a slight decline, down 1.2 percent to 17,624,478 tonnes. This was mainly due to oil derivatives which fell by 4.2 percent. On the import side specifically there was a sharp drop as a result of fluctuations in the trading activities.
The volume of dry bulk stood at 3,145,995 tonnes at the end of the quarter, representing impressive growth of 6.7 percent compared with the same period last year, due mainly to higher imports of ore and coal.